Civil War Political Cartoons
Charles Sumner is caned by Preston Brooks. Images of the Civil War Charles Sumner is caned by Preston Brooks Popular political cartoon that illustrated the caning of Senator Charles Sumner by Representative Preston Brooks Charles Sumner, one of the first abolitionists elected to the Senate, is caned by Preston Brooks as the other Senators watch.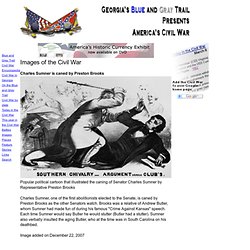 Prisoners. US Policy and Counter Insurgency During the Post Civil War Reconstruction Period. The Post Civil War Reconstruction Era should have leveraged all the powers of national government in order to incorporate the Southern 'fold" back into the national fabric while simultaneously protecting the recently granted constitutional rights of over four million freed slaves.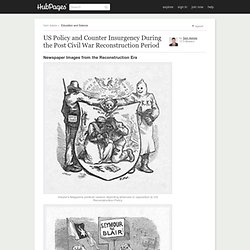 This period was undoubtedly full of potential for prosperity; but unfortunately proved to be just the opposite, an abysmal failure full of false hope, corruption, and violence along racial political lines. How the Civil War shaped the West. Tomorrow is the sesquicentennial of the start of the Civil War.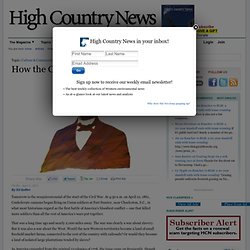 At 4:30 a.m. on April 12, 1861, Confederate cannons began firing on Union soldiers at Fort Sumter, near Charleston, S.C., in what most historians regard as the first battle of America's bloodiest conflict -- one that killed more soldiers than all the rest of America's wars put together. That was a long time ago and nearly 2,000 miles away. Abraham Lincoln Caricature "Up A Tree" by John Tenniel. Abraham Lincoln Civil War Caricature "UP A TREE," Colonel Bull and the Yankee 'Coon January 11, 1862 This famous political cartoon of Abraham Lincoln treed by the English symbol John Bull arose out of the Mason and Slidell affair that threatened war between America and Great Britain.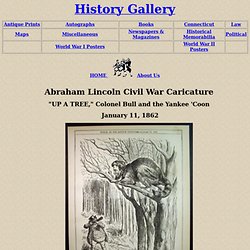 Political Cartoons: During Lincoln's Time | War & Peace Resource Center. Portraying him as ineffective, Lincoln fires a blunderbuss at a bird labelled "C.S.A." for the Confederate States of America.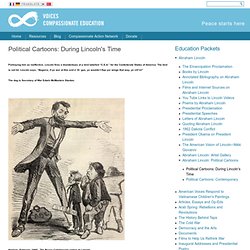 The bird is not hit. Lincoln says, "Begorra, if ye wor at this end o' th' gun, ye wouldn't flap yer wings that way, ye vill'in!" The dog is Secretary of War Edwin McMasters Stanton. WAP1101600006d5w-764921.jpg (500×742) Abraham Lincoln Political Cartoons. Political cartoons of President Abraham Lincoln from his 1860 and 1864 elections.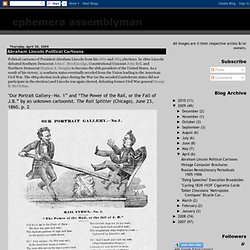 In 1860 Lincoln defeated Southern Democrat John C. Breckinridge, Constitutional Unionist John Bell, and Northern Democrat Stephen A. Douglas to become the 16th president of the United States. As a result of his victory, 11 southern states eventually seceded from the Union leading to the American Civil War. Political Cartoon American Civil War. Tenniel610928a-775562.jpg (631×480)