Innovation Tools
52 tools for any company to innovate like a Startup /by @nickdemey ... The ultimate guide for the ambitious Innovation Manager (100+ sources) Running innovation projects is hard.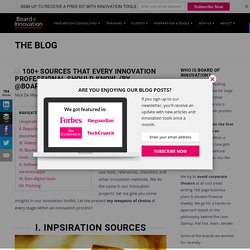 By definition you're doing new things so you can't rely on old habits and routines. If you and your innovation team don't feel uncomfortable, you're simply not innovating. Innovating Innovation? General Mills Makes It Happen. General Mills is one of my favourite open innovation companies.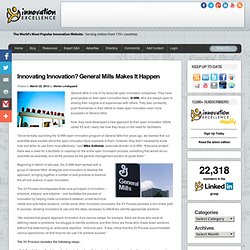 They have great people on their open innovation team, G-WIN, who are always open to sharing their insights and experiences with others. They also constantly push themselves in their efforts to make open innovation even more successful at General Mills. Now, they have developed a new approach to their open innovation efforts called X3 and I really like how they focus on the need for facilitators.
"Since formally launching the G-WIN open innovation program at General Mills five years ago, we learned that our scientists were excited about the open innovation tools available to them; however, they didn't necessarily know how and when to use them most effectively," said Mike Antinone, associate director of G-WIN. Innovation Tools 9chuck Frey) The 99 Percent - It's not about ideas. It's about making ideas h.
Could Governments Get Entrepreneurship? Some people think governments should stay away from the entrepreneurial world.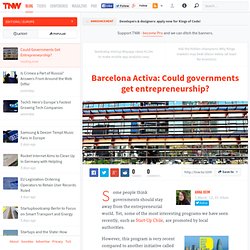 Yet, some of the most interesting programs we have seen recently, such as Start-Up Chile, are promoted by local authorities. However, this program is very recent compared to another initiative called Barcelona Activa. If you have traveled to Barcelona lately, you may have noted its talent attraction campaign, "Do it in Barcelona". Yet, what you may not know is that Barcelona Activa has been around since 1986.
Created as a business incubator with the ambition to promote entrepreneurship in the Catalan capital, it is now the city's development agency. What is TRIZ and how can it be used in problem solving or brains. What is TRIZ and how can it be used in problem solving or brainstorming?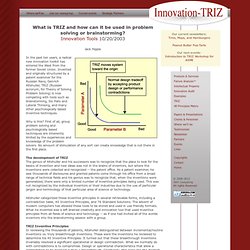 Innovation Tools 10/20/2003 Jack Hipple In the past ten years, a radical new innovation toolkit has entered the West from the former Soviet Union. The World According to TRIZ. Business Model Innovation Matters. LEGO SERIOUS PLAY - FACILLITATOR. As of May 1st 2010 the LEGO Group has decided to allow everyone - including facilitators outside of our previous partner network - to use LEGO® SERIOUS PLAY®.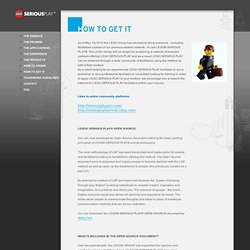 The LEGO Group will no longer be sustaining a network of licensed partners offering LEGO SERIOUS PLAY and as a result LEGO SERIOUS PLAY can be obtained through a wide community of facilitators using the method as part of their toolboxAs a client looking for an experienced LEGO SERIOUS PLAY facilitator to run a workshop or as a professional facilitator or consultant looking for training in order to apply LEGO SERIOUS PLAY to your toolbox, we encourage you to search the internet for LEGO SERIOUS PLAY facilitators within your country.
Links to online community platforms: LEGO® SERIOUS PLAY® OPEN SOURCEYou can now donwload an Open Source document outlining the basic guiding principles of LEGO® SERIOUS PLAY® and its philosophy. Lloyd Smith Solutions - White Papers. Please select from the brochures and Press Releases below: Strategicplay® Why this method works 2011 full brochure (.pfd) Lloyd Smith Overview 2010 full brochure (.pdf)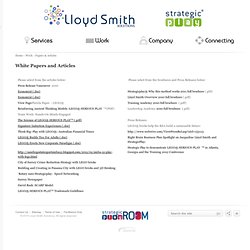 How Serious Play Leads To Breakthrough Innovation. The following is an excerpt from Creative Intelligence by Bruce Nussbaum (HarperBusiness), out March 5th.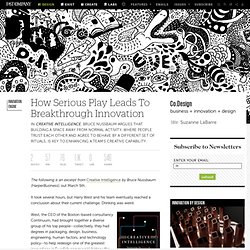 It took several hours, but Harry West and his team eventually reached a conclusion about their current challenge: Drinking was weird. West, the CEO of the Boston-based consultancy Continuum, had brought together a diverse group of his top people--collectively, they had degrees in packaging, design, business, engineering, human factors, and technology policy--to help redesign one of the greatest innovations in Swedish commercial history: the tetrahedron-shaped Tetra Paks now so common in Europe, Asia, and much of the world. Dr. Ruben Rausing is usually credited with the idea for the coated flat cardboard package--picture a pourable pyramid--which haven't changed much since the first Tetra Paks came out in the fifties.
---