Future Trends
The Top 100 Websites of 2011 - Classic: News. With plenty of favorites and new sites to explore, here's our annual look at the best the Web has to offer.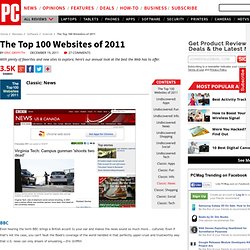 Classic: News BBC Even hearing the term BBC brings a British accent to your ear and makes the news sound so much more... cultured. Even if that's not the case, you can't fault the Beeb's coverage of the world handled in that perfectly upper-crust and trustworthy way that U.S. news can only dream of emulating. RSA Animate - The Internet in Society: Empowering or Censoring Citizens? Future Of Technology: Where Is It Heading. It's easy to understand just why technology companies are starting to roll out their ideas about where technology is heading in the near future.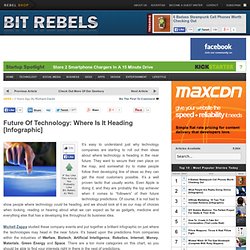 They want to secure their own place on the map, and somewhat try to make people follow their developing line of ideas so they can get the most customers possible. It's a well proven tactic that usually works. Even Apple is doing it, and they are probably the top achiever when it comes to "followers" of their future technology predictions. Of course, it is not bad to show people where technology could be heading, and we should look at it as our map of choices when looking, reading or hearing about what we can expect as far as gadgets, medicine and everything else that has a developing line throughout its business idea. Michell Zappa studied these company events and put together a brilliant infographic on just where the technologies may head in the near future.
Danny Hillis: Back to the future (of 1994) 10 technology trends that will define enterprise architecture in the 2010s. Forrester Research's Brian Hopkins and co-researchers recently assembled a list of the top 20 trends that will define (or redefine) enterprise architecture between now and 2014 (10 top technology trends and 10 top business trends).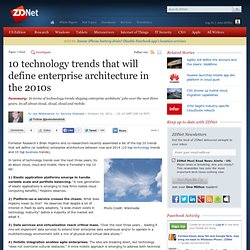 Photo Credit: Wikimedia In terms of technology trends over the next three years, its all about cloud, cloud and mobile. Here is Forrester's top 10 list: Five tech trends to watch in 2012. 2012 promises to be a very busy year in all things digital, but, as with any annum, there will be just a handful of big, memorable trends.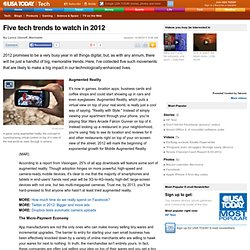 Here, I've collected five such movements that are likely to make a big impact in our technologically-enhanced lives. Augmented Reality It's now in games, location apps, business cards and coffee shops and could start showing up in cars and even eyeglasses. Microsoft's Envisioning Lab Reveals The Future Of Productivity. The most unbelievable part of Microsoft's eye-catching Productivity Future Vision video, released earlier this week, isn't the see-through refrigerator, the software app that discovers a product design breakthrough on its own, or the plants growing on the wall of the ethereally white office.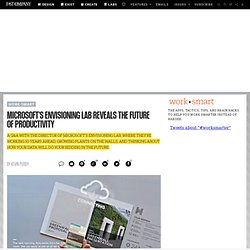 (That last one, actually, is a real office on the Microsoft campus.) No, the most unbelievable part is how clean every surface is--in the car, in the office, and even in a kitchen where a bake sale project is underway. David Jones, acting director of the video's creator, Microsoft's Envisioning Lab, says it's a common criticism, but then again, nearly every surface can act as a crisp, contextually savvy display. Wouldn't you keep your counter more clean if you could watch Hulu on it? The future of libraries, with or without books. (CNN) -- The stereotypical library is dying -- and it's taking its shushing ladies, dank smell and endless shelves of books with it.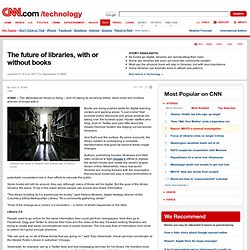 Libraries are trying to imagine their futures with or without books. Books are being pushed aside for digital learning centers and gaming areas. Imagining the Future of the School Library. Without a doubt, the school library remains one of them most symbolic, protected, and expensive 'spaces' on any campus.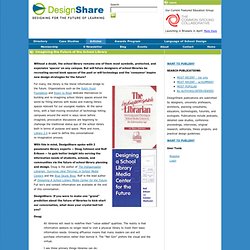 But will future designers of school libraries be recreating sacred book spaces of the past or will technology and the 'consumer' inspire new design strategies for the future? For many, the library is the literal information bridge to the future. 8 Current Technologies That Will Shape Our Future. Rick Chin is the director of product innovation at SolidWorks, where he develops new products and researches how technology will make us smarter, simplify daily tasks and seamlessly fit into our everyday lives.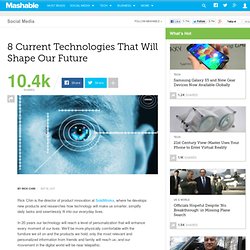 In 20 years our technology will reach a level of personalization that will enhance every moment of our lives. We'll be more physically comfortable with the furniture we sit on and the products we hold; only the most relevant and personalized information from friends and family will reach us; and our movement in the digital world will be near telepathic. I foresee several of today's technologies as relevant to this particular vision of the future. They will evolve to not only be more powerful, but also more integrated with one other. Smart House: Your So-Called Sci-Fi Life. Daniel H.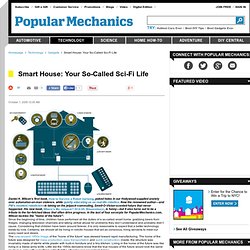 Wilson's first book, How to Survive a Robot Uprising, poked holes in our Hollywood-supplied anxiety over automaton-on-man violence, while quietly educating us on real-life robotics. Now the renowned author—and PM's resident roboticist—is taking on the jetpack-commuting, Smell-O-Vision-scented future that never happened.
---