Body Rock (NO equipment)
Butt and Fat Loss - Beating our Personal Bests! Hi BodyRockers, It's Friday which means that it's time for the last workout of the week.
Today we are going back in time and doing a workout from January 2010 – Freddy and I were living in Malta at that time and as you can see in the video I was blonde. Yeah! Workout. Hi BodyRockers, Today's workout features some new moves that we are working into our training.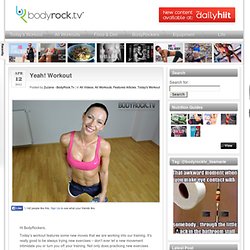 It's really good to be always trying new exercises – don't ever let a new movement intimidate you or turn you off your training. Not only does practicing new exercises keep our routines fresh and fun, they also work your muscles in new ways which can lead to better over all results. Amazing Abs Workout. Hi BodyRockers, This is our last night in our hotel We got the keys to our new house today, and tomorrow morning we will move in, which means that we will do a house tour as part of tomorrows post so check back for that if you guys are curious about what our new place looks like.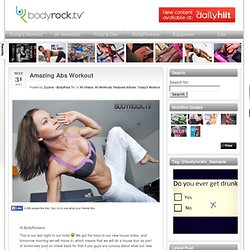 Some of you guys have been following for so long that you have toured almost every house that we have lived in since starting BodyRock. 6 Minute Workout. Hi BodyRockers, Today Freddy and I are starting to pack for our move and we are crazy busy.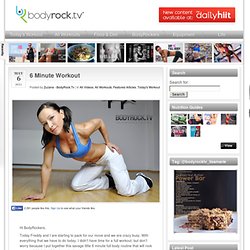 With everything that we have to do today, I didn't have time for a full workout, but don't worry because I put together this savage little 6 minute full body routine that will rock you out. I think that it is always better to do something than to skip your training completely, and this workout may come in a small package, but as you can see in the video, if you are pushing it at your max effort – full throttle – you won't have anything left after 6 minutes. 4 Minute Workout for a Busy Day. Hi BodyRockers, So long story short… about 2 weeks ago Freddy lost his passport while walking around downtown Prague.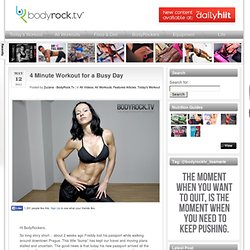 This little "bump" has kept our travel and moving plans stalled and uncertain. Hot Attack Workout. Hi BodyRockers, Hi BodyRockers!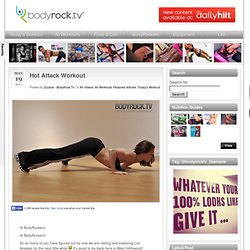 So as many of you have figured out by now we are visiting and exploring Los Angeles for the next little while It's great to be back here in West Hollywood! The trip from Prague went off without a hitch. It's always a little bit stressful traveling with the dogs, but Cali and Charlie were just incredibly well behaved and they seem happy to be here too. Run the World Workout. Hi BodyRockers, We have been here in West Hollywood for exactly one week.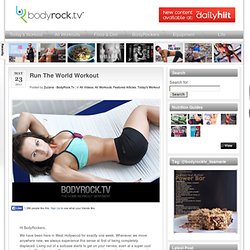 Whenever we move anywhere new, we always experience this sense at first of being completely displaced. Living out of a suitcase starts to get on your nerves, even at a super cool hotel like The Standard. 600 Rep Fat Burner Work out. Hi BodyRockers, Sorry that we missed you yesterday.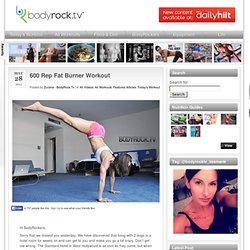 We have discovered that living with 2 dogs in a hotel room for weeks on end can get to you and make you go a bit crazy. Don't get me wrong, The Standard Hotel in West Hollywood is as cool as they come, but when you jam all of your worldly possessions and two crazy dogs into the mix anyone can get a little stir crazy. The good news as many of you already know is that we got the house we wanted here in West Hollywood, and we move in on May 30th. Fierce Friday Workout. Hi BodyRockers, Freddy here – first of all happy Canada day to all of the BodyRockers on Team Canada As many of you guys know, I am Canadian so I will be raising a glass to the Maple Leaf today Thanks to everyone who wrote in and shared their thoughts on the pros and cons of having children.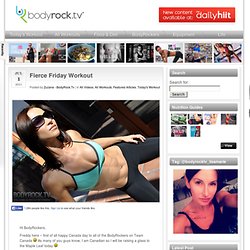 At last count there were over 600 heartfelt responses from BodyRockers, and it was especially cool to hear from so many dads on the subject. Side Burpees. Hi BodyRockers, Here is the challenge that I did yesterday (Friday).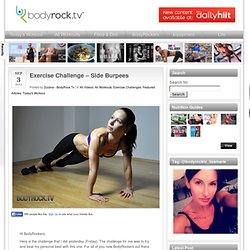 The challenge for me was to try and beat my personal best with this one.
---