3D Programs
Focus as an artist on pure creativity Enter Sculptris, a fun and engaging way to start off your digital sculpting journey! If you're new to the world of digital sculpting, Sculptris is the ideal ground on which to get started.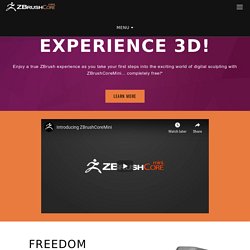 The software can be downloaded from here. Nvil, also known as VoidWorld, is a 3D polygon subdivision modelling application. It is built mainly base on feedbacks and requests from experienced artists in different fields. It is a collection of existing and new usefull ideas.
Voidworld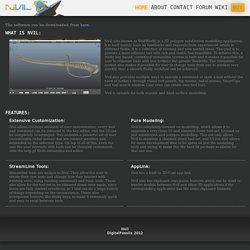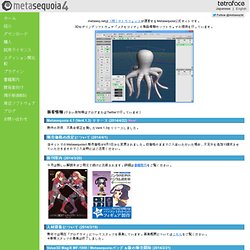 Metasequoia
metaseq.netは(株)テトラフェイスが運営するMetasequoia公式サイトです。 3Dモデリングソフトウェア「メタセコイア」の製品情報やソフトウェアの提供を行っています。 新着情報 (小さい告知等はブログまたはTwitterで行っています) Metasequoia 4.1 (Ver4.1.0) リリース (2014/1/24) New! Metasequoia 4で初めての大型アップデートとなるVer4.1.0をリリースしました。
Wings 3D is an advanced subdivision modeler that is both powerful and easy to use. Originally inspired by Nendo and Mirai from Izware, Wings 3D has been developed since 2001, when Björn Gustavsson (bjorng) and Dan Gudmundsson (dgud) first started the project. Richard Jones (optigon) maintained Wings and coded many new features between 2006 and 2011. Wings 3D is currently maintained by Dan and Richard with the help of the great community. Wings 3D offers a wide range of modeling tools, a customizable interface, support for lights and materials, and a built-in AutoUV mapping facility. There is no support in Wings for animation.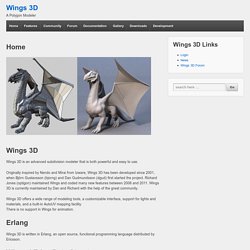 FreeCAD is a general purpose feature-based, parametric 3D modeler for CAD , MCAD, CAx , CAE and PLM , aimed directly at mechanical engineering and product design but also fits a wider range of uses in engineering, such as architecture or other engineering specialties. It is 100% Open Source and extremely modular, allowing for very advanced extension and customization. FreeCAD is based on OpenCasCade , a powerful geometry kernel, features an Open Inventor -compliant 3D scene representation model provided by the Coin 3D library, and a broad Python API. The interface is built with Qt .
Art of Illusion is a free, open source 3D modelling and rendering studio. Many of its capabilities rival those found in commercial programs. Highlights include subdivision surface based modelling tools, skeleton based animation, and a graphical language for designing procedural textures and materials.. The current version is 3.0, released Sept. 23, 2013. This version is both stable and powerful enough to be used for serious, high end animation work. Click here to download the program.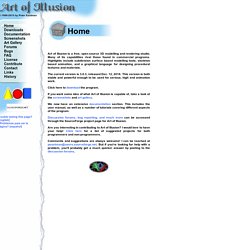 Art of Illusion