Assets
Best Free Fonts of 2011. With only a month and a half left in 2011, it's hard to believe another year is drawing to a close.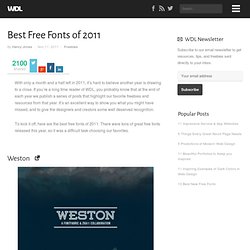 If you're a long time reader of WDL, you probably know that at the end of each year we publish a series of posts that highlight our favorite freebies and resources from that year. It's an excellent way to show you what you might have missed, and to give the designers and creators some well deserved recognition. To kick it off, here are the best free fonts of 2011. There were tons of great free fonts released this year, so it was a difficult task choosing our favorites.
Weston. 10 Free Fonts We Use & Love. Free Free Free Fonts!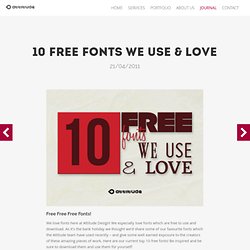 We love fonts here at Attitude Design! We especially love fonts which are free to use and download. 12 must-see skywatching events in 2012 - Technology & science - Space - Space.com. As the year 2011 comes to a close, some might wonder what is looming sky-wise for 2012?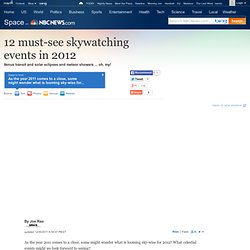 What celestial events might we look forward to seeing? I've selected what I consider to be the top 12 "skylights" for this coming year, and list them here in chronological order. Not all these events will be visible from any one locality ... for the eclipses, for instance, you'll probably have to do some traveling ... but many can be observed from the comfort of your backyard. Hopefully your local weather will cooperate on most, if not all, of these dates. Monster Maker - Asmor.com. Monster Maker Get Monster Maker v3.5 Alternatively, you can get the standalone version without installer or auto-updates.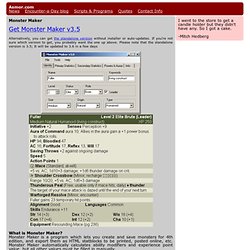 If you're not sure which version to get, you probably want the one up above. 10 Essential Cheat Sheets To Download. Ever wanted to master the keyboard shortcuts and get more productive on the web?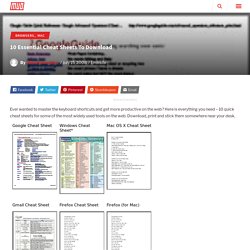 Here is everything you need – 10 quick cheat sheets for some of the most widely used tools on the web. Download, print and stick them somewhere near your desk. UPDATE: Hey folks, due to massive response the download links to above cheat sheets were moved to our must-have downloads page which is only available to MakeUseOf subscribers. So you will need to subscribe before you can get them. 100+ Awesome Grunge Background Textures. About ISPSD ISPSD focuses on Web Development , Graphics Elements along with Inspirational articles and also providing free PSD downloads for web designers .We are a small team right now who create different content types to make ISPSD a better design community.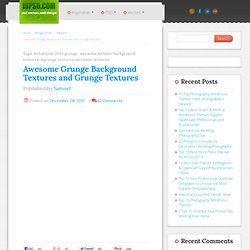 Our users are gathering free resources from public sources on the internet. 30 Fonts Perfect for Vintage and Retro Style Design. A Vintage or retro style design is meant to transport it's audience decades into the past.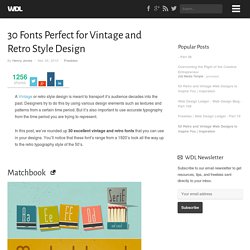 Designers try to do this by using various design elements such as textures and patterns from a certain time period. But it's also important to use accurate typography from the time period you are trying to represent. In this post, we've rounded up 30 excellent vintage and retro fonts that you can use in your designs. You'll notice that these font's range from a 1920′s look all the way up to the retro typography style of the 50′s. 25 Free Fonts for Your Creative Projects. Microsoft Windows users Click Start, Settings, Control Panel.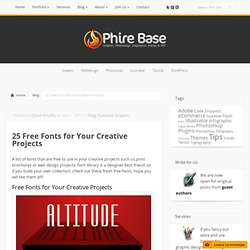 Open the Fonts icon by double clicking the icon. Within the Fonts window you will be able to view each of the currently installed fonts as well as install new fonts. To install a font, click the File menu and select Install New Font. The Art of Typography #79 by Sabeena Karnik. About the author Hi, my name is Houke de Kwant.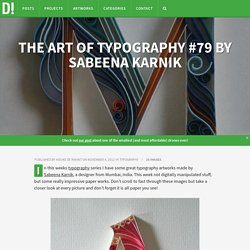 I'm a 24 year old communication & multimedia design graduate from the Netherlands and I'm the creator of Daily Inspiration, which I started as a school project a few years ago. I am currently working as a frond-end developer at Ivaldi, an internet agency in Rotterdam, the Netherlands. If you want to know more about the things I work on, other than this website, take a look at their portfolio, or feel free to connect with me via Facebook, LinkedIn, Google+ or visit my portfolio website.
100 Badass Digital Art Examples - Illustrations, wallpapers. Collection of 30 Best Adobe Photoshop Brushes. Something that always comes handy we all need to use Brushes while creating some new designs.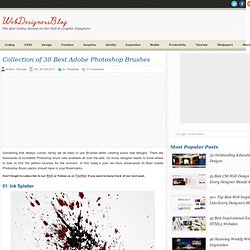 There are thousands of incredible Photoshop brush sets available all over the web. So every designer needs to know where to look to find the perfect brushes for the moment. In this today's post we have showcased 30 Best Adobe Photoshop Brush packs should have in your Bookmarks. Don't forget to subscribe to our RSS or Follow us on Twitter if you want to keep track of our next post. 50 Fresh Free Fonts of 2010. Though there's a broad variety of fonts available for download online, designers keep on tracing the fresh ones to enhance their design copy, a website, brochure, or even an advertisement in a brand new an' awesome way.
Still, the free stuff could not always boast of good quality – premium goodies always demand some kind of money investment. However, now it's possible to find the appropriate font that's free, clear, beautiful, and effective for design purposes. Many great designers are now offering professional quality fonts completely for free. Today's round-up actually goes outside the standard font variety. We've managed to gather a collection of 50 novelty styled free fonts which you can instantly download and use to add a powerful impact for your designs.
Photoshop | Pixel Curse | Visual inspiration for creative professional. 30 Christmas Holiday PSD & AI Flyer Templates The success of any event, being it a show, a sale, a party or a simple get-together, often depends on how well you can promote it. These flyers are diverse and eye-catching examples of promotional materials created for events that take place during the holiday season. 45 CV Resume Templates That Will Get You Hired. 50 Free Photoshop Brush Sets Everyone Should Have. 80 All-You-Need Photoshop Brushes. 25 Really Useful Free PSD Files. Collection of 30 Best Adobe Photoshop Brushes.
---