Recipe Sites
50 Slow Cooker Recipes. Life is busy around my house.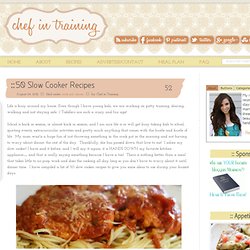 Even though I have young kids, we are working on potty training, sharing, walking and just staying safe :) Toddlers are such a crazy and fun age! School is back in session, or almost back in session, and I am sure life is or will get busy taking kids to school, sporting events, extracurricular activities and pretty much anything that comes with the hustle and bustle of life. My mom was/is a huge fan of just throwing something in the crock pot in the morning and not having to worry about dinner the rest of the day. Thankfully, she has passed down that love to me!
I adore my slow cooker! Smothered Chile Colorado Burritos (Crock Pot) School is almost back in session for those of you with school-aged kids and for some of you amazing students yourselves.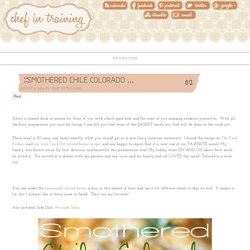 With all the busy preparation you must be facing, I can tell you that some of the EASIEST meals you find will be done in the crock pot. These meal is SO easy and tastes exactly what you would get at a nice fancy mexican restaurant. I found this recipe on The Food Pusher, used my own Crock-Pot refried beans recipe, and am happy to report that it is now one of our FAVORITE meals! Green Mac and Cheese. Mac and cheese is the ultimate comfort meal for Mandi and me.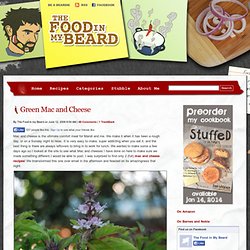 We make it when it has been a rough day, or on a Sunday night to relax. It is very easy to make, super addicting when you eat it, and the best thing is there are always leftovers to bring in to work for lunch. We wanted to make some a few days ago so I looked at the site to see what Mac and cheeses I have done on here to make sure we made something different I would be able to post. I was surprised to find only 2 (full) mac and cheese recipes! We brainstormed this one over email in the afternoon and feasted on its amazingness that night.
The Kitchn Recipes. 2-Minute Chocolate Chip Cookie For One. This is one of those 'I-need-a-cookie-right-now-or-I-die' recipes that can be prepared in almost no time.We all know that kind of situation, don't we?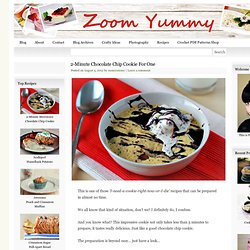 I definitely do, I confess.And you know what? This impressive cookie not only takes less than 5 minutes to prepare, it tastes really delicious. Copper Moonshine Stills & Moonshine Still Kits. Cook time: 30 minutes.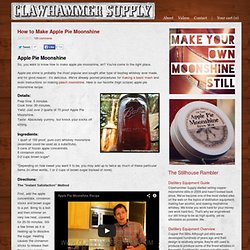 Yield: Just over 2 quarts of 70 proof Apple Pie Moonshine. Taste: Absolutely yummy, but knock your socks off strong. Ingredients: Sweetened Condensed Milk Recipe. I recently received a request from a fan of my Arabic blog (www.fattoush.me) asking for the recipe of sweetened condensed milk.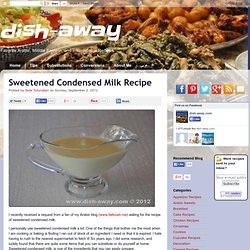 I personally use sweetened condensed milk a lot. One of the things that bother me the most when I am cooking or baking is finding I ran out of stock of an ingredient I need or that it is expired. I hate having to rush to the nearest supermarket to fetch it! Coconut Whipped Cream « Nutty Kitchen. We love our whipped cream in coffee, on berries for dessert, really on any of our primal desserts.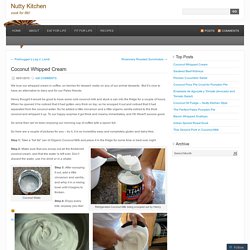 But it's nice to have an alternative to dairy and for our Paleo friends. Henry thought it would be good to have some cold coconut milk and stuck a can into the fridge for a couple of hours. When he opened it he noticed that it had gotten very thick on top, so he scooped it out and noticed that it had separated from the coconut water. Beef. Cookies and Cream Peanut Butter…Midnight Snack. Need a midnight snack?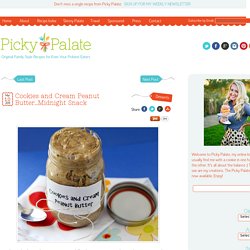 Or anytime snack for that matter, my cookies and cream peanut butter might just knock your socks off I was so lucky to have my sister and her family visit earlier this week and I got to have some kitchen time with her beautiful girls. They are just the sweetest things ever. Watermelon Lime Sorbet Slices. A sweet and tangy watermelon lime sorbet is a great way to cool off in the summer.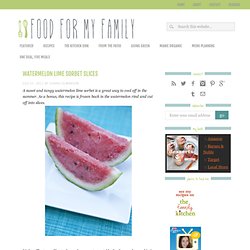 As a bonus, this recipe is frozen back in the watermelon rind and cut off into slices. It's hot. The type of heat where when you step outside the door and your skin is wet before the door swings shut behind you. It's a hot that hangs in the air, letting you breathe it in, that is cured only by two things: being completely immersed in water or hiding indoors, the air conditioning cranked as far as it will go.I find that the heat makes me very unmotivated to do things like take a walk, water and weed the garden (though I have forced that one on myself) and prepare food and eat it.
Better Than Takeout Orange Chicken. Yesterday as I stood in the kitchen trying to figure out what to make for dinner I wondered to myself, how do those people do it on those shows where they are given random ingredients and are suppose come up with something genius.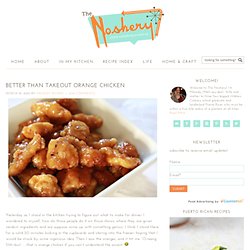 I think I stood there for a solid 20 minutes looking in the cupboards and staring into the freezer hoping that I would be struck by some ingenious idea. Then I saw the oranges, and it hit me "O-raang Shh-ikun"….that is orange chicken if you can't understand the accent. I love orange chicken, and I almost always order # 14 Orange Chicken when we order Chinese take out and I wondered to myself if I could make it better at home. Cold-Brewed Iced Coffee. Update 4/2014: Be sure to check out my new, improved cold-brewed iced coffee tutorial with step-by-step instructions and lessons learned since first posting about cold-brewed iced coffee.
I started making my iced coffee this way a couple of years ago, thanks to this New York Times recipe that convinced me to do so. You add coffee grounds to cold water and let it sit at room temperature for several hours. Then you strain it through a coffee filter, and the result is a deep, rich, dark, and caffeine-packed glass of iced coffee. It's a concentrate, so you'll want to dilute it with water unless you're in need of a serious buzz. Mingmakescupcakes.yolasite. Young and Raw | Raw Vegan Recipes, How To Be Vegan, Vegan Weight Loss. Homemade Marshmallow Recipe. Some of my favorite candies are marshmallows. Actually, I should backtrack a bit and say at the very top of my all-time favorite things to eat are marshmallows. I love their pillowy softness and their tender sweetness with undertones of vanilla. If it sounds like I'm getting a little Proustian for them, you're right.
I recently made several batches for some projects, which not only rekindled my love of them, but when I brought them to a few parties, people were stunned at how good they were and could not stop raving. How to Make American Cheese. As our regular readers know, I'll go to my grave defending processed, pasteurized American cheese. I understand your objections to this position. I've heard all of the arguments. It's bland. Halibut, Stock Recipes. Brown Butter Double Fudge Chocolate Chip Cookie Dough Cookies. Little bit of a mouthful there. But it's like a cookie on top of another cookie! Yeah. Baked Egg Boat recipe. Breakfast is my favorite meal. I like to drink iced coffee and watch the cream climb its way down the chunky ice cubes in a dazy before the caffeine hits. I like to order bacon with whatever I'm eating. I like eating potatoes with ketchup.
I like eggs over easy, and fluffy scrambled eggs. I pretty much like everything there is to like about breakfast. Apple Pies. Mrs. Garlic Head: Garlic and Herb Pull Apart Bread. Most gawked all-time - page 20. The Infamous Jacques Torres Chocolate Chip Cookies. Dandelion Soup. Facebook. Lentil and Sweet Potato Curry Recipe. Monkey Butter Recipe - American Preppers Network.
Demi-Glace Recipe To Prepare at Home. Demi-Glace | Glace de Viande Recipe. Brunch. Marijuana Strain Effects. Italian sodas. Better-Than-Crack-Brownies. Baked Zucchini Sticks and Sweet Onion Dip: that bloomin' zucchini! Crusty Bread. Caramel Brownie Bites. Cannabis Vault : Cannabis Cookie Recipes. How To Make Perfect Brownies. MINDBLOWINGLY DELICIOUS: Southwest Quinoa Salad With Homemade Salsa and Avocado-Lime Dressing. Bread.wmv. Spicy Garlic Lime Chicken Recipe. Simple Apple Fritters Recipe - Food.com - 21703. FOODILY - Find recipes online. Share them with your friends. Henri's French Onion Soup. English Muffins.
Iny's Prune Cake. French Whisk. Maple Shortbread with Sea Salt. Inside Out Chocolate Caramel Apples make great teacher's gifts. Recipe: Ultimate Green Lentil Vegetable Burger. Easy Sweet Potato Veggie Burgers! With Avocado. Cooking Sauces. Fennel | Condiments, Spices and Simple Condiments. Potato and Cheese Pierogi Recipe. Homemade Seitan Recipe: Vegetarian, Vegan Dish How-To. Main Commentary FrameSet. 3 Health Reasons to Cook with Cast Iron.
How to Substitute Honey For Sugar in Home Canning and Cooking. Stella Culinary | Cook and Eat Like A Star. Now We're Cooking... with Pot! | Holiday Food Feature. VegWeb.com - Vegan Recipes and Cooking Tips. Panzerotti - My CookBook | My CookBook. When French Toast Met Pancakes. How to Make Sour Cream | Sour Cream Recipes. Chicken Fricassee Recipe with Mushrooms and Carrots. From the Kitchen Garden: Making Your Own Chicken Demi-glace | Old House, Old Garden. Video and Text Recipes. Lunch Recipes: Wrap Sandwich and Burrito Recipes - Martha Stewart. Hummus Recipe. Global Spices. Malasadas Recipe.
---