_New Pearls
Get flash to fully experience Pearltrees
edit Title Microsuck edit Description
August 17, 2010 | Like this article?
By Luke Salkeld UPDATED: 00:05 GMT, 17 August 2010 After a two-month summer break, you might expect the garden to be little overgrown. There'll be some leaves to tidy up and one or two plants might need a trim.
Once again U.S. imperialism has chosen a holiday weekend time in the U.S., when workers are preoccupied, Congress is in recess, and any opposition or even questions are difficult to raise, to orchestrate a political and military crisis. On Nov. 23, the government of South Korea mobilized 70,000 troops for a week of military maneuvers just off the border of the Democratic Peoples Republic of Korea. The DPRK said that these military maneuvers simulated an invasion of the north. The military deployment was provocatively held right off the sea borderline between the north and the south. This is an area considered to be disputed territory. We can not be caught off guard.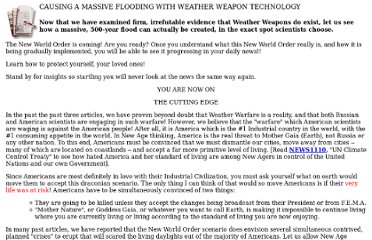 Now that we have examined firm, irrefutable evidence that Weather Weapons do exist, let us see how a massive, 500-year flood can actually be created, in the exact spot scientists choose. The New World Order is coming!