The Designers Pearls
The Designers Pearls is more than design, more than inspiration, is made by designers for designers and other professionals, who are involved in different spheres of design - photographers, illustrators, architects, artists, web designers, graphic designers, industrial designers, fashion designers, digital artists, etc. Apr 23
Get flash to fully experience Pearltrees
Published in Design , Photoshop Tutorials Photoshop allows designers with unlimited possibilities when it comes to creative effects, including lighting effects. There are plenty of different ways to create lighting effects in Photoshop, and there are equally as many different possible uses for them. If you're interested in learning more about how to create awesome lighting effects in your own work, here are 25 tutorials that can help.
The list of cool digital photography techniques and tutorials is endless, you can even find 10 completley different methods to achieve the same effect. Which is the best? It really depends on the photographer and there level of expertise. In this post we have listed our own personal favorites photography techniques with tips tutorials to help you recreate the effect. You will find tecniques for the currently in vogue HDR, Tilt-Shifting and Lomography to the less common and diverse Sabatier and Escher effects. Which ever effect you use, your images are going to look cool and unique.
photoshop How to Create a Jumbotron Effect Create a jumbotron screen effect like you would see at big sporting events | 26399 views | by denisdesigns How to Create a Somber Composition In this tutorial you will learn how to manipulate stock images and turn them into your puppets to express your desired feelings.
I love Photoshop techniques that offer all kinds of possibilities for experimentation—and the following tutorial is a perfect example of one of those techniques. In this issue, we're going to take a portrait and replace the person's image with text (think 2009 Grammy posters). Pick a portrait that offers good contrast—a photo that's very dramatic and dark probably won't work as well. I've had the best success with straight-on head and shoulder shots, but again, feel free to experiment with all types of photos. For the best results, choose a photo that has a light background (or select the background around the person and make it lighter). Create a new document (File>New) in a size that's smaller than your photo: the specifics don't really matter.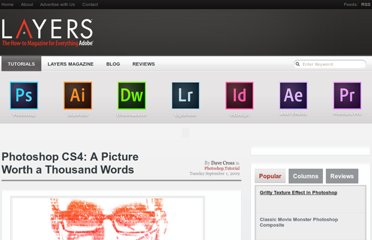 Though there's a broad variety of fonts available for download online, designers keep on tracing the fresh ones to enhance their design copy, a website, brochure, or even an advertisement in a brand new an' awesome way. Still, the free stuff could not always boast of good quality – premium goodies always demand some kind of money investment. However, now it's possible to find the appropriate font that's free, clear, beautiful, and effective for design purposes.
Feb 07 2011 Advertisement Brushes for Adobe Photoshop are known to be one of the most used add-ons since they don't just enhance your designs, but also help give your works a new, fresh and stunning look.
Hey guys, the time for Friday roundup has come and we want to share some useful resources featuring free Photoshop brushes with you. We all know that brushes turn out to be the essential tools for web designers and help to add the desired atmosphere to the websites. Using this Photoshop tool, it is possible to give the design the impressive touch and make it catchy.
The gig poster scene isn't exactly the best kept secret among music fiends like myself. It is a tradition that started in the 60′s and is still going strong. Nowadays, the majority of indie bands have a growing collection of poster art that is just too incredible to simply throw away once the show has ended.