ARCHITECTURE & HOUSES
10 Awesome Ideas to Repurpose Old Stuff and Giving Them a New Life. Pop-Up Corner Lamps Illuminate those Hard-to-Light Places. Standing lamps in corners often feel a bit like round pegs in square holes, not quite fitting the space in a way that would feel intentional.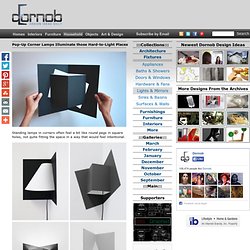 This flat-pack, fold-out solution from Well Well Designers is a low-cost and elegantly-designed approach that is minimalist in terms of both materials and appearance. The product packaging and typography are all comprehensively considered in form and function – this is not a typical in-the-box retail object, but a simple black (or blue or red) on white approach.
"The Pop-up corner light is delivered in an envelope. The lamp is constructed from a sheet of polypropylene. The sheet is cut and incised, in such a way to produce a square, triangular or circular module when folded at a 90° angle. Unusual stairs. Go climb a tree — and spend the night. Tree house hotels and lodges are booming as exotic vacation alternatives. 10 Kick-Ass Secret Passage Bookshelves. If there's one dream that unites all bookish folks (aside from, you know, universal literacy) it's the dream of having a secret passageway hidden behind a bookcase.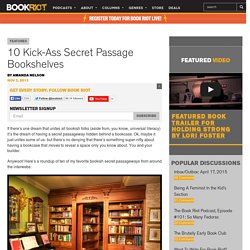 Ok, maybe it just unites some of us- but there's no denying that there's something super-nifty about having a bookcase that moves to reveal a space only you know about. You and your builder. Sleeper - 27 ideas. Bedroom – one of the main room in the house.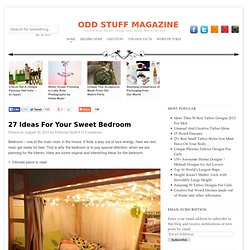 It finds a way out of love energy, here we rest, read, get ready for bed. That is why the bedroom is to pay special attention, when we are planning for the interior. Here are some original and interesting ideas for the bedroom. 1. Intimate place to read. The Moses Bridge is Invisible to The Eye. A series of moats and fortresses were built over the West Brabant Water Line region of the Netherlands during the 17th century in order to provide protection from invasion by France and Spain.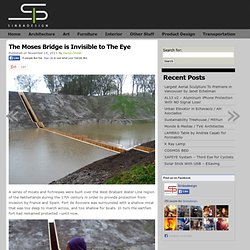 Fort de Roovere was surrounded with a shallow moat that was too deep to march across, and too shallow for boats. In turn the earthen fort had remained protected –until now. From afar, the Moses Bridge is invisible to the eye. The flow of the moat appears continuous, as the water level remains at the same level, reflecting the surrounding foliage. As visitors approach the fort, the bridge appears as a break in the water with its sloping walls containing it. Infinity Loop Bridge | 10 DESIGN + Buro Happold. 10 DESIGN and Buro Happold have won the international design competition for the key signature gateway bridge for the new Shizimen Business District in Zhuhai, China.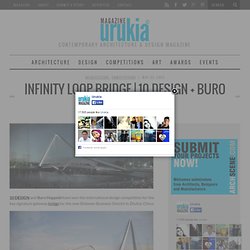 The feature bridge is the gateway entry to south China's new planned commercial hub and also marks the connection of the Shizimen Canal to the Pearl River Delta. Working together in one of their first collaborations the 10 and Buro Happold team set out to create a simple and elegant structural solution for a bridge that would be a visual focal point both within the Shizimen District itself and along the Pearl River Delta coastline. Before and After: Garage Turned Minimal Mini House. Sometimes a garage is just a garage and other times a garage is a miniature modern house just waiting to happen.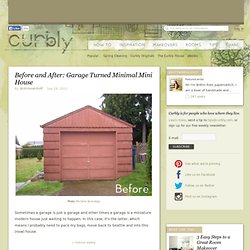 In this case, it's the latter, which means I probably need to pack my bags, move back to Seattle and into this (now) house. It's not actually available, but I'm just crossing my fingers that designer Michelle de la Vega needs a few roommates (my husband, my dog, and I) in her fully functional 250 square foot space. Awesome Rooms « JinSpiration. Germany's Hemp-insulated ECOLAR House Scoops the Solar Decathlon Engineering Prize. ECOLAR's basic construction, comprised of beams and columns, essentially stays the same but can be configured differently based on the homeowner's preferences.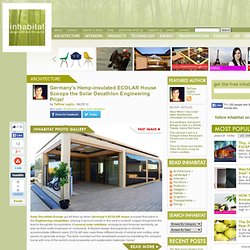 In keeping with the mandates of genuine sustainability, the team stuck to sustainably-sourced wood for construction, and then incorporated hemp insulation in the floors, walls and ceiling to prevent thermal loss. Despite being outlawed in some countries, this really is one of the most sensible materials to use in construction today. The vertical and rooftop solar panels are all different and can be either opaque or semi-transparent depending on where they are placed.
To settle on the perfect shape for this simple detail, follow your heart — or diamond, or maple leaf. Last winter my shutters started to peel and rot at an alarming rate.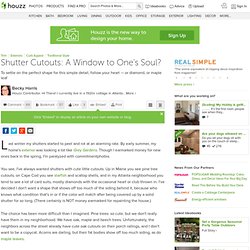 By early summer, my home's exterior was looking a lot like Grey Gardens. Though I earmarked money for new ones back in the spring, I'm paralyzed with commitmentphobia. You see, I've always wanted shutters with cute little cutouts. Up in Maine you see pine tree cutouts, on Cape Cod you see starfish and scallop shells, and in my Atlanta neighborhood you tend to see a lot of card suits, mostly diamonds with the occasional heart or club thrown in. I've decided I don't want a shape that shows off too much of the siding behind it, because who knows what condition that's in or if the color will match after being covered up by a solid shutter for so long. Yes please Joséphine! Sculpture Molds and Artistic Castings using Smooth-On Brand Resin. Plymouth: 20th Century City - Interactive Map.
The World's Smallest Living Structures. World's Smallest Living Structures: Little House Boasting a mere 312 square feet, this famous miniature miracle is located in Toronto, Canada.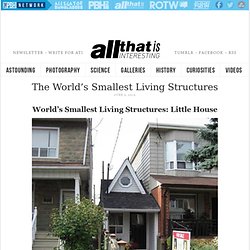 Wanting to utilize space in between two bigger houses, contractor Arthur Weeden built the commonly coined "Little House" in 1912 and thus lived in it for the next 20 years. The house is seven feet wide and 47 feet deep, and despite its size it doesn't skimp on the essentials; Little House offers a living room, kitchen, bedroom, bathroom, washer, dryer, fridge and patio. Single Hauz Inspired from roadside billboards, these innovative designs offer an interesting and eco-friendly way to live. Perched cozily above their shop, an Ontario couple's home brims with lovingly handmade and repurposed pieces. Jimmie Martin. 12 Awesome Urban Garden Rooftops | Colorcoat® Blog. As more buildings sprout the landscape of cities and towns, green space becomes a valuable commodity.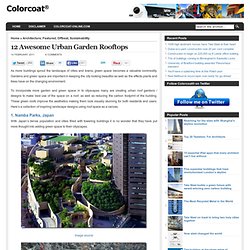 Gardens and green space are important in keeping the city looking beautiful as well as the effects plants and trees have on the changing environment. To incorporate more garden and green space in to cityscapes many are creating urban roof gardens / designs to make best use of the space on a roof, as well as reducing the carbon footprint of the building. These green roofs improve the aesthetics making them look visually stunning for both residents and users.
Here's a collection of inspiring landscape designs using roof space as a canvas. 1. Amazing House Built Across a River. This rustic retreat was built right in the heart of Three Rivers, California near the entrance to Sequoia National Park where the enchantment of wildlife sightings runs wild. What also happens to run wild is the river that flows under this home, something that has never been done before or ever since! Kaweah Falls was originally designed in the 1940′s by one of Frank Wright's very own students, but when the second homeowners moved in and remodeled they decided to add an addition to the home that floats over the river bank. Aside from a few cool interior features like a dining room with a glass floor view of the river, there is a footbridge over these waters that lead to a private deck where one can sit and listen to the sounds of fresh water skimming river rocks on the way down from a waterfall found right up the mountain.
Choosing a vacation spot for these homeowners is definitely a tall order…but who would want to leave this place? Best lake house for the end of September heat wave | JasmineWay Blog. My first project. Adobe Flash Player 10 or newer must be installed - Download the latest version here. Create your floor plan before you complete any do-it-yourself home improvement. Get home design inspiration. Will your bed fit in the new apartment? Vintage Decor in an Industrial Loft. 6 Summer Bunk Bed Rooms. The Minister's Treehouse: A 100ft Tall Church Built Over 11 Years without Blueprints. Architecture & Houses.
Häuser. 20 Most Popular Architecture Sites.
---