Ubuntu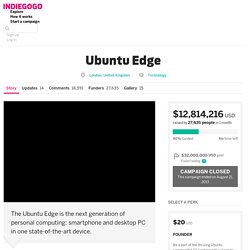 In the car industry, Formula 1 provides a commercial testbed for cutting-edge technologies. The Ubuntu Edge project aims to do the same for the mobile phone industry -- to provide a low-volume, high-technology platform, crowdfunded by enthusiasts and mobile computing professionals. A pioneering project that accelerates the adoption of new technologies and drives them down into the mainstream.
ssd_solid_state_drive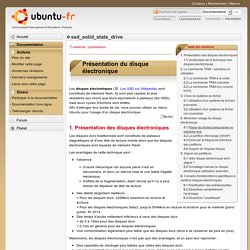 Les disques électroniques SSD sont constitués de mémoire flash, ils sont plus rapides et plus résistants mais leurs cycles d'écriture sont limités.
Lars Strand's blog: Sharing Internet connection over bluetooth in Ubuntu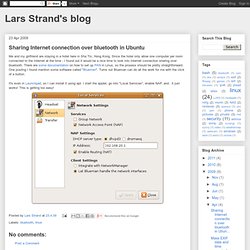 Me and my girlfriend are staying in a hotel here in Sha Tin, Hong Kong.
Introduction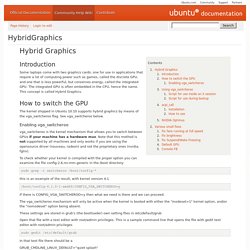 HybridGraphics
I see this all the time at the moment.
[SOLVED] Ext4 re-mounting root partition. Is this normal?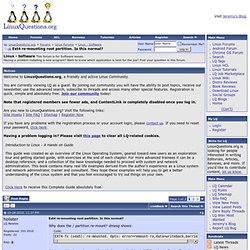 If you are seeing messages in my system logs that state " Machine Check Event logged " this could be an indication of a hardware problem or failure.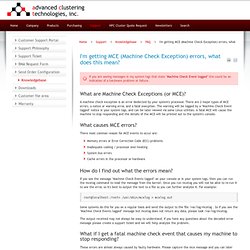 Advanced Clustering | I'm getting MCE (Machine Check Exception) errors, what does this mean? | FAQ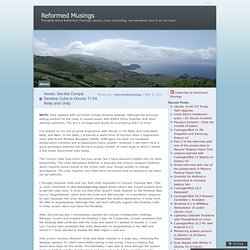 NOTE: Post updated with corrected Compiz desktop settings. Although the previous setting worked for the cube, it caused issues with AWN's Shiny Switcher and other desktop switchers. The 4/1/1 arrangement works for everything that I've tried.
Howto: Get the Compiz Desktop Cube in Ubuntu 11.04 Natty and Unity « Reformed Musings
Securing an Ubuntu Server « andrewault.net
Security is relative. Will these steps make your server "secure"? It will be more secure than it was before.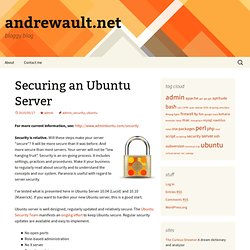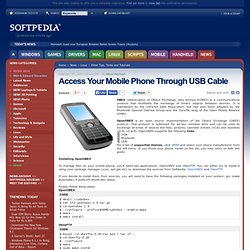 Access Your Mobile Phone Through USB Cable
OBEX (abbreviation of OBject EXchange, also termed IrOBEX) is a communications protocol that facilitates the exchange of binary objects between devices.
This page describes how to use a cell phone and a USB cable to connect your pc to the internet.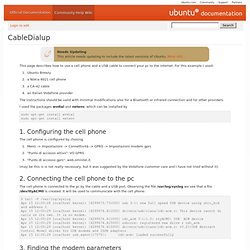 CableDialup
locale problem
Linux le journal d'un novice
Windows vs Ubuntu – Usability « Roman Kennke's Blog
A couple of days ago I received a new laptop, and it came with Windows (Vista).
HOWTO: Install and use the latest FFmpeg and x264 - Ubuntu Forum