Food
Lemon Blueberry Marble Cake. Apparently nothing. Cravings1.jpg (468×2532) | How To Make Buffalo Chicken Bites | Honey Mustard Chicken with Bacon and Mushrooms | Everyday Home Cook. "This is probably my favorite way to eat chicken."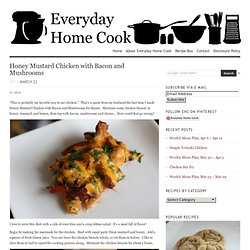 That's a quote from my husband the last time I made Honey Mustard Chicken with Bacon and Mushrooms for dinner. Marinate some chicken breasts in honey, mustard, and lemon, then top with bacon, mushrooms and cheese… How could that go wrong? I love to serve this dish with a side of oven fries and a crisp lettuce salad. It's a meal full of flavor! Begin by making the marinade for the chicken. Steak au Poivre - The Showstopper. I have a comment on this comment, then I have a comment for the OP.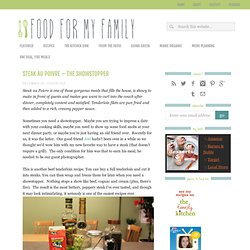 To Amy: Removing to foil is simply a way to keep the steaks warm whilst resting (FOR 5 MINUTES AT LEAST… ALWAYYYS!). When the OP says remove to foil, he/she doesn't mean to wrap them tightly. 20 brilliant things to make in a jar. Via: mycakies.blogspot.com Start saving your old jam jars!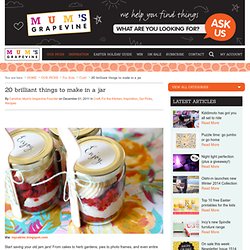 From cakes to herb gardens, pies to photo frames, and even entire meals … here are 20 fantastic things you never knew you could make with a jar. (Above: red velvet cupcakes in a jar. Get the recipe here). Graham Cracker S'mores Cookies. Graham Cracker S'mores Cookies Graham Cracker S'mores Cookies with a graham cracker base, topped with a chocolate chip marshmallow cookie and chopped Hershey's bars on top.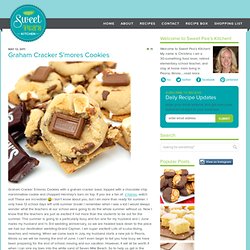 If you are a fan of s'mores, watch out! Niki's Recipes.
Self-Rising Flour Recipe. How to Make Bagels: A Users Manual at Epicurious.com. While making bagels may seem challenging to home cooks, it's actually not as complicated as you might think.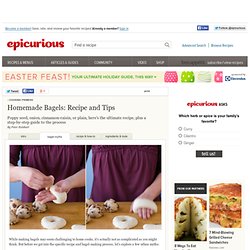 But before we get into the specific recipe and bagel-making process, let's explore a few urban myths: Do You Need a Special Type of Flour to Make Bagels? No. Bagel shops often use a type of high-gluten flour to achieve that distinctively chewy texture and to stand up to the rigors of mass production, but you can opt for more readily available unbleached bread flour and still achieve fantastic results.
Pan francés para el desayuno. Receta de Crepas de Claire. Scottish Farmhouse Eggs | Ahoy! | Portland Maine DIY Blog. The Ultimate Sandwich Recipe: Feast your eyes on this! First things first, the CellarVie Wines team cannot lay claim to being responsible for the making of the 'Ultimate Sandwich'.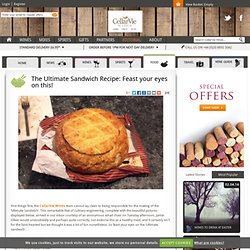 This remarkable feat of culinary engineering, complete with the beautiful pictures displayed below, arrived in our inbox courtesy of an anonymous email chain on Tuesday afternoon. Jamie Oliver would undoubtedly and perhaps quite correctly, not endorse this as a healthy meal, and it certainly isn't for the faint-hearted but we thought it was a bit of fun nonetheless. So feast your eyes on the 'Ultimate sandwich'… Now youre cooking with comics. Homemade Baked Mozzarella Sticks. Mozzarella sticks are a delicious treat, probably one of the most popular appetizers at restaurants, and a fun party food.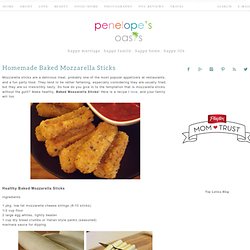 They tend to be rather fattening, especially considering they are usually fried, but they are so irresistibly tasty. So how do you give in to the temptation that is mozzarella sticks without the guilt? Make healthy, Baked Mozzarella Sticks! Here is a recipe I love, and your family will too. Ingredients. Chicken and Cheese Lasagna Roll-Ups - iVillage.
How many grams are in a cup. It depends what you have in the cup: A cup is a measure of volume, but a gram is a measure of mass.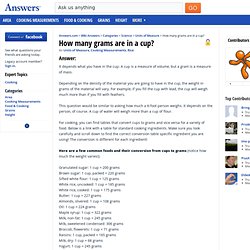 Depending on the density of the material you are going to have in the cup, the weight in grams of the material will vary. For example, if you fill the cup with lead, the cup will weigh much more than if you fill with feathers. This question would be similar to asking how much a 6-foot person weighs. It depends on the person, of course. A cup of water will weigh more than a cup of flour.
Kitchen Helpers. I found these helpful charts last week and just had to share!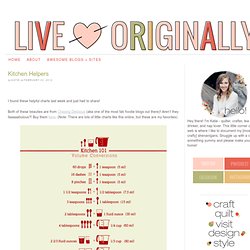 Both of these beauties are from Chasing Delicious (aka one of the most fab foodie blogs out there)! Aren't they faaaaabulous?! Buy them here. (Note: There are lots of little charts like this online, but these are my favorites). Most favorited all-time. Most gawked all-time. Baked Egg Boat recipe. 100 Ways to Cook... Design Crush & Popsicles! Jun29 Not to sound full of myself, but I'm pretty sure this is the be all, end all of popsicle roundups.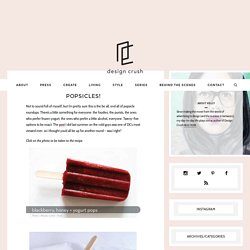 There's a little something for everyone: the foodies, the purists, the ones who prefer frozen yogurt, the ones who prefer a little alcohol, everyone. Tweny-five options to be exact. Creamy lemon popsicles. So, my mom just bought her first jar of coconut oil this month, and I have had a blast (a little too enthusiastically) explaining the hundreds of ways that you can use it. I mean, just yesterday we had a very deep conversation about oil pulling as I was walking through the produce section at Costco. No one gave me weird looks at all… But amongst the thousands of recipes out there using coconut oil, I think I have discovered a new favorite. Lazy summer days: Honeydew Pops.
---