History of China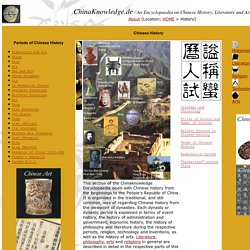 This section of the Chinaknowledge Encyclopedia deals with Chinese history from the beginnings to the People's Republic of China. It is organised in the traditional, and still common, way of regarding Chinese history from the viewpoint of dynasties.
Chinese History
Mpff.. Il n'y a pas plus récent? ;-) by Patrice Mar 1
Pff, on en reparlera quand tu saurais me citer le nom des cinq plus grands empereurs chinois ;) by Chunxia Mar 1
Ancient China
Internet East Asian History Sourcebook
There is no way of avoiding the fact that China is the central culture of Eastern Asia.
Chinese History - Qin Dynasty 秦 science, technology and inventio
Electronic Passport to Chinese History
From at least 1766BC to the twentieth century of the Common Era, China was ruled by dynasties. A dynasty is a ruling family that passes control from one generation to the next.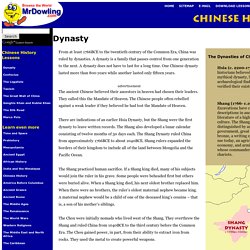 Category:Han Dynasty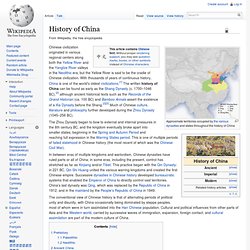 Approximate territories occupied by different dynasties as well as modern political states throughout the history of China
On the eastern and western sides of the continent, the civilisations of China and the West developed.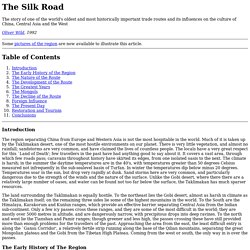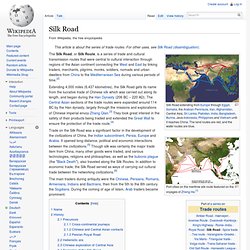 Silk Road
Silk Road extending from Europe through Egypt, Somalia, the Arabian Peninsula, Iran, Afghanistan, Central Asia, Sri Lanka, Pakistan, India, Bangladesh, Burma, Java-Indonesia, Philippines and Vietnam until it reaches China.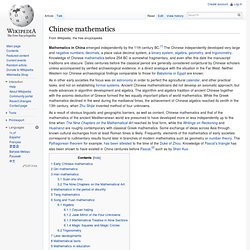 Mathematics in China emerged independently by the 11th century BC.[1] The Chinese independently developed very large and negative numbers, decimals, a place value decimal system, a binary system, algebra, geometry, and trigonometry. Knowledge of Chinese mathematics before 254 BC is somewhat fragmentary, and even after this date the manuscript traditions are obscure. Dates centuries before the classical period are generally considered conjectural by Chinese scholars unless accompanied by verified archaeological evidence, in a direct analogue with the situation in the Far West.
Chinese mathematics
The science of mathematics is looked at with such importance in
The science of mathematics is looked at with such importance in China that it is considered one of the six basic arts, along with ritual, music, archery, horsemanship and calligraphy (Yan, Du Shiran, 1987, p.22).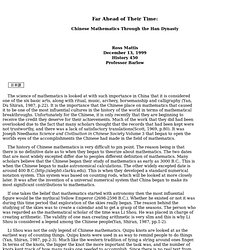 Version for printing
Chinese overview