Food selection and availability
Food Labels
The world's most revolting cakes - in pictures | Life and style
Former Kraft Foods chief scientist Dr Keith Farrer. KEITH Farrer, one of Australia's greatest food industry scientists, whose work was regarded highly internationally, has died at an aged-care facility in Croydon. He was 96. Farrer, whose 43-year career with Kraft Foods Ltd included being chief scientist and the senior technical executive responsible for research and development, oversaw the development of a raft of new products and the development of others. He was on numerous scientific committees, institutes and associations, assisted several government ministries, instrumentalities and departments ranging from defence to education and science, the environment and foreign affairs, and including a long-standing secondment to the federal Department of Health as an adviser on food additives. Advertisement
Food industry loses true visionary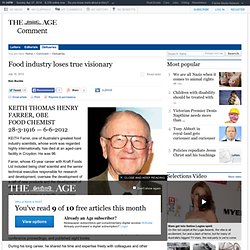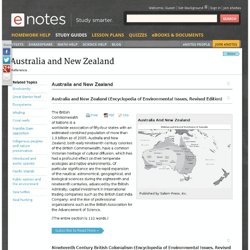 AUSTRALIA AND NEW ZEALAND. Australasian neighbors, once part of the same vast land mass known as Gondwanaland, Australia and New Zealand share a similar recent history. Both were British colonies settled largely by emigrants from England, Scotland, and Ireland, and both experienced rapid agricultural expansion in the 1800s. The initial prosperity of both was built on primary production, a high proportion of whichool, meat, wheat, dairy products, fresh fruits such as apples and pears, and dried fruits such as raisins, sultanas, and currantsas exported, principally to Britain (until the formation of the European Economic Community).
Australia and New Zealand
Australian cuisine has come a long way since 1788, from cook to celebrity chef, tucker to dukkah. Nutritionist Nicole Senior looks at our evolution into a modern, multicultural food nation. A Cook's journey
From damper to dial-a-pizza - Features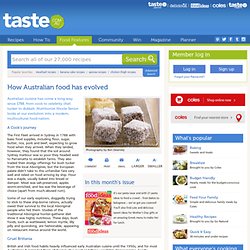 6535.0 - Household Expenditure Survey, Australia: Detailed Expenditure Items, 1998-99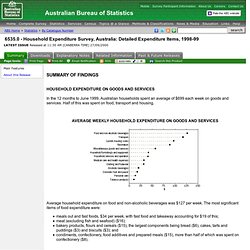 In the 12 months to June 1999, Australian households spent an average of $699 each week on goods and services. Half of this was spent on food, transport and housing.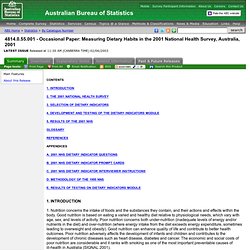 1. Nutrition concerns the intake of foods and the substances they contain, and their actions and effects within the body. Good nutrition is based on eating a varied and healthy diet relative to physiological needs, which vary with age, sex, and levels of activity.
4814.0.55.001 - Occasional Paper: Measuring Dietary Habits in the 2001 National Health Survey, Australia, 2001
www.tasa.org.au/conferences/conferencepapers09/papers/Makenoglou, Anna.pdf
Generation why: food - ABC South West WA - Australian Broadcasting Corporation
Aboriginal Cultural and Education Centre
The sources of food
Dimensions of need - Staple foods: What do people eat?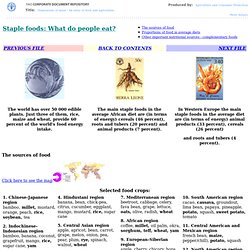 Staple foods around the world
Foodbank - An Australia Without Hunger
Homepage
Rising food prices threaten poverty increase - Australia Network's Newsline
Food Blog Design
Carolyn Steel: How food shapes our cities
What The World Eats
Fabulous Food Of Malaysia