Llenguatge multimèdia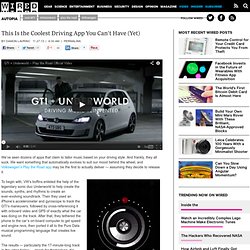 We've seen dozens of apps that claim to tailor music based on your driving style. And frankly, they all suck. We want something that automatically evolves to suit our mood behind the wheel, and Volkswagen's Play the Road app may be the first to actually deliver — assuming they decide to release it.
This Is the Coolest Driving App You Can't Have (Yet) | Autopia
com city Crea tu Cómic - Crea tu Cómic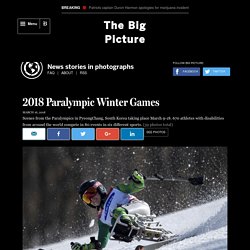 The winners have been named in the 2013 National Geographic Photography contest.
Cosas raras que puedes hacer con una cámara en movimiento | Microsiervos (Arte y Diseño)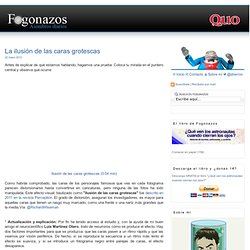 Antes de explicar de qué estamos hablando, hagamos una prueba. Coloca tu mirada en el puntero central y observa qué ocurre: Como habrás comprobado, las caras de los personajes famosos que ves en cada fotograma parecen distorsionarse hasta convertirse en caricaturas, pero ninguna de las fotos ha sido manipulada.
La ilusión de las caras grotescas
El futuro del web es el vídeo #internet
We love cheatsheets as one can refer to them and make quick amendments to better our skills. Since many loved our last compilation of cheatsheet for designers, we've decided to compile another set of cheatsheets, this time for photographers. Amateur photographers, and even pros can easily benefit from these cheatsheets as it is a resource for fresh and new ideas. We've scoured the Web and have found a wide variety of cheatsheets covering various aspects of photography and catering to the many levels of skills and interest of anyone who calls themselves a photographer.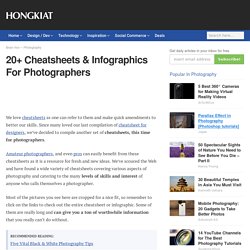 Navigating the new multi-screen world: Insights show how consumers use different devices together - Google Mobile Ads Blog
How many times have you started reading an email on your phone while commuting, and then continued it on your laptop when you got home? Or perhaps you saw a commercial for a new car and then used your tablet to search for the specs and see it in action? If these things sound familiar, that's because they're all part of the new norm in multi-screen behavior. In "The New Multi-screen World: Understanding Cross-Platform Consumer Behavior," we discovered that 90% of people move between devices to accomplish a goal, whether that's on smartphones, PCs, tablets or TV. We set out to learn not just how much of our media consumption happens on screens, but also how we use these multiple devices together, and what that means for the way that businesses connect with consumers.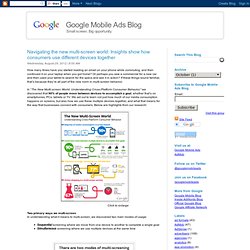 Guía para la creación de materiales educativos interactivos
IAB-estandares-formatos-mobile-tablet-2012
10 tips for using audio more effectively in multimedia stories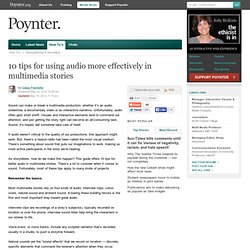 Sound can make or break a multimedia production, whether it's an audio slideshow, a documentary video or an interactive narrative. Unfortunately, audio often gets short shrift. Visuals and interactive elements tend to command our attention, and just getting the story right can become an all-consuming task. Sound, it's hoped, will somehow take care of itself. If audio weren't critical to the quality of our productions, this approach might work. But, there's a reason radio has been called the most visual medium.
Mobile is the Needle, Social is the Thread: How Information Today i...
Especiales de lainformacion.com - El mal del cerebro
4 Medios Interactivos | Manual de Estilo de la Corporación RTVE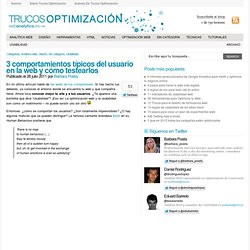 En mi último artículo hablé de las webs de tus competidores. Si has hecho tus deberes, ya conoces el entorno donde se encuentra tu web y qué compañía tiene. Ahora toca conocer mejor tu site y a tus usuarios. ¿Te aparece una bombilla que dice "Usabilidad"? ¡Eso es! La optimización web y la usabilidad son como un matrimonio – no puede existir uno sin otro
3 comportamientos típicos del usuario en la web y cómo testearlos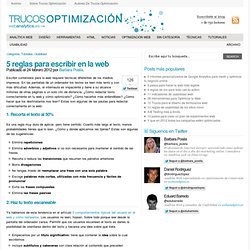 5 reglas para escribir en la web
Publicado el 24 febrero 2012 por Barbara Posila. Escribir contenidos para la web requiere técnicas diferentes de los medios impresos. En las pantallas de un ordenador los textos se leen más lento y con más dificultad. Además, el internauta es impaciente y tiene a su alcance millones de otras páginas a un solo clic de distancia. ¿Cómo redactar texto correctamente en tu web y cómo optimizarlo? ¿Cómo hacerlos más entendibles?