Cities and Urban Environments
3D Printing of Kawasaki City: A Smart City's Future Landscape. Array of Things' High Tech Lamp Posts Will Track People. Artist's rendering of a data-collecting sensor box in Chicago.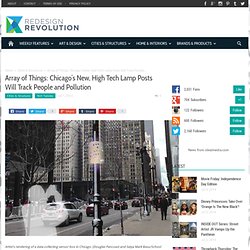 (Douglas Pancoast and Satya Mark Basu/School of the Art Institute) You might not walk down the streets of Chicago with the same perspective again. Starting this summer, the city is installing a network of high tech lamp posts that will keep track of all kinds of information about the environment and people passing by through sensors. The data collected by Web-connected sensors will be used to help urban planners make the city safer and make traffic flow better. All of this while also tracking environmental factors like air quality.
Garbage-sorting robot gets its hands dirty - tech - 06 April 2011. A ROBOT that automatically categorises waste from construction and demolition projects could enable valuable raw materials to be recycled instead of ending up in landfill.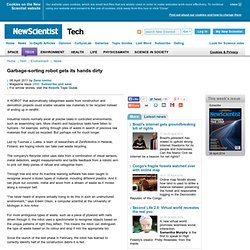 Industrial robots normally excel at precise tasks in controlled environments, such as assembling cars. More chaotic and hazardous tasks have fallen to humans - for example, sorting through piles of waste in search of precious raw materials that could be recycled. But perhaps not for much longer. Led by Tuomas J. Fuck Your Pop-Up Shops. An artist's impression of Artworks Elephant (image via) "A pop-up mall made from 50 recycled shipping containers is to set up shop in London's Elephant and Castle area after the development was granted planning permission this month."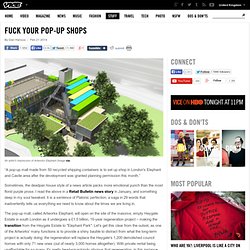 Sometimes, the deadpan house style of a news article packs more emotional punch than the most florid purple prose. I read the above in a Retail Bulletin news story in January, and something deep in my soul tweaked. It is a sentence of Platonic perfection; a saga in 29 words that inadvertently tells us everything we need to know about the times we are living in. The pop-up mall, called Artworks Elephant, will open on the site of the massive, empty Heygate Estate in south London as it undergoes a £1.5 billion, 15-year regeneration project – making the transition from the Heygate Estate to "Elephant Park". The 'Ruralization' of Urban Areas - Sarah Goodyear. The statistic gets trotted out at just about every urbanism conference: for the first time in history, the majority of the world's people live in cities.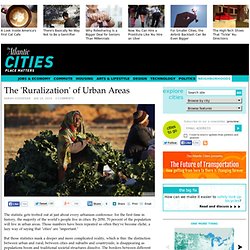 By 2050, 70 percent of the population will live in urban areas. Those numbers have been repeated so often they've become cliché, a lazy way of saying that "cities" are "important. " But those statistics mask a deeper and more complicated reality, which is this: the distinction between urban and rural, between cities and suburbs and countryside, is disappearing as populations boom and traditional societal structures dissolve. The borders between different ways of living are blurring. And that means "urbanization" represents something different from what it has in the past. 20 predictions for the future of London. © Adam Simpson Shimmering skyscrapers, newfangled ways to get to work, driverless trains, Ikeaville, Boris Island… We've got the inside scoop on what lies ahead for our ever-evolving, ever-inventive city.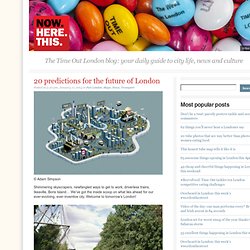 Welcome to tomorrow's London! 1 Canal+Tube, train, bus, cycling… Swimming? One proposed addition to London's commuter options is a cleaned and filtered channel in the Regent's Canal, so you could theoretically swim to work (provided you work at The Guardian and live in Broadway Market). With rising sea levels, we may all be facing a more watery commute, so don't rule it out. Utah is Ending Homelessness by Giving People Homes. Earlier this month, Hawaii State representative Tom Bower (D) began walking the streets of his Waikiki district with a sledgehammer, and smashing shopping carts used by homeless people.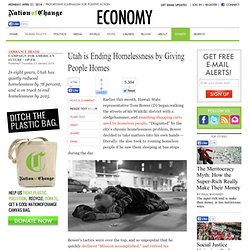 "Disgusted" by the city's chronic homelessness problem, Bower decided to take matters into his own hands — literally. He also took to rousing homeless people if he saw them sleeping at bus stops during the day. Top 10 Reasons Why 2014 Will Be the Year of #ShareableCities. Citi Bike, New York City's first bike-share service and the largest in the U.S., was launched in May. | Image credit: Citi Bike A Shareable City enables residents to efficiently and safely share all kinds of assets — from spaces to cars, skills and utilities — to create stronger, healthier and more connected communities.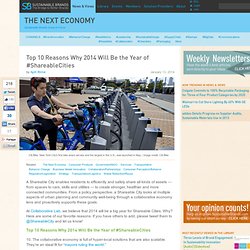 From a policy perspective, a Shareable City looks at multiple aspects of urban planning and community well-being through a collaborative economy lens and proactively supports these goals. At Collaborative Lab, we believe that 2014 will be a big year for Shareable Cities. Vertical farms sprouting all over the world - tech - 16 January 2014. Leader: "Fruit and veg, fresh from the skyscraper" URBAN warehouses, derelict buildings and high-rises are the last places you'd expect to find the seeds of a green revolution.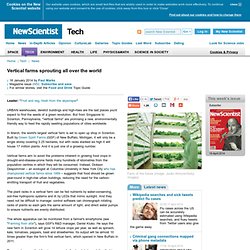 But from Singapore to Scranton, Pennsylvania, "vertical farms" are promising a new, environmentally friendly way to feed the rapidly swelling populations of cities worldwide. Maximising the Potential of Subterranean Cities. This post is also available in: Chinese (Traditional), Italian A second city lies beneath the streets of Montreal: a bustling complex of shops and restaurants.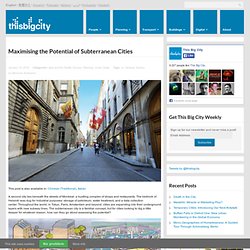 The bedrock of Helsinki was dug for industrial purposes: storage of petroleum, water treatment, and a data collection center. Osaka's 8-Level Rooftop Park Not Your Average Shopping Mall - Industry Tap. By: Nidhi Goyal | January 7th, 2014 Namba Parks redefines the look of a typical mall.
Photo © gucky / Flickr Namba Parks in Osaka, Japan, is an amazing piece of architecture, a place where you'll spend half your time shopping and the other half admiring its design. Live with 1 Million People in a Futuristic Pyramid City - Industry Tap. By: Nidhi Goyal | December 18th, 2013 The Ziggurat Project is being called the "funkiest" ever envisioned. Image courtesy FlashyDubai.com Dubai is building one of the wonders of the world, inspired by incredible feats of architecture of Mayans and Egyptians. They built the pyramids to weather the test of time, but masterpiece structure 'Ziggurat' will be self-sustainable with all natural-energy sources. Here are some interesting facts and features that are going to be incorporated in the Ziggurat Project:
RE.WORK Cities. What they say Paul Foster @PaulFo "As predicted a fab morning at #reworkrobotics great discussions had and connections made :)" Paul Foster, Microsoft, AI & Robotics Forum, 2014. RE.WORK Cities. Our future in cities | TED Playlists. Future Cities. Oakland's Future: Becoming the safest, most sustainably prepared large city in the country (Community Voices) Imagine Oakland with a world-wide reputation for being the safest, most sustainably prepared large city in the country. Picture that anytime there's an emergency or disaster situation anywhere in the country, it's Oakland that is mentioned as the place to find out how to make it work well for everyone.
Yes, everyone. That's CARD's goal for the incredible city of Oakland—safe, sustainably prepared, ready to address our challenges and opportunities. It's why I'm honored and excited to be writing about safety, preparedness, and resilience for Oakland Local. The hyper-local focus here will allow us to share an alternative approach that everyone in Oakland can embrace. What's Driving The Future Of The Modern City? [Future of Cities] Imagine a downtown that changes from a commercial center during the day to a vibrant cultural district at night, and is served by transportation hubs that facilitate multiple modes of travel. The surrounding neighborhoods are comprised of mixed-use residential buildings that contain adaptable micro-units to accommodate single residents and entire families with systems that recycle grey water to support rooftop farms.
The entire urban landscape becomes an interactive canvas, providing new outlets for entertainment and exchange, and reflecting the sentiment of its populace. Within this context, the actions of individual residents help positively impact the fabric of daily life, as they come together to share information, experiences and even physical goods with one another, raising the collective value of their communities.
The UN estimates that by 2050 there will be 10 billion people living on the planet AND 75% of them in cities. FUTURE PROOFING CITIES. Future Cities - Home. We are currently researching topics and speakers for the Future Cities 2014 program. To share your insights with our researcher, please contact Jaan.vanvalkenburgh@informa.com Rapid urbanization is taking place across the globe. Future Cities 2013 will explore the components of a successful city, and will use these discoveries to drive critical planning across all relevant sectors, internationally.
Designing cities of the future | What future urban living. Future Cities: Home. System/uploaded_files/66/original/BellagioFramework.pdf. Innovative BioCellar Recycles Cleveland's Abandoned Houses into Centers for Urban Farming. Fabricated shells lend hermit crabs a sense of identity. By 2047, Coldest Years May Be Warmer Than Hottest in Past, Scientists Say. Terreform, Inc. Proposes Covering NYC With Vertical Gardens & Urban Farms to Become Self-Sufficient Terreform New York City Steady State - Gallery Page 1 – Inhabitat New York City. Publishers: publishers of distinguished academic, scientific and professional journals. 10 Creative Ideas For Thriving Cities Of The Future. The Quantified City | david sasaki. Olympic cauldron designer hatches London garden bridge scheme - Images.
The too-smart city - Ideas. The City Is A Battlesuit For Surviving The Future. Io9. Hacked Brainwave Headset Lets You Control Architecture by Thinking. 'Fruit Activists' Take Urban Gardens in a New Direction. Tricycle House pedal-powered RV offers lots of home comforts. 'Henri Labrouste,' at the Museum of Modern Art. Floating Light Park Skyscraper Uses Solar Power and Helium to Hover Above Pollution-Choked Beijing. Watch: Steven Holl Explains The Logic Behind A Masterpiece. Using The New Sim City, 6 Urban Planners Battle For Bragging Rights. China's 'farmscrapers' are highrises that will generate their own food. How will our future cities look? Seeking Clues About Sea Level From Fossil Beaches. This tiny transforming apartment will make you hate your current place, but love the future. How SAP and cities are boosting innovation through open data.
Infographic Shows Which Cities are Embracing the Green Revolution Around the World. Soulardarity Streetlight Campaign: Bold Beginnings. Municipal Placemaking Mistakes 03: The Importance of a Meaningful Vision. 10 Stunning Images of Futuristic Architecture | Listverse. Wild pigs may become Washington's next big pest. Chicago's urban farm district could be the biggest in the nation. A rooftop fish farm for every family? SeeClickFix and Temporary Cities - SeeClickFix. Lack of contact with nature 'increasing allergies' Super-polluted city tries to clean itself with smog-eating paint. Mutant weeds | thestate.
CitéGreen | 1er programme de récompense des écogestes. In France, site rewards participants for eco-friendly behavior. These vertical forests will soon dominate Milan's skyline. The Islands of San Francisco « Burrito Justice. Cities of You - Online Gallery. Gallery walls: Cities embrace street art as a ticket to success. New Cities Summit Paris 2012. Air Pollution Will Be A Bigger Global Killer Than Contaminated Water. Bird on Fire: Lessons from the World's Least Sustainable City. Public phone booths in New York repurposed into libraries. Urban Identity: Citizens and their Cities. Join Me for January's Vancouver Urbanist Meetup this Sunday. How Four Women Revived a Derelict Mississippi Town. Dumpster Swimming Pools by Macro Sea.
Holes of Happiness, The Guerrilla Pothole Gardens of East London. It's Not a Fairytale: Seattle to Build Nation's First Food Forest | TakePart - News, Culture, Videos and Photos That Make the World Better. SOM wins master plan competition for Beijing Bohai Innovation City. Foreclosed: Rehousing the American Dream. Guerrilla Wayfinding in Raleigh - Neighborhoods.
Cities of the future. Global Cities. Sweden builds 18-story greenhouse. Japan's urban agriculture: cultivating sustainability and well-being. ANFA - Academy of Neuroscience for Architecture. America's Dead Zones: From Detroit to Dyersburg, Why Does Prosperity Pass So Many Places By? | Economy. Copperbadge: So I posted this morning about the lette. Beirut Wonder Forest Would Cover the Lebanese Capitol With Hanging Gardens. Anatomy of a Smart City Full. 10 Visions of the Los Angeles That Could Have Been.
---