Australian History
brisbane penal colony moreton bay convict settlement and moreton bay history moreton bay penal colony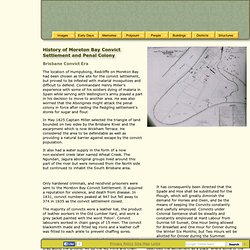 History of Moreton Bay Convict Settlement and Penal Colony
History of Moreton Bay Convict Settlement and Penal Colony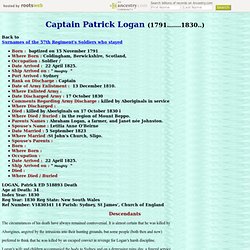 New Page 0
Back to Surnames of the 57th Regiment's Soldiers who stayed
There were few buildings in the struggling outpost.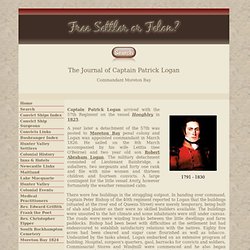 The Journal of Captain Patrick Logan
Ancient Australian History
During the period between 1788 and 1868, about 160,000 convicts were sent to Australia. What happened to them when they got to Australia depended on their skills or education, how they behaved themselves and some luck.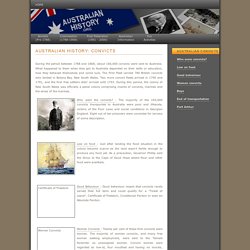 Convict Records CoraWeb - helping you trace your family history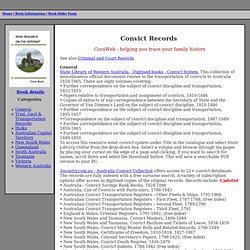 Convict Records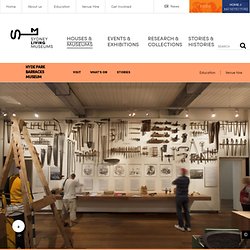 Skip to main content Search form
Convict Sydney | Sydney Living Museums
The National Archives of Ireland holds a wide range of records relating to the transportation of convicts from Ireland to Australia covering the period 1788 to 1868. In some cases these include records of members of convicts' families transported as free settlers. To mark the Australian Bicentenary in 1988, the Taoiseach presented microfilms of the most important of these records to the Government and People of Australia as a gift from the Government and People of Ireland. A computerised index to the records was prepared with the help of IBM and is available for use at various locations in Australia.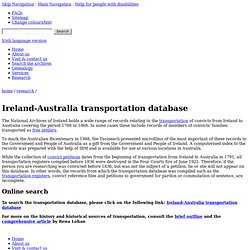 Topics: Ireland-Australia transportation database
The British Convict transportation registers 1787-1867 database has been compiled from the British Home Office (HO) records which are available on microfilm at all Australian State Libraries.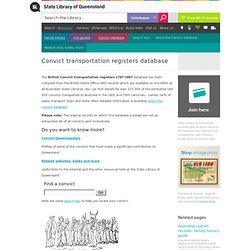 British Convict Transportation Registers Database
Convict tokens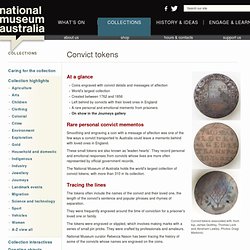 At a glance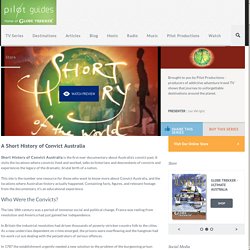 A Short History of Convict Australia | The Official Globe Trekker WebsiteThe Official Globe Trekker Website
Short History of Convict Australia is the first ever documentary about Australia's convict past. It visits the locations where convicts lived and worked, talks to historians and descendants of convicts and experiences the legacy of the dramatic, brutal birth of a nation. This site is the number one resource for those who want to know more about Convict Australia, and the locations where Australian history actually happened.
Between 1788 and 1868, 165,000 convicts were transported to Australia. Transportation in New South Wales officially ceased in 1840, although there was a short-lived revival in 1849.
The convict system
History Timelines
Australia's Wartime History - Digital Education Resources | The History of the Salvation Army in World War I
Australia's Wartime History - Digital Education Resources | Captivity - Experiences of POW's
Australia's Wartime History - Digital Education Resources | A is for ANZACs
History - Digital Education Resources | Constructing Australia - Pipe Dreams
Australia's Wartime History - Digital Education Resources | Australia Attacked - Subs in Sydney Harbour
History - Digital Education Resources | Confrontation on King Island
Pandora Archive - Preserving and Accessing Networked DOcumentary Resources of Australia
Classroom learning
End of the White Australia Policy - 80 Days That Changed Our Lives - ABC Archives
On 26th January 1808, officers and men of the New South Wales Corps marched to Government House in Sydney in an act of rebellion against Governor William Bligh. Bligh was arrested and the colony was placed under military rule. This was the only time in Australian history that a government was overthrown by a military coup.
1808 Rum Rebellion
The First Fleet
Over 252 days, the First Fleet brought over 1500 men, women and children half way around the world from England to New South Wales. Detail from Botany Bay; Sirius & Convoy going in ... 21 January 1788.from 'A Voyage to New South Wales' by William Bradley, December 1786 - May 1792, Safe 1/14 On 13 of May 1787, the fleet of 11 ships set sail from Portsmouth, England.
Collaborating for Indigenous Rights 1957-1973
Updated Fri 27 Jan 2012, 12:50pm AEDT The Aboriginal Tent Embassy was founded on Australia Day in 1972 to protest the decision by the McMahon Liberal government to reject a proposal for Aboriginal Land rights. The government instead planned to implement a lease system, conditional on the ability of Indigenous people to make economic and social use of the land, and excluding rights to mineral and forestry resources. Four Indigenous activists - Michael Anderson, Billy Craigie, Bertie Williams and Tony Coorey - set up the protest at 1.00am under a beach umbrella on the lawns of Parliament House (Old Parliament House). The movement quickly gained traction, with more and more tents being erected and numbers at one point swelling to 2,000.
The history of the Aboriginal Tent Embassy
This is Their Land on Vimeo
Mabo - a timeline
ABC Online Indigenous - Special Topics - Reconciliation
ABC Online Indigenous - Special Topics - The Apology
Primary School Year 5 & 6 Free Lesson Plans, Links and Resources
Four-dimensional storytelling - A Short History of Australia
Golden Heritage Stories - Department of Planning and Community Development
Heritage Victoria - What House is That?
Australian Digital Collections
National Museum of Australia - Units of work
First Fleet Online
European discovery and the colonisation of Australia
Home - Electronic Encyclopedia of Gold in Australia
Australian science timeline 2.24
timeline.swf (application/x-shockwave-flash Object)
Issue 6 | Your Memento
Eora: Aboriginal Sydney | State Library of New South Wales
Barani
Lore of the Land : Fraynework
Culture Victoria - Burke and Wills: Then and Now