Australian History
Australian painters. John Glover (1767-1849), Australian landscape with cattle: the artist's property Patterdale, c. 1835, oil on canvas.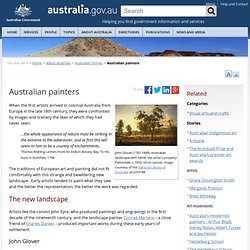 Image courtesy of the : an2253188. When the first artists arrived in colonial Australia from Europe in the late 18th century, they were confronted by images and scenery the likes of which they had never seen: Famous Australian Poets and Poems. Australian Olympic Committee: Olympian Search. Every Australian Olympian and their Games results can be found here.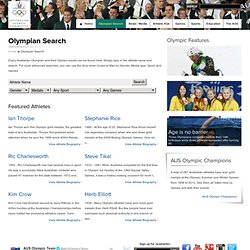 Simply type in the athlete name and search. For more advanced searches, you can use the drop down boxes to filter by Gender, Medal type, Sport, and Games. Sport Australia Hall of Fame - Legends of Australian Sport. 2013 Induction & Awards Dinner News Feed 5th Feb 2014 Search Legends of Australian Sport The Sport Australia Hall of Fame introduced the Legend status to recognise those members who have distinguished themselves at the highest level and in doing so have offered inspiration and example to Australia.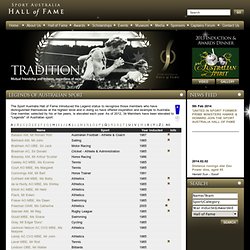 Australian History: Post Federation: Sporting Achievements. During the century of world wars and the Great Depression, Australia achieved great heights in sporting achievements.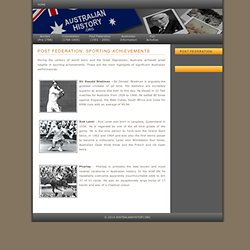 These are the main highlights of significant Australian performances. Sir Donald Bradman - Sir Donald Bradman is arguably the greatest cricketer of all time. ADB Home - Australian Dictionary of Biography. Australian Biography. National Portrait Gallery, Canberra - Portraits. Welcome to the National Portrait Gallery's collection search.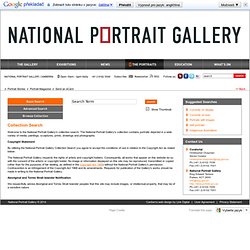 The National Portrait Gallery's collection contains portraits depicted in a wide variety of media; paintings, sculptures, prints, drawings and photographs. Copyright Statement By utilising the National Portrait Gallery Collection Search you agree to accept the conditions of use in relation to the Copyright Act as stated below: The National Portrait Gallery respects the rights of artists and copyright holders.
Australia's PMs - Australia's Prime Ministers. Site map | Glossary | Contact us About this site | Australia's PMs | Fast facts | Timeline | Galleries | Find records > The Australian prime minister> The prime ministerial spouse Home > Australia's PMs Australia's PMs Use the images below to explore the life and times of individual Australian prime ministers, or see The Australian prime minister or The prime ministerial spouse to learn about these roles.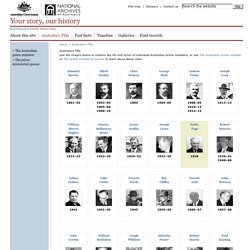 Factsheets · Museum of Australian Democracy at Old Parliament House. Do you know which former prime minister was nicknamed 'Tosspot Toby' by The Bulletin because of his love of good food and wine?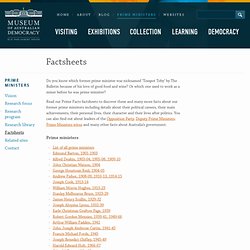 Or which one used to work as a miner before he was prime minister? Read our Prime Facts factsheets to discover these and many more facts about our former prime ministers including details about their political careers, their main achievements, their personal lives, their character and their lives after politics. You can also find out about leaders of the Opposition Party, Deputy Prime Ministers, Prime Ministers wives and many other facts about Australia's government.
Prime ministers Opposition Party Leaders* Prime Ministers of Australia. Australia has had 27 prime ministers since Federation in 1901.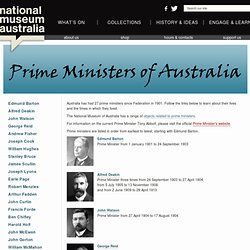 Follow the links below to learn about their lives and the times in which they lived. The National Museum of Australia has a range of objects related to prime ministers. For information on the current Prime Minister Tony Abbott, please visit the official Prime Minister's website. Prime ministers are listed in order from earliest to latest, starting with Edmund Barton. Profiles. Provided here are both outlines and stories of the lives of female convicts.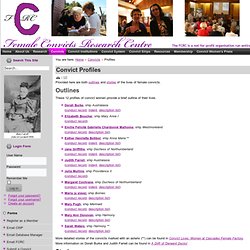 Outlines These 12 profiles of convict women provide a brief outline of their lives. More detailed stories of the convicts marked with an asterix (**) can be found in Convict Lives: Women at Cascades Female Factory. More information on Dorah Burke and Judith Farrell can be found in A Drift of 'Derwent Ducks'. Pictures - Convict portraits, Port Arthur, 1874 [picture] Convicts To Australia ... Some Tales. Colourful accounts of individual convicts, listed under the ship on which they arrived.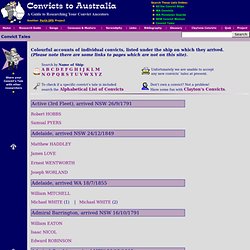 (Please note there are some links to pages which are not on this site). Active (3rd Fleet), arrived NSW 26/9/1791. Browse Convicts. Meet a convict. Convicts To Australia ... Research Guide - Timeline. The colony of VAN DIEMEN'S LAND was established in its own right and its name was officially changed to TASMANIA on 01/01/1856. The first settlement was made at Risdon on 11/09/1803 when Lieut John Bowen landed with about 50 settlers, crew, soldiers and convicts. The site proved unsuitable and was abandoned in August 1804.
Lieut-Col David Collins finally established a successful settlement at Hobart in February 1804 with a party of about 260 people, including 178 convicts. (Collins had previously attempted a settlement in Victoria.) A convict Story. Convict Facts. Gallipoli War Correspondents - National Library of Australia Online Exhibition. Charles Bean, Keith Murdoch, Phillip Schuler and Charles Smith were four Australians who went to Gallipoli as journalists during World War 1. This website aims to introduce these men and their writing, as well as to highlight their role in the development of an Australian identity. This site is made available through a grant from the Distinctively Australian program, administered by the Commonwealth Department of Environment and Heritage.
First Fleet - Stories. Collections - First Fleet artwork collection. The First Australians.Ep1/7.pt.1/7 - They came to stay. (02:42) Friendship | First Fleet Fellowship Victoria Inc. Friendship Convict transport ship (Marine artist Frank Allen) Friendship was a convict transport ship of 276 tons, which was built in Scarborough England, in 1784, for her owners Hoppers of Scarborough. Aboard on the voyage to Botany Bay, were the Master, Captain Francis Walton, Assistant Surgeon Thomas Arnell and Marines, Captain James Meredith, Lieutenant Ralph Clark, and Lieutenant William.
As the smallest of the transports Friendship probably carried a crew of around 20. National Treasures – Endeavour Journal (2004. Clip description Written on board the Endeavour during his trip down under in 1770, James Cook's journal records the beginning of Australia as we know it today. Curator's notes Captain James Cook FRS RN (27 October 1728–14 February 1779) was an English explorer, navigator and cartographer. Www.achistoryunits.edu.au/verve/_resources/Htaa_first_fleet_daily_routine.pdf.
Convicts To Australia ... Research Guide - Life at Sea. Joseph Banks' Endeavour Journal. Home | First Fleet Fellowship Victoria Inc. First fleet. Australia's First Fleet. History of Moreton Bay Convict Settlement and Penal Colony. History of Moreton Bay Convict Settlement and Penal Colony. New Page 0. The Journal of Captain Patrick Logan. Ancient Australian History. Convict Records. Convict Sydney | Sydney Living Museums. Topics: Ireland-Australia transportation database. British Convict Transportation Registers Database.
Convict tokens. A Short History of Convict Australia | The Official Globe Trekker WebsiteThe Official Globe Trekker Website. The convict system. History Timelines. Australia's Wartime History - Digital Education Resources | The History of the Salvation Army in World War I. Australia's Wartime History - Digital Education Resources | Captivity - Experiences of POW's. Australia's Wartime History - Digital Education Resources | A is for ANZACs. History - Digital Education Resources | Constructing Australia - Pipe Dreams. Australia's Wartime History - Digital Education Resources | Australia Attacked - Subs in Sydney Harbour. History - Digital Education Resources | Confrontation on King Island. Pandora Archive - Preserving and Accessing Networked DOcumentary Resources of Australia.
Classroom learning. End of the White Australia Policy - 80 Days That Changed Our Lives - ABC Archives. 1808 Rum Rebellion. The First Fleet. Collaborating for Indigenous Rights 1957-1973. The history of the Aboriginal Tent Embassy. This is Their Land. Mabo - a timeline. ABC Online Indigenous - Special Topics - Reconciliation. ABC Online Indigenous - Special Topics - The Apology. Primary School Year 5 & 6 Free Lesson Plans, Links and Resources. Four-dimensional storytelling - A Short History of Australia. Golden Heritage Stories. Heritage Victoria - What House is That? Australian Digital Collections. Units of work. Newspaper Home. First Fleet Online. European discovery and the colonisation of Australia.
Home - Electronic Encyclopedia of Gold in Australia. Ergo | Research, resources and essay writing. Australian science timeline 2.24. Timeline.swf (application/x-shockwave-flash Object) Issue 6 | Your Memento. Dust Echoes. Eora: Aboriginal Sydney. Barani. Lore of the Land : Fraynework. Burke and Wills: Then and Now.
---