Australian History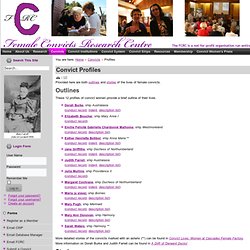 Profiles
Provided here are both outlines and stories of the lives of female convicts. Outlines These 12 profiles of convict women provide a brief outline of their lives. More detailed stories of the convicts marked with an asterix (**) can be found in Convict Lives: Women at Cascades Female Factory. More information on Dorah Burke and Judith Farrell can be found in A Drift of 'Derwent Ducks'.
Pictures - Convict portraits, Port Arthur, 1874 [picture]
Colourful accounts of individual convicts, listed under the ship on which they arrived. (Please note there are some links to pages which are not on this site). Active (3rd Fleet), arrived NSW 26/9/1791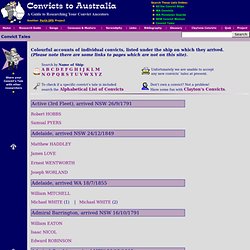 Convicts To Australia ... Some Tales
Browse Convicts
Meet a convict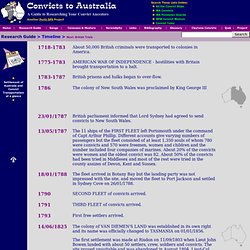 Convicts To Australia ... Research Guide - Timeline
The colony of VAN DIEMEN'S LAND was established in its own right and its name was officially changed to TASMANIA on 01/01/1856. The first settlement was made at Risdon on 11/09/1803 when Lieut John Bowen landed with about 50 settlers, crew, soldiers and convicts. The site proved unsuitable and was abandoned in August 1804. Lieut-Col David Collins finally established a successful settlement at Hobart in February 1804 with a party of about 260 people, including 178 convicts. (Collins had previously attempted a settlement in Victoria.)
A convict Story
Convict Facts
Gallipoli War Correspondents - National Library of Australia Online Exhibition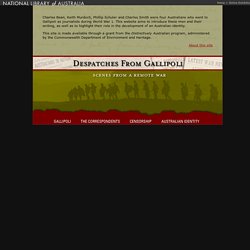 Charles Bean, Keith Murdoch, Phillip Schuler and Charles Smith were four Australians who went to Gallipoli as journalists during World War 1. This website aims to introduce these men and their writing, as well as to highlight their role in the development of an Australian identity. This site is made available through a grant from the Distinctively Australian program, administered by the Commonwealth Department of Environment and Heritage.
First Fleet - Stories
Collections - First Fleet artwork collection
The First Australians.Ep1/7.pt.1/7 - They came to stay. (02:42)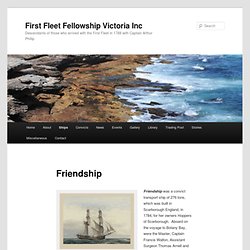 Friendship | First Fleet Fellowship Victoria Inc
Friendship Convict transport ship (Marine artist Frank Allen) Friendship was a convict transport ship of 276 tons, which was built in Scarborough England, in 1784, for her owners Hoppers of Scarborough. Aboard on the voyage to Botany Bay, were the Master, Captain Francis Walton, Assistant Surgeon Thomas Arnell and Marines, Captain James Meredith, Lieutenant Ralph Clark, and Lieutenant William. As the smallest of the transports Friendship probably carried a crew of around 20.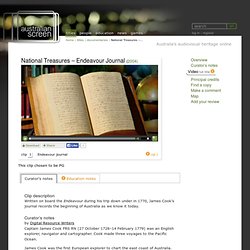 National Treasures – Endeavour Journal (2004
Clip description Written on board the Endeavour during his trip down under in 1770, James Cook's journal records the beginning of Australia as we know it today. Curator's notes Captain James Cook FRS RN (27 October 1728–14 February 1779) was an English explorer, navigator and cartographer.
www.achistoryunits.edu.au/verve/_resources/Htaa_first_fleet_daily_routine.pdf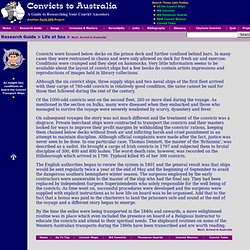 Convicts were housed below decks on the prison deck and further confined behind bars. In many cases they were restrained in chains and were only allowed on deck for fresh air and exercise. Conditions were cramped and they slept on hammocks. Very little information seems to be available about the layout of convict ships but a few books do contain artists impressions and reproductions of images held in library collections. Although the six convict ships, three supply ships and two naval ships of the first fleet arrived with their cargo of 780-odd convicts in relatively good condition, the same cannot be said for those that followed during the rest of the century.
Convicts To Australia ... Research Guide - Life at Sea
Joseph Banks (1743-1820) successfully lobbied the Royal Society to be included on what became James Cook's first great voyage of discovery, on board the Endeavour (1768 - 1771). This voyage marked the beginning of Banks' lifelong friendship and collaboration with the Swedish naturalist Daniel Solander, and his indefatigable advocacy of British settlement in NSW. The Endeavour's stay in a wide, shallow bay south of the present day Sydney from 28 April to 5 May 1770, yielded so many previously unrecorded specimens to Bank's botanical collections that Cook named the area 'Botany Bay'. For the rest of his life, Banks influenced almost every aspect of Pacific exploration and early Australian colonial life.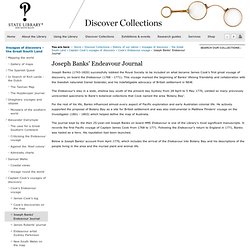 Joseph Banks' Endeavour Journal
The First Fleet Fellowship Victoria Inc. is an historical society formed in 1984 to provide an association for all those people who have ancestors who arrived in Australia in 1788 aboard one of the ships of the First Fleet. Our AimThe aim of the First Fleet Fellowship Victoria Inc. is to promote the social, cultural and historical important and significance of the settlement and establishment of modern Australia and to promote caring fellowship within all segments of the Australian community. It also communicates with other societies and associations with kindred aims and interests.
Home | First Fleet Fellowship Victoria Inc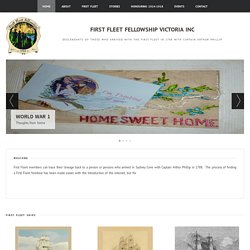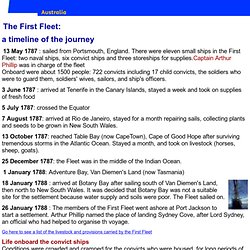 The First Fleet: a timeline of the journey 13 May 1787 : sailed from Portsmouth, England. There were eleven small ships in the First Fleet: two naval ships, six convict ships and three storeships for supplies.Captain Arthur Phillip was in charge of the fleet Onboard were about 1500 people: 722 convicts including 17 child convicts, the soldiers who were to guard them, soldiers' wives, sailors, and ship's officers. 3 June 1787 : arrived at Tenerife in the Canary Islands, stayed a week and took on supplies of fresh food
First fleet
IFHAA Shipping PagesTHE FOUNDERS OF A NATIONAUSTRALIA'S FIRST FLEET - 1788by Cathy Dunn and Marion McCreadie Between 1788 and 1850 the English sent over 162,000 convicts to Australia in 806 ships. The first eleven of these ships are today known as the First Fleet and contained the convicts and marines that are now acknowledged as the Founders of Australia. This is their story.
Australia's First Fleet
brisbane penal colony moreton bay convict settlement and moreton bay history moreton bay penal colony Brisbane Convict Era The location of Humpybong, Redcliffe on Moreton Bay had been chosen as the site for the convict settlement, but proved to be infested with malarial mosquitoes and difficult to defend. Commandant Henry Miller's experience with some of his soldiers dying of malaria in Spain while serving with Wellington's army played a part in his decision to move to another area. He was also worried that the Aborigines might attack the penal colony in force after raiding the fledgling settlement's stores for sugar and flour.
History of Moreton Bay Convict Settlement and Penal Colony
History of Moreton Bay Convict Settlement and Penal Colony
New Page 0
Back to Surnames of the 57th Regiment's Soldiers who stayed LOGAN, Patrick ED 518893 Death Age at Death: 34 Index Year: 1830 Reg Year: 1830 Reg State: New South Wales Ref Number: V1830341 14 Parish: Sydney, St James', Church of England Descendants The circumstances of his death have always remained controversial.
There were few buildings in the struggling outpost. In handing over command, Captain Peter Bishop of the 40th regiment reported to Logan that the buildings (situated at the river end of Queens Street) were merely temporary, being built of slab and plaster as their were no skilled builders available. The buildings were unsuited to the hot climate and some inhabitants were still under canvas. The roads were mere winding tracks between the little dwellings and farm paddocks.
The Journal of Captain Patrick Logan
Ancient Australian History
Convict Records
Convict Sydney | Sydney Living Museums
Topics: Ireland-Australia transportation database
British Convict Transportation Registers Database
Convict tokens
A Short History of Convict Australia | The Official Globe Trekker WebsiteThe Official Globe Trekker Website
The convict system
History Timelines
Australia's Wartime History - Digital Education Resources | The History of the Salvation Army in World War I
Australia's Wartime History - Digital Education Resources | Captivity - Experiences of POW's
Australia's Wartime History - Digital Education Resources | A is for ANZACs
History - Digital Education Resources | Constructing Australia - Pipe Dreams
Australia's Wartime History - Digital Education Resources | Australia Attacked - Subs in Sydney Harbour
History - Digital Education Resources | Confrontation on King Island
Pandora Archive - Preserving and Accessing Networked DOcumentary Resources of Australia
Classroom learning
End of the White Australia Policy - 80 Days That Changed Our Lives - ABC Archives
1808 Rum Rebellion
The First Fleet
Collaborating for Indigenous Rights 1957-1973
The history of the Aboriginal Tent Embassy
This is Their Land on Vimeo
Mabo - a timeline
ABC Online Indigenous - Special Topics - Reconciliation
ABC Online Indigenous - Special Topics - The Apology
Primary School Year 5 & 6 Free Lesson Plans, Links and Resources
Four-dimensional storytelling - A Short History of Australia
Golden Heritage Stories - Department of Planning and Community Development
Heritage Victoria - What House is That?
Australian Digital Collections
National Museum of Australia - Units of work
First Fleet Online
European discovery and the colonisation of Australia
Home - Electronic Encyclopedia of Gold in Australia
Australian science timeline 2.24
timeline.swf (application/x-shockwave-flash Object)
Issue 6 | Your Memento
Eora: Aboriginal Sydney | State Library of New South Wales
Barani
Lore of the Land : Fraynework
Culture Victoria - Burke and Wills: Then and Now