Australian History
Australia's Wartime History - Digital Education Resources | The History of the Salvation Army in World War I
Australia's Wartime History - Digital Education Resources | Captivity - Experiences of POW's
Australia's Wartime History - Digital Education Resources | A is for ANZACs
History - Digital Education Resources | Constructing Australia - Pipe Dreams
Australia's Wartime History - Digital Education Resources | Australia Attacked - Subs in Sydney Harbour
History - Digital Education Resources | Confrontation on King Island
Pandora Archive - Preserving and Accessing Networked DOcumentary Resources of Australia
Classroom learning
End of the White Australia Policy - 80 Days That Changed Our Lives - ABC Archives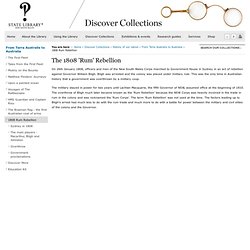 On 26th January 1808, officers and men of the New South Wales Corps marched to Government House in Sydney in an act of rebellion against Governor William Bligh. Bligh was arrested and the colony was placed under military rule. This was the only time in Australian history that a government was overthrown by a military coup.
1808 Rum Rebellion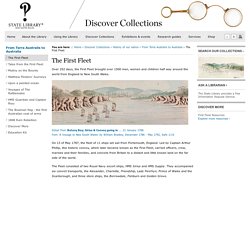 The First Fleet
Over 252 days, the First Fleet brought over 1500 men, women and children half way around the world from England to New South Wales. Detail from Botany Bay; Sirius & Convoy going in ... 21 January 1788. from 'A Voyage to New South Wales' by William Bradley, December 1786 - May 1792, Safe 1/14 On 13 of May 1787, the fleet of 11 ships set sail from Portsmouth, England.
Collaborating for Indigenous Rights 1957-1973
Updated Fri Jan 27, 2012 12:50pm AEDT The Aboriginal Tent Embassy was founded on Australia Day in 1972 to protest the decision by the McMahon Liberal government to reject a proposal for Aboriginal Land rights. The government instead planned to implement a lease system, conditional on the ability of Indigenous people to make economic and social use of the land, and excluding rights to mineral and forestry resources. Four Indigenous activists - Michael Anderson, Billy Craigie, Bertie Williams and Tony Coorey - set up the protest at 1.00am under a beach umbrella on the lawns of Parliament House (Old Parliament House). The movement quickly gained traction, with more and more tents being erected and numbers at one point swelling to 2,000.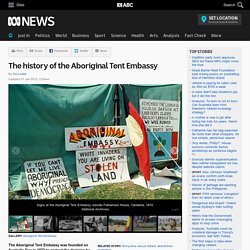 The history of the Aboriginal Tent Embassy
This is Their Land on Vimeo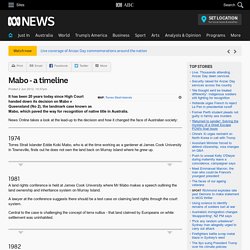 Posted Sun Jun 3, 2012 6:37am AEST It has been 20 years today since High Court handed down its decision on Mabo v Queensland (No 2), the landmark case known as Mabo, which paved the way for recognition of native title in Australia. News Online takes a look at the lead-up to the decision and how it changed the face of Australian society:
Mabo - a timeline
Tamworth's NAIDOC celebrations will, for the first time, feature a childrens' community dance. A mixture of elders, community organisations and members of the general community has turned out to discuss the constitutional recognition of indigenous Australians. National Sorry Day has been commemorated in ceremonies and get-togethers across Western Australia. Tenterfield Shire Council has rejected a motion to permanently raise the Aboriginal and New South Wales State Flag outside the Council Chambers. An Aboriginal leader has accused the Port Augusta council of stalling reconciliation in the city by not recognising traditional owners at the start of council meetings. A new report from the Aboriginal and Social Justice Commissioner commends the Aboriginal-led turnaround in Fitzroy Crossing.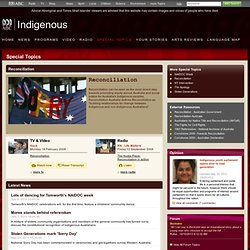 ABC Online Indigenous - Special Topics - Reconciliation
ABC Online Indigenous - Special Topics - The Apology
The Victorian Government has apologised to Neville Austin, 47, for being taken away from his mother at the age of 15 months. National Sorry Day has been commemorated in ceremonies and get-togethers across Western Australia. An Eastern Goldfields' health centre is expected to receive funding when Prime Minister Kevin Rudd announces $9 million to improve health services for Indigenous mothers and babies. Mal Brough has criticised both sides of politics over the latest report on Indigenous living conditions. The chairman of a central Australian stolen generations group said other Aboriginal issues have distracted the Government from ongoing problems.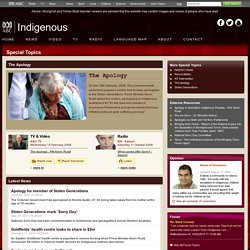 Primary School Year 5 & 6 Free Lesson Plans, Links and Resources
Meograph is the easiest way to create multimedia stories. With no training you can quickly create stories about the news, history, travels, life events, and more by combining video, audio, pictures, text, links, maps, and timelines. Then share by embedding anywhere on the web, or through your favorite social network.
Four-dimensional storytelling - A Short History of Australia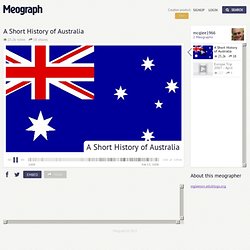 Gold brought the world to Victoria. It bought new people, new skills, and new ideas. It transformed Melbourne into a metropolis, and changed a quiet pastoral settlement into a dynamic colony. Victoria was the scene of extraordinary growth and wealth - unparalleled then or since.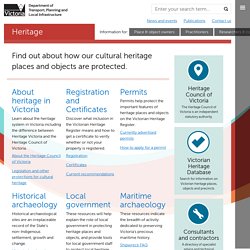 Golden Heritage Stories - Department of Planning and Community Development
Heritage Victoria - What House is That?
Skip to main content The University of Sydney - Australian Digital Collections You are here: Australian Digital Collections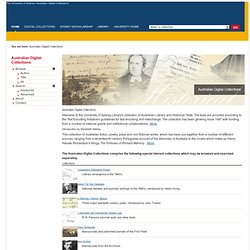 Australian Digital Collections
National Museum of Australia - Units of work
First Fleet Online
European mariners Francesco Bartolozzi (1727-1815 ), Captn. James Cook, F.R.S , 1784, print: stipple engraving. Image courtesy of the .
European discovery and the colonisation of Australia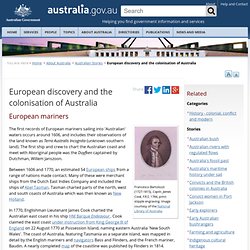 Home - Electronic Encyclopedia of Gold in Australia
Australian science timeline 2.24
This timeline began as a starting point for people looking for terms and names to use in Web searches relating to the history of Australian science and technology, and only later acquired links to relevant pages for some of these. Suggestions for additions, corrections and such are welcome — but if possible, please provide a year — suggestions which lack a year are far more likely to miss out on a place. The email address that I supply here will not reach me unless you put my first name at the front. The rest is macinnis@ozemail.com.au -- which is a spam dump.
timeline.swf (application/x-shockwave-flash Object)
Issue 5 January 2012 The Archives has a new Director-General – Mr David Fricker. Continue reading A look at Ruth Park's delightful children's book The Muddle-headed Wombat in the Snow – part of the Archives' copyright collection. Continue reading Archives staff member Melanie Harwood shares her response to the Smalltown photographic exhibition of far-flung towns across Australia.
Issue 6 | Your Memento
Eora: Aboriginal Sydney, 1770 - 1850, offers an insight into Sydney and the local indigenous community in the years following the arrival of the Bèerewalgal, 'people from the clouds', in 1788. United by a common language, strong ties of kinship, and a rich saltwater economy, the indigenous inhabitants survived as skilled hunter-fisher-gatherers in family groups or clans scattered along the coast. They identified themselves as Eora ( yura ), simply meaning 'People', a word derived from Ee 'yes' and ora 'here' or 'this place', revealing their deep connection to the land. Detail from Wallumedegal, Chart of Port Jackson NSW... , 1788, by George Raper The Eora territory spread from the Georges River and Botany Bay in the south to Port Jackson (Sydney Harbour), north to Pittwater at the mouth of the Hawkesbury River and west along the river to Parramatta.
Eora: Aboriginal Sydney | State Library of New South Wales
Barani is an Aboriginal word of the Eora, the original inhabitants of the place where Sydney City now stands.
Barani
Lore of the Land : Fraynework
Culture Victoria - Burke and Wills: Then and Now