Daily read
Decor8. The neon gypsy. LOOKBOOK.nu: collective fashion consciousness. Polkadot. Piccsy :: Popular Piccs. Awwwards: Website Awards - Best websites around the World. Videos :: The 99 Percent. Social Media News and Web Tips – Mashable – The Social Media Guide.
I Believe in Advertising | ONLY SELECTED ADVERTISING | Advertising Blog & Community. Design Inspiration. Wed, 05/30/2012. Smashing Magazine. The Dieline - The #1 Package Design Website - Piccsy :: Recent posts. Pluck't. Kelli Murray's Blog » News. What are you working on? All Creative World | Daily Inspiration. Oh Happy Day! The best in advertising, design, and digital creativity - AdCritic.
All Creative World | Daily Inspiration. (2011) Top 100 Advertising, Marketing, Digital, Media and PR Blogs. Compiled and updated by Ed Mahony of newsdrilldigital.com. 2014.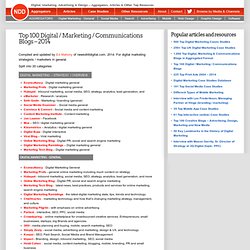 For digital marketing strategists / marketers in general. Split into 20 categories….. Econsultancy - Digital marketing general Marketing Profs - Digital marketing general Hubspot - Inbound marketing, social media, SEO, strategy, analytics, lead generation, and eMarketer - Research / analysisSeth Godin - Marketing / branding (general)Social Media Examiner – Social media general Convince & Convert - Social media and content marketingContent Marketing Institute - Content marketing Jon Loomer - Facebook Moz – SEO / digital marketing general Kissmetrics – Analytics / digital marketing general Digital Buzz - Digital interactiveViral Blog – Viral marketing Online Marketing Blog - Digital PR, social and search engine marketingDigital Marketing Ramblings – Digital marketing general Marketing Tech Blog – Digital marketing general.
Digital Buzz Blog | Digital Campaigns, Online Marketing, Social & More. AdFreak. Need a new reason to cry at weddings?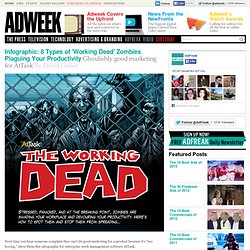 Tosando, a Japanese company that offers musical instruments and lessons, is pleased to oblige with this intense, time-tripping tear-jerker. The short film tells the story of a widowed, middle-aged father and his daughter on her wedding day. At the reception, dad sits at the piano and attempts to play Pachelbel's Canon, which opens the floodgates for memories both happy and sad.
The flashbacks are a tad disorienting at first, but you'll get the gist. Observatory: Design Observer. Adverblog | Digital advertising and marketing: only the best ideas worldwide, since 2003. Advertising Agency & Marketing Industry News. GOOD Home Page. L THIS IS WH▲T INSPIRES US - Part 2. Ads of the World™ | Creative Advertising Archive & Community.
---