Veggies
Vegan Eggplant Rollatini. I've happily walked into the life of someone who owns a grill.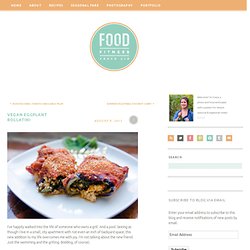 And a pool. Seeing as though I live in a small, city apartment with not even an inch of backyard space, this new addition to my life overcomes me with joy. I'm not talking about the new friend. Just the swimming and the grilling. (Kidding, of course). 10 tips for optimum vegetable storage. Last Saturday I visited my dear old Dad at his swanky new apartment in Canberra.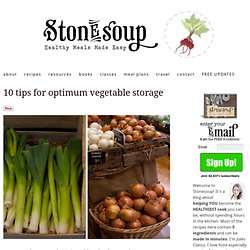 We decided to head out and explore the Canberra Farmer's markets. I'm certainly glad we did. Apart from some mushrooms that were super expensive, everything was very reasonable and the range and quality of the fresh fruit & veg would put some markets in Barcelona to shame – a very auspicious beginning to vegetarian month. As we made out way home with a large bag bursting with veggie goodness, I started thinking about the best way to store our veg and decided to do a bit of research.
Consulting the father of food scientists – Harold McGee, Mr Vegetable- Nigel Slater and my own studies and experience, here are the results. 20 Savory Eggplant Recipes - Sortrachen. Eggplant is low in fat, cholesterol and sodium and contains nutrients valuable for good health.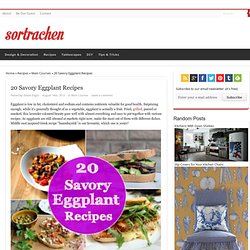 Surprising enough, while it's generally thought of as a vegetable, eggplant is actually a fruit. Fried, grilled, pureed or smoked, this lavender coloured beauty goes well with almost everything and easy to put together with various recipes. As eggplants are still abound at markets right now, make the most out of them with different dishes. Middle east inspired Greek recipe "İmambayıldı" is our favourite, which one is yours? Mini Baked Potatoes with Aioli and Pimientos Recipe.
Zucchini Cakes. I think it's safe to say that the zucchinis have won.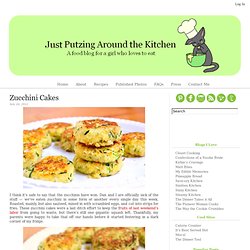 Dan and I are officially sick of the stuff — we've eaten zucchini in some form or another every single day this week. Roasted, mainly, but also sauteed, mixed in with scrambled eggs, and cut into strips for fries. These zucchini cakes were a last ditch effort to keep the fruits of last weekend's labor from going to waste, but there's still one gigantic squash left. Thankfully, my parents were happy to take that off our hands before it started festering in a dark corner of my fridge. Potato and Zucchini Fritters. Antipasti Kabobs « Roti n Rice. 374EmailShare Food on skewers are the perfect party food.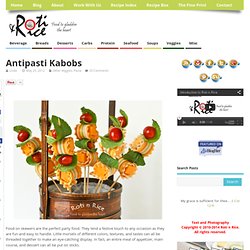 They lend a festive touch to any occasion as they are fun and easy to handle. Little morsels of different colors, textures, and tastes can all be threaded together to make an eye-catching display. In fact, an entire meal of appetizer, main course, and dessert can all be put on sticks. Mashed Potatoes with Bacon & Cheddar. 1.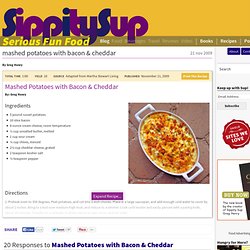 Preheat oven to 350 degrees. Peel potatoes, and cut into 1-inch chunks. Pan Roasted Tandoori Potatoes. Baby Bell Peppers With Feta and Mint Recipe : Food Network Kitchens. Stuffed peppers on the barbie recipe. Pesto Stuffed Roast Tomatoes. I'm tempted to start this post with, "OMG these are the most delicious, yummiest, addictive tomatoes you will ever eat."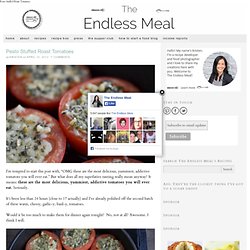 But what does all my superlative ranting really mean anyway? It means: these are the most delicious, yummiest, addictive tomatoes you will ever eat. Seriously. It's been less than 24 hours (close to 17 actually) and I've already polished off the second batch of these warm, cheesy, garlic-y, basil-y, tomatoes. Grilled Stuffed Mini Bell Peppers. Light grilled stuffed (vegetarian) mini bell peppers work perfectly as a side dish, or as an appetizer!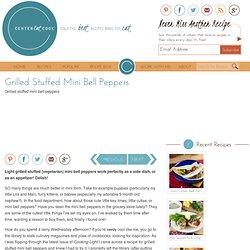 Delish! SO many things are much better in mini form. Take for example puppies (particularly my little Lila and Mali), furry kittens, or babies (especially my adorable 5 month old nephew!!). In the food department, how about those cute little key limes, little cuties, or mini bell peppers? Have you seen the mini bell peppers in the grocery store lately? Stuffed Red Peppers. Preheat oven to 350 degrees.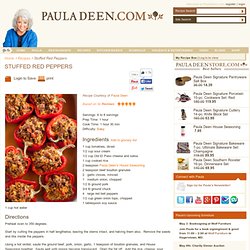 Start by cutting the peppers in half lengthwise, leaving the stems intact, and halving them also. Remove the seeds and ribs inside the peppers. Using a hot skillet, saute the ground beef, pork, onion, garlic, 1 teaspoon of bouillon granules, and House Seasoning together. Saute well until onions become translucent. Drain the fat off. Recipe for World's Easiest Grilled Vegetables (How to Cook Vegetables on the Grill) (For Phase One Fridays I highlight Phase One recipes from the past that have been my personal favorites.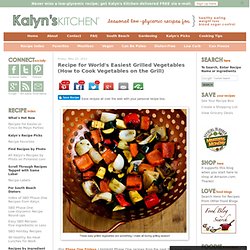 These easy grilled vegetables are something I make at least once a week during grilling season!) I regularly get comments from people who tell me they are learning to cook from my blog. Feedback like that is partly what's motivating me to share this simple not-really-even-a-recipe way that I cook grilled vegetables all during the grilling season. Whenever I'm cooking grilled chicken, meat, or fish, there will usually be one of these grill pans full of vegetables cooking alongside it. Gooseberry mooseberry: Mozzarella Stuffed Tomato Appetizers. I don't think anybody can deny that appetizers are a lot of fun to eat. They are delicious and bite-sized, which to me means a free license to pile up as many different ones as you can fit on your plate and sample each one (and then perhaps leave).
But they can also be fun to make, because you can whip them up in minutes, use simple ingredients, and still impress your guests. Case in point: pile some stuff on cucumber slices like for instance salmon tartare and you are done (or just put a rolled anchovy on each one, go crazy).
---