Ionic Share
LikeBelt
What's a LikeBelt? The @deeplocal LikeBelt is the physical manifestation of the facebook like. With NFC (Near Field Communication), an NFC-enabled Android phone, and an RFID chip planted in physical places, you can communicate digital love to your facebook friends and still leave your house. Built by Deeplocal Want to Build Your Own LikeBelt? LikeBelt is completely open source.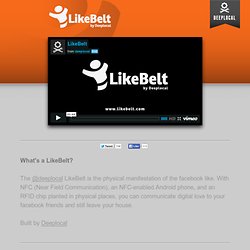 Protobooth. An animated GIF photobooth by Digital Kitchen
SETH GODIN: If You're An Average Worker, You're Going Straight To The Bottom
The way we do business is changing fast and in order to keep up, your entire mentality about work has to change just as quickly. Unfortunately, most people aren't adapting fast enough to this change in the workplace, says marketing guru Seth Godin in an interview with the Canadian talk show "George Stroumboulopoulos Tonight" (via Pragmatic Capitalism). According to the founder of Squidoo.com and author of 13 books, the current "recession is a forever recession" because it's the end of the industrial age, which also means the end of the average worker. "For 80 years, you got a job, you did what you were told and you retired," says the former vice president of direct marketing at Yahoo! People are raised on this idea that if they pay their taxes and do what they're told, there's some kind of safety net, or pension plan that's waiting for them. But the days when people were able to get above average pay for average work are over.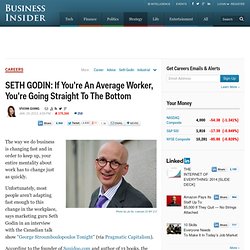 Apple by the Numbers - Digits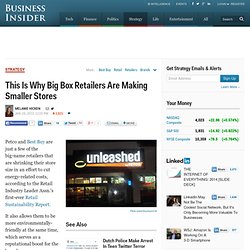 Petco and Best Buy are just a few of the big-name retailers that are shrinking their store size in an effort to cut energy-related costs, according to the Retail Industry Leader Assn.'s first-ever Retail Sustainability Report. It also allows them to be more environmentally-friendly at the same time, which serves as a reputational boost for the brands. They're doing this by transitioning toward smaller specialty store sites that take up less space, such as Petco's Unleashed which offers higher-end pet products in urban areas, and Best Buy Mobile, which specializes in mobile sales at shopping centers. The report also highlights a range of way other way major retailers are helping the environment:
This Is Why Big Box Retailers Are Making Smaller Stores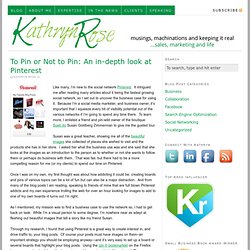 Like many, I'm new to the social network Pinterest. It intrigued me after reading many articles about it being the fastest growing social network, so I set out to uncover the business case for using it. Because I'm a social media marketer, and business owner, it's important that I squeeze every bit of visibility potential out of the various networks if I'm going to spend any time there. To learn more, I enlisted a friend and pin-wild owner of the boutique Sueb.do Susan Goldberg Zimmerman to give me the guided tour. Susan was a great teacher, showing me all of the beautiful images she collected of places she wished to visit and the products she has in her store.
To Pin or Not to Pin: An in-depth look at Pinterest
Get on a Southwest flight to anywhere, buy shoes from Zappos.com, pants from Nordstrom, groceries from Whole Foods, anything from Costco, a Starbucks espresso, or a Double-Double from In N' Out, and you'll get a taste of these brands' vibrant cultures. Culture is a balanced blend of human psychology, attitudes, actions, and beliefs that combined create either pleasure or pain, serious momentum or miserable stagnation. A strong culture flourishes with a clear set of values and norms that actively guide the way a company operates. Employees are actively and passionately engaged in the business, operating from a sense of confidence and empowerment rather than navigating their days through miserably extensive procedures and mind-numbing bureaucracy.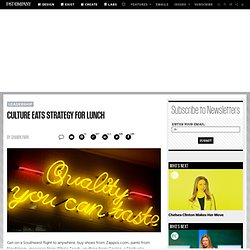 The Five Keys To Great Marketing In 2012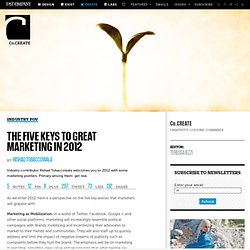 As we enter 2012, here is a perspective on the five key arenas that marketers will grapple with: Marketing as Mobilization: In a world of Twitter, Facebook, Google + and other social platforms, marketing will increasingly resemble political campaigns with Brands mobilizing and incentivizing their advocates to market to their friends and communities. They will also staff up to quickly address and limit the impact of negative streams of publicity such as complaints before they hurt the brand. The emphasis will be on marketing in real time, providing clear value and recognizing that what people say about a brand is more important than what a brand says about itself.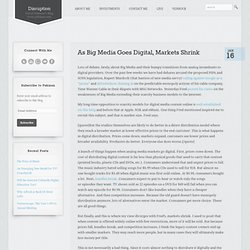 As Big Media Goes Digital, Markets Shrink | Disruption: David Pakman's Blog
Lots of debate, lately, about Big Media and their bumpy transitions from analog incumbents to digital providers. Over the past few weeks we have had debates around the proposed PIPA and SOPA legislation, Rupert Murdoch (that bastion of new media savvy) railing against Google as a "pirate" and @fredwilson chiming in on the predictable monopoly actions of his cable company, Time Warner Cable in their dispute with MSG Networks. Yesterday Fred posted his views on the weaknesses of Big Media extending their scarcity business models to the internet. My long-time opposition to scarcity models for digital media content online is well established on this blog and before that at Apple, N2K and eMusic. Strategy Essentials You Ignore at Your Peril - Joan Magretta
by Joan Magretta | 10:59 AM December 22, 2011 Michael Porter, the world's leading authority on competition and strategy, is sometimes the victim of his own success. We use his terminology every day — competitive advantage, the value chain, differentiation, value creation. We think, therefore, that we "know" his work.
Fashion - Icons of Style.