Network Visualization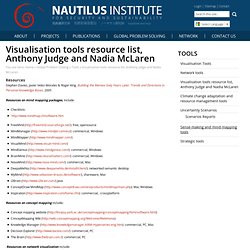 Resources Stephen Davies, Javier Velez-Morales & Roger King.
Premier Software for Social Network Analysis
Twitter Co. Conversations | demo version of Newk
Network Visualization resources - tools
Gephi est un outil puissant de modélisation de réseaux qui a également l'avantage de sa grande simplicité : pas besoin de compétences particulières pour l'utiliser, excepté une certaine curiosité ! Cet outil est utilisés dans de nombreuses recherches, raison pour laquelle j'en propose ici un guide adapté à une large audience . Ce tutoriel, basé sur vos propres données facebook, peut évidemment être utilisé à d'autres fins, avec de nombreux types de données.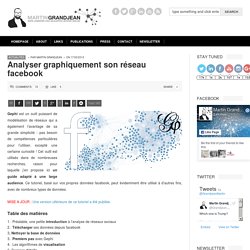 Analyser graphiquement son réseau facebook - Martin Grandjean
Vizster Visualizing Online Social Networks Jeffrey Heer – jheer@cs.berkeley.edu Professor Marti Hearst InfoSys 247 – Information Visualization University of California, Berkeley Spring Semester, 2004 Vizster is an interactive visualization tool for online social networks, allowing exploration of the community structure of social networking services such as friendster.com [4], tribe.net [12], and orkut [10]. Such services provide means by which users can publicly articulate their mutual "friendship" in the form of friendship links, forming an undirected graph in which users are the nodes and friendship links are the edges.
Vizster: Visualizing Online Social Networks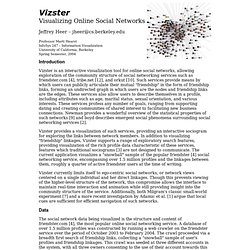 Wiki
NodeLink.io: intuitive tools enable investigative reporters to visualize relationships between any entities.
ATT_Labs_InternetMap_0730_10.pdf
Everyday, we look at dozens of websites. The structure of these websites is defined in HTML, the lingua franca for publishing information on the web. Your browser's job is to render the HTML according to the specs (most of the time, at least). You can look at the code behind any website by selecting the "View source" tab somewhere in your browser's menu.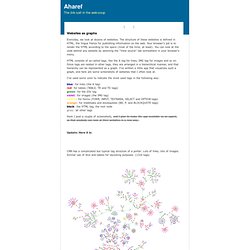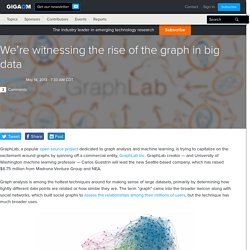 We're witnessing the rise of the graph in big data
GraphLab, a popular open source project dedicated to graph analysis and machine learning, is trying to capitalize on the excitement around graphs by spinning off a commercial entity, GraphLab Inc.
International Network for Social Network Analysis
Data Visualization Software | ADVIZOR Solutions
Network Analysis And Visualization
Module - Dynamic Visualization of Social Networks
Data Visualization with graphviz
The Internet is actually not a single network, but a collection of networks all owned by different network service providers and linked using some common protocols.
designing responsive objects & spaces
cartographie des réseaux sociaux
The growth of social networks such as Facebook and MySpace has introduced the idea of the 'social graph' into common parlance. the social graph is Watch this short video describing the proof of concept Vizter social network browser visualisation: Vizter explanatory video . How does vizter allow you to identify friends you have in common with other people? How does vizter help the user identify possible communities in the social graph? If you have a Facebook account, there are several tools that you can use to visualise your friends network on there (requires adding the visulisation as a Facebook application). Here are some of the tools that I'm aware of:
Mapping Social Networks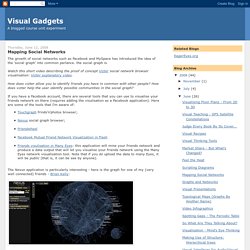 Visualizing RDF Schema inferencing through Neo4J, Tinkerpop, Sail and Gephi - Datablend
Last week, the Neo4J plugin for Gephi was released. Gephi is an open-source visualization and manipulation tool that allows users to interactively browse and explore graphs . The graphs themselves can be loaded through a variety of file formats.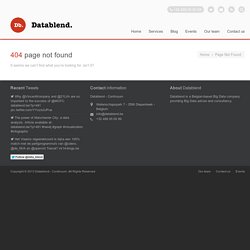 NETDRAW
Latest News January 2012.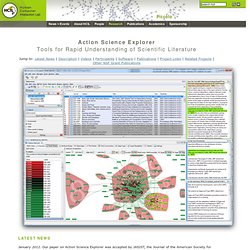 SNAP: Stanford Network Analysis Project
Social Networks
We've seen a lot of network charts for Twitter, Facebook, and real people. Screw that. I want to see social networks for movie characters. That's where Movie Galaxies comes in. Movies are important artefacts, bringing together vision and zeitgeist of our society. Embodying dreams, trends and other perspectives, they are a cultural vanishing point for millions of people in the world, that is worth to be explored.
Hive Plots - Linear Layout for Network Visualization - Visually Interpreting Network Structure and Content Made Possible