E-Safety
Safeguarding in schools: best practice
quietube: Video without the distractions To watch web videos without the comments and crap, just drag the button below to your browser's bookmarks bar. On any of the supported video pages, click the bookmark button to watch in peace. You can then make short URLs too, to send the quietube version to your friends. Easy as.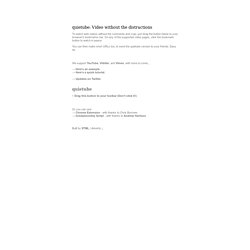 Helpline - UK Safer Internet Centre
Do you have a cyberbullying or digital safety concern? The Safer Internet Centre has been co-funded by the European Commission to provide a Helpline for professionals working with children and young people in the UK with any online safety issues they may face themselves or with children in their care. We provide support with all aspects of digital and online issues such as those which occur on social networking sites, cyber-bullying, sexting, online gaming and child protection online. The Helpline aims to resolve issues professionals face about themselves, such as protecting professional identity and reputation, as well as young people in relation to online safety.
Royal Canadian Mounted Police - Internet Safety (formerly Internet101.ca) | Gendarmerie royale du Canada - Sécurité dans Internet (ancient Internet101.ca)
unnamed pearl