Story generator
Story Idea Generator. Story Starters. Plot Scenario Generator. Pitch Generator - TV Tropes. Magical Phenomena Generator. Short Story Ideas - Scenarios. Scenario Generator Sometimes you don't have any idea what to write about.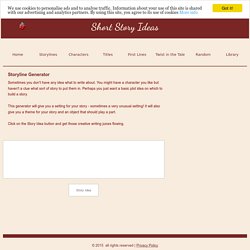 You might have a character you like but haven't a clue what sort of story to put them in. Perhaps you just want a basic idea on which to build a story. This generator will give you a setting for your story - sometimes a very unusual setting! The Newspaper Clipping Image Generator - Create your own fun newspaper.
Fiction writers storyline and plot idea generator. Click here to generate a compelling plot This plot generator creates original and random storylines for plays, novels, short stories, soap opera, TV series or a movie script.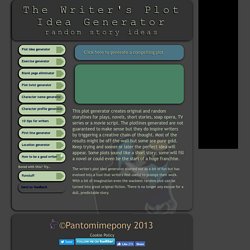 The plotlines generated are not guaranteed to make sense but they do inspire writers by triggering a creative chain of thought. Most of the results might be off-the-wall but some are pure gold. S Bookcase: Story generators and prompts: fantasy, genreless, tarot, starters and quotes.
Writers prompts 'First words' prompts have been updated again.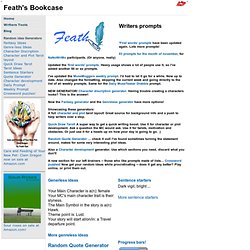 Lots more prompts! 83 prompts for the month of november, for NaNoWriMo participants. Cool Bits Story Generator. 11/19/2007 Added more Cool Bits. 10/31/2007 Added a new element: motivation.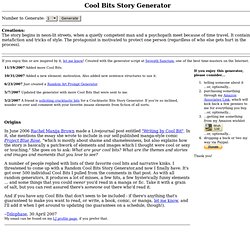 Also added new sentence structures to use it. 6/23/2007 Just created a Random Art Prompt Generator. Writers Workshop. The Bonsai Story Tree Generator takes coherent text and turns it into... well, I'm not sure what.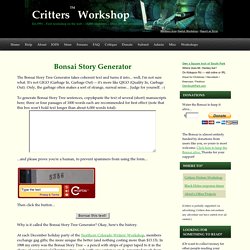 It's not GIGO (Garbage In, Garbage Out) -- it's more like QIGO (Quality In, Garbage Out). Only, the garbage often makes a sort of strange, surreal sense... Judge for yourself. :-)
---