Email Signature Generator
Hi everyone...let's have fun & personalize how our email signature looks like. These are just some of the sites i've stumbled in the web...feel free to add some more sites related to this content.Divertirsi personalizzando!!!
Generator. Email. Logo Design and Button Generator Tool. Logo Design and Button Generator Tool. Signature maker|free email signature maker. Email Signature Examples, Email Signature Templates, Sample HTML Email Signatures Gallery. Easily customize your signature with your Logo, IM & Social profiles.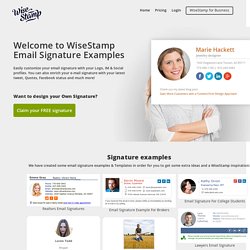 You can also enrich your signature with your latest tweet, Quotes, Facebook status and much more! We have created some signature examples & Templates in order for you to get some extra ideas and a WiseStamp inspiration: "Official Look" signature sample: Safe - Legal Color Names for Browser Colors i.e. Colors for HTML tags. Legal - Safe Browser Color Names These are browser colors that are safe when using the 'color name' (.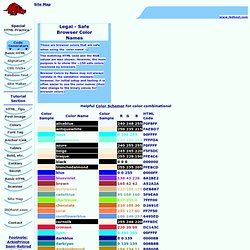 The matching HTML code and the RGB values are also shown. However, the main purpose is to show the ~150 safe colors reconized by browsers. Browser Colors by Name may not always validate in the validation checkers; however, for initial setup and testing it is often easier to use the color names (then later change to the binary values for browser colors) Signatures for Emails, Forums or Anything!
Free Online HTML generator for Email Signature - Business Card - Banner. Table Code Generated Files Email Signatures, Forum Signatures, Banners, etc.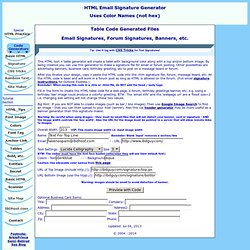 Tip: Use H tag with CSS Tricks for Text Signatures! This HTML text n table generator will create a table with background color along with a top and/or bottom image. By being creative you can use this generator to make a signature file for email or forum posting. How to Use Rich HTML Formatting in Your Windows Live Mail, Windows Mail or Outlook Express Signature. If you send your emails using rich HTML formatting in Windows Live MailWindows Mail or Outlook Express, the signature does not have to pale in plain letters beside the rest of your message.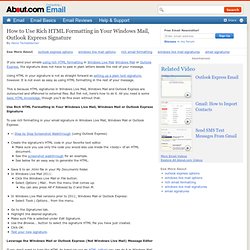 Using HTML in your signature is not as straight forward as setting up a plain text signature, however. It is not even as easy as using HTML formatting in the rest of your message. This is because HTML signatures in Windows Live Mail, Windows Mail and Outlook Express are outsourced and offshored to external files. But fret not, here's how to do it. E-Mail Icon Generator. (Use the promo-code "NHCHEAPO" to waive the setup fee on all pay-monthly plans!)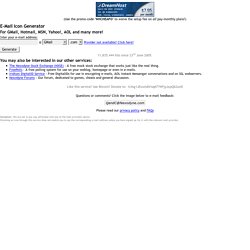 For GMail, Hotmail, MSN, Yahoo! , AOL and many more! 11,179,808 hits since 23rd June 2005. Free Email Signature Generator | www.siggenerator.com. NeedASig.com - Email Icon and Signature Generator.
---