Random Group Generator
Random Name Generator. Flash based Random Student Selector. To use this flash application simply enter a list of your students names or items that you want to randomly select, one per line.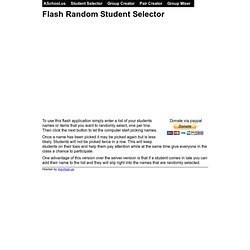 Then click the next button to let the computer start picking names. Once a name has been picked it may be picked again but is less likely. Students will not be picked twice in a row. Random Group Generator (Tool Thursday) | Techtites. One requirement that you will see as part of a classroom environment is the necessity to create groups.
One option is to perform this process manually. This is OK if you have ten people. Team Maker - Chirag Mehta : chir.ag. Format: One Name per Line Michael Scott Jim Halpert Pam Halpert Oscar Martinez Stanley Hudson Phyllis Lapin Angela Martin Meridith Palmer Toby Flenderson Dwight Schrute Andy Bernard Kevin Malone Kelly Kapoor Creed Bratton Erin Hannon Darryl Philbin Roy Anderson David Wallace Don Draper Peggy Olson Pete Campbell Joan Holloway Salvatore Romano Betty Draper Paul Kinsey Ken Cosgrove Harry Crane Roger Sterling Sally Draper Bertram Cooper Trudy Campbell Rachel Menken Francine Hanson Lane Pryce Fred Rumsen Mona Sterling Lois Sadler Jane Siegel Henry Francis Midge Daniels.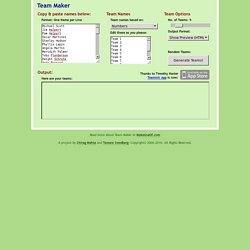 Random Group Creator. ClassTools.net.
---