Steve Jobs (1955 – 2011)
Newzie, Your feature-rich news aggregator -2
IxodoiShop: ipad cases: Zazzle.com Store
IxodoiShop: iphone cases: Zazzle.com Store
Steve Jobs dies; Apple's co-founder transformed computers and culture
Steven P. Jobs, the charismatic technology pioneer who co-founded and transformed one industry after another, from computers and smartphones to music and movies, has died. He was 56. Apple announced the death of Jobs — whose legacy included the Apple II, Macintosh, iMac, iPod , iPhone and iPad . "We are deeply saddened to announce that Steve Jobs passed away today," Apple said.
IxodoiShop: IPhone & IPod Accessories: Zazzle.com Store
Digital Flowers pattern iPhone 5 Cases from Zazzle
美國是如何失去了製造iPhone的工作?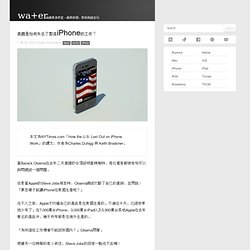 在不久之前,Apple才吹噓自己的產品是在美國生產的。不過在今天,已經非常地少有了。在7,000萬台iPhone、3,000萬台iPad以及5,900萬台其他Apple在去年售出的產品中,幾乎所有都是在海外生產的。 總統的問題觸碰到了Apple的核心信念。這並不只是海外勞工比較便宜的問題。
D10 Video: Jobs Was an Awesome Flip-Flopper | Video | AllThingsD
All illustrations drawn on iPad by Jorge Colombo If Steve Jobs's life were staged as an opera, it would be a tragedy in three acts. And the titles would go something like this: Act I-- The Founding of Apple Computer and the Invention of the PC Industry ; Act II-- The Wilderness Years ; and Act III-- A Triumphant Return and Tragic Demise .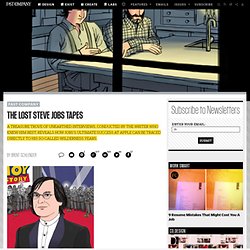 Into The Wild: Lost Conversations From Steve Jobs' Best Years
Early videos of Steve Jobs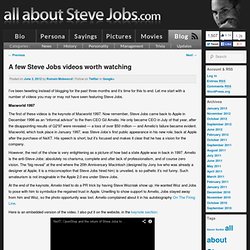 I've been tweeting instead of blogging for the past three months and it's time for this to end. Let me start with a number of videos you may or may not have seen featuring Steve Jobs. Macworld 1997
Congratulations! You found a link we goofed up on, and as a result you're here, on the article-not-found page. That said, if you happened to be looking for our daily celebrity photo gallery, you're in luck : Also, if you happened to be looking for our photo gallery of our best reader-submitted images, you're in luck : So, yeah, sorry, we could not find the Mercury News article you're looking for. There are a couple possible reasons for this: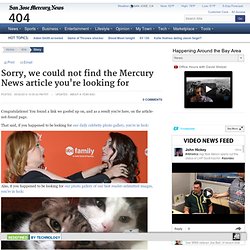 Amazon: "Steve Jobs" may be company's top-selling book of 2011
News October 24, 2011 01:54 PM ET Computerworld - The biography of Apple co-founder and former CEO Steve Jobs debuted today at the top of both Amazon's and Barnes & Nobles' bestseller lists. Steve Jobs , the first biography of the iconic entrepreneur written with Jobs' cooperation, was penned by Walter Isaacson , a former editor at Time.
Steve Jobs bio debuts at No. 1 spot on bestseller lists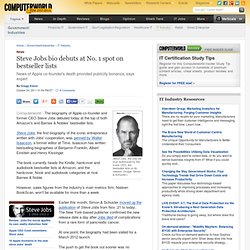 Review round-up: Is Steve Jobs' biography accurate?
Designing the Jobs' Kitchen
Reader Bertrand Hayotte pointed out to me a story by kitchen designer Johnny Grey about how "Steve Jobs and his wife Laurene almost had one of [his] kitchens." The story gives an insight into the "private Steve Jobs" with details of his taste for a simple and authentic design for his kitchen. Grey only worked on the design part, going even as far as showing the drawing he made for the Jobses: It is not known whether his design was implemented, since Steve Jobs apparently "was a very private person and reluctant to have any building work done, powerfully disliking noise, mess and invasion of their home". Although I did know that Steve worked very hard on his kitchen and on his garden design , it is the first time that such details come out. The story also reinforces the idea that he applied the same beliefs in all aspects of his life, from product design to kitchen decoration: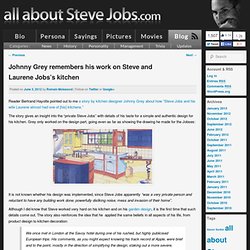 Steve, Myself, And i-: The Big Story Of A Little Prefix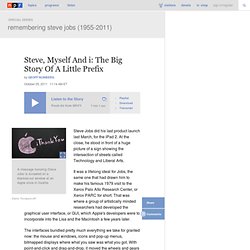 A message honoring Steve Jobs is scrawled on a blacked-out window at an Apple store in Seattle. Elaine Thompson / AP Steve Jobs did his last product launch last March, for the iPad 2. At the close, he stood in front of a huge picture of a sign showing the intersection of streets called Technology and Liberal Arts. It was a lifelong ideal for Jobs, the same one that had drawn him to make his famous 1979 visit to the Xerox Palo Alto Research Center, or Xerox PARC for short.
Steve Jobs, neuroendocrine tumors, and alternative medicine
Did Steve Jobs' flirtation with alternative medicine kill him? (update)
"Just one more thing"
Steve Jobs tribute: the history of the life of Steve Jobs
IGN Steve Jobs Tribute College dropout.
What Steve Jobs taught us about failure
Video of the Commencement address. I am honored to be with you today at your commencement from one of the finest universities in the world. I never graduated from college. Truth be told, this is the closest I've ever gotten to a college graduation. Today I want to tell you three stories from my life.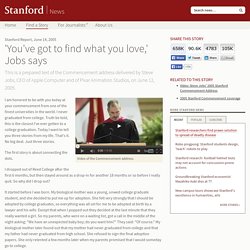 The Soul of Apple by Kevin Kelly
This week something unusual happened. At the very same time that tens of thousands of ordinary citizens were camping out in New York, Washington, and Seattle to protest corporate greed, and the capitalistic wealth of the very rich, a similar number of ordinary citizens were depositing flowers and spiritual offerings at the corporate stores of the wealthiest company in the world (with earnings larger than most countries), in memory of one of the richest people in the world, the late Steve Jobs. Why would a billionaire elicit such affection and love during this moment of fierce dissatisfaction with global capitalism? Because Steve Jobs was a CEO of beauty. In his interviews and especially in private, Jobs often spoke about Art. Taste.
Walter Isaacson's 'Steve Jobs'
Tuesday, 14 February 2012 What is Apple at heart: a software company, or a hardware company? This is a perennial question. The truth, of course, is that Apple is neither.
Celebrities, CEOs & a former president attended Steve Jobs memorial
Bill Gates among mourners at Steve Jobs memorial
Jobs and Gates in 2007. (Asa Mathat photo) Microsoft co-founder Bill Gates was among a large group of technology executives, Hollywood stars and political figures who attended the memorial service Sunday night for Apple co-founder Steve Jobs this weekend at Stanford University, according to a New York Times report . Reuters describes the scene outside Stanford's Memorial Church , saying guests "arrived in dozens of black limousines and walked up a path lighted by hundreds of large white candles" to attend the service, which was closed to the public. The news service says Apple CEO Tim Cook "walked up to the chapel with a man dressed in the garb of a Buddhist monk." Gates and Jobs were rivals for much of their careers, but a statement released by the Microsoft chairman upon Jobs' death made it clear that their relationship was more complex than that — saying they were "colleagues, competitors and friends over the course of more than half our lives."
Apple will hold a memorial service for Steve Jobs on Oct. 19 in an amphitheater at the company's corporate headquarters, CEO Tim Cook told employees in a company-wide e-mail. "Although many of our hearts are still heavy, we are planning a celebration of his life for Apple employees to take time to remember the incredible things Steve achieved in his life and the many ways he made our world a better place," Cook told employees in the e-mail, which was obtained by various news organizations . Over the weekend Santa Clara County officials released Jobs' official death certificate, which lists "respiratory arrest" caused by a "metastatic pancreas neuroendocrine tumor" as the cause of death. The certificate also shows he died at home and that no autopsy was performed, according to Bloomberg .
Apple to Hold Memorial Service for Steve Jobs
As the tech world pauses to honor Steve Jobs, the state of California is also honoring the late Apple co-founder. California Gov. Jerry Brown, in an announcement made on Twitter , declared today as "Steve Jobs Day" in the Golden State. Silicon Valley royalty will be assembling today at Stanford University to pay their respects to Jobs at a memorial service organized by Apple. The company has sent invitations for the private event to some of the Valley's biggest names, according to a Wall Street Journal report.
California, tech, TV pay tribute to Steve Jobs
Bill Gates on Steve Jobs, Who Died Wednesday
Disney's Iger pays tribute to Apple's Steve Jobs
Eternal Flame
The Tech World Reacts to Jobs Death
What Bill Gates Has Said About Steve Jobs Through the Decades
Eric Schmidt on Steve Jobs
Discovery orders Steve Jobs documentary with 'Mythbusters' hosts
XKCD's Perfect Steve Jobs Tribute
What we really owe to Steve Jobs
Steve Jobs Talk 1983 - Center for Design Innovation by TNW on SoundCloud
The Real Leadership Lessons of Steve Jobs
D10 Video: Steve Jobs's Career Lessons | Video | AllThingsD
How Steve Jobs transformed the tech industry
Steve Jobs's Patents
Timeline: Steve Jobs' career
Steve Jobs: His Legacy of Deals