Steve Jobs (1955 – 2011)
IxodoiShop: ipad cases: Zazzle.com Store
IxodoiShop: iphone cases: Zazzle.com Store
Steve Jobs dies; Apple's co-founder transformed computers and culture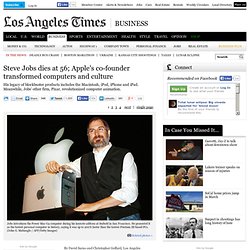 Steven P. Jobs, the charismatic technology pioneer who co-founded and transformed one industry after another, from computers and smartphones to music and movies, has died. He was 56. Apple announced the death of Jobs — whose legacy included the Apple II, Macintosh, iMac, iPod, iPhone and iPad.
IxodoiShop: IPhone & IPod Accessories: Zazzle.com Store
Digital Flowers pattern iPhone 5 Cases from Zazzle
美國是如何失去了製造iPhone的工作?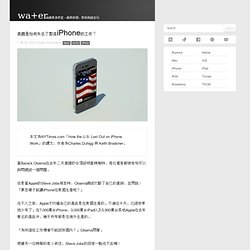 在不久之前,Apple才吹噓自己的產品是在美國生產的。不過在今天,已經非常地少有了。在7,000萬台iPhone、3,000萬台iPad以及5,900萬台其他Apple在去年售出的產品中,幾乎所有都是在海外生產的。 總統的問題觸碰到了Apple的核心信念。這並不只是海外勞工比較便宜的問題。
D10 Video: Jobs Was an Awesome Flip-Flopper | Video | AllThingsD
All illustrations drawn on iPad by Jorge Colombo If Steve Jobs's life were staged as an opera, it would be a tragedy in three acts. And the titles would go something like this: Act I--The Founding of Apple Computer and the Invention of the PC Industry; Act II--The Wilderness Years; and Act III--A Triumphant Return and Tragic Demise.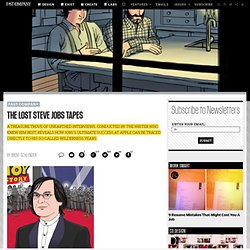 Into The Wild: Lost Conversations From Steve Jobs' Best Years
Early videos of Steve Jobs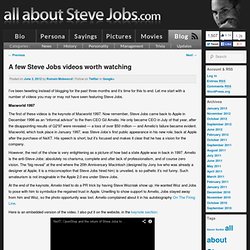 I've been tweeting instead of blogging for the past three months and it's time for this to end. Let me start with a number of videos you may or may not have seen featuring Steve Jobs. Macworld 1997
Posted: 05/02/2012 10:35:42 PM PDT0 Comments|Updated: about a year ago Congratulations! You found a link we goofed up on, and as a result you're here, on the article-not-found page. That said, if you happened to be looking for our daily celebrity photo gallery, you're in luck: Also, if you happened to be looking for our photo gallery of our best reader-submitted images, you're in luck: So, yeah, sorry, we could not find the Mercury News article you're looking for.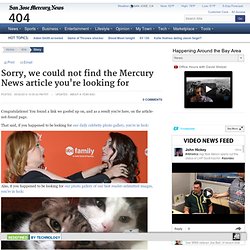 Amazon: "Steve Jobs" may be company's top-selling book of 2011
News October 24, 2011 01:54 PM ET Computerworld - The biography of Apple co-founder and former CEO Steve Jobs debuted today at the top of both Amazon's and Barnes & Nobles' bestseller lists. Steve Jobs, the first biography of the iconic entrepreneur written with Jobs' cooperation, was penned by Walter Isaacson, a former editor at Time.
Steve Jobs bio debuts at No. 1 spot on bestseller lists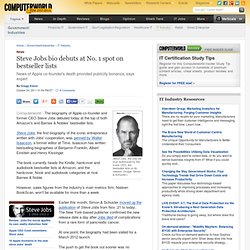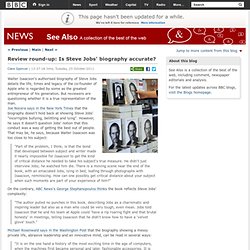 Walter Isaacson's authorised biography of Steve Jobs details the life, times and legacy of the co-founder of Apple who is regarded by some as the greatest entrepreneur of his generation. But reviewers are questioning whether it is a true representation of the man. Joe Nocera says in the New York Times that the biography doesn't hold back at showing Steve Jobs' "incorrigible bullying, belittling and lying". However, he says it doesn't question Jobs' notion that this conduct was a way of getting the best out of people. That may be, he says, because Walter Isaacson was too close to his subject: "Part of the problem, I think, is that the bond that developed between subject and writer made it nearly impossible for Isaacson to get the kind of critical distance he needed to take his subject's true measure.
Review round-up: Is Steve Jobs' biography accurate?
Designing the Jobs' Kitchen
Reader Bertrand Hayotte pointed out to me a story by kitchen designer Johnny Grey about how "Steve Jobs and his wife Laurene almost had one of [his] kitchens." The story gives an insight into the "private Steve Jobs" with details of his taste for a simple and authentic design for his kitchen. Grey only worked on the design part, going even as far as showing the drawing he made for the Jobses: It is not known whether his design was implemented, since Steve Jobs apparently "was a very private person and reluctant to have any building work done, powerfully disliking noise, mess and invasion of their home". Although I did know that Steve worked very hard on his kitchen and on his garden design, it is the first time that such details come out. The story also reinforces the idea that he applied the same beliefs in all aspects of his life, from product design to kitchen decoration: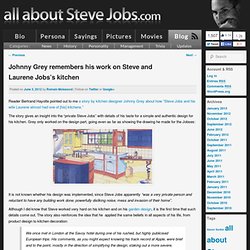 Steve, Myself, And i-: The Big Story Of A Little Prefix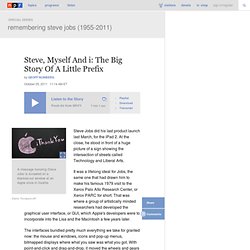 hide caption A message honoring Steve Jobs is scrawled on a blacked-out window at an Apple store in Seattle. Elaine Thompson/AP Steve Jobs did his last product launch last March, for the iPad 2. At the close, he stood in front of a huge picture of a sign showing the intersection of streets called Technology and Liberal Arts.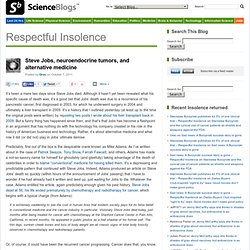 It's been a mere two days since Steve Jobs died. Although it hasn't yet been revealed what his specific cause of death was, it's a good bet that Jobs' death was due to a recurrence of his pancreatic cancer, first diagnosed in 2003, for which he underwent surgery in 2004 and ultimately a liver transplant in 2009. It's a history that I outlined yesterday (at least up to the time the original posts were written) by reposting two posts I wrote about his liver transplant back in 2009. But a funny thing has happened since then, and that's that Jobs has become a flashpoint in an argument that has nothing do with the technology his company created or his role in the history of American business and technology. Rather, it's about alternative medicine and what role it did (or did not) play in Jobs' ultimate demise. Predictably, first out of the box is the despicable crank known as Mike Adams.
Steve Jobs, neuroendocrine tumors, and alternative medicine
A couple of weeks ago, in the immediate aftermath of Steve Jobs' death, I took issue with the claims of a skeptic that "alternative medicine killed Steve Jobs." At the time, I pointed out that, although it was very clear that Steve Jobs did himself no favors by delaying his initial surgery for nine months after his initial diagnosis, we do not have sufficient information to know what his clinical situation was and therefore how much, if at all, he decreased his odds of survival by not undergoing surgery expeditiously. To recap: Did Steve Jobs harm himself by trying diet and alternative medicine first?
Did Steve Jobs' flirtation with alternative medicine kill him? (update)
"Just one more thing"
I've written quite a bit about Steve Jobs' battle with pancreatic cancer over the years and, more recently, in the wake of his death nearly four weeks ago. The reason, of course, is that the course of his cancer was of intense interest after it became public knowledge that he had cancer. In particular, what I most considered to be worth discussing was whether the nine month delay between Jobs' diagnosis and his undergoing surgery for his pancreatic insulinoma might have been what did him in.
Steve Jobs tribute: the history of the life of Steve Jobs
IGN Steve Jobs Tribute
College dropout. Fired tech executive. Unsuccessful businessman.
What Steve Jobs taught us about failure
Video of the Commencement address. I am honored to be with you today at your commencement from one of the finest universities in the world. I never graduated from college. Truth be told, this is the closest I've ever gotten to a college graduation. Today I want to tell you three stories from my life.
The Soul of Apple by Kevin Kelly
Walter Isaacson's 'Steve Jobs'
Celebrities, CEOs & a former president attended Steve Jobs memorial
Bill Gates among mourners at Steve Jobs memorial
Apple to Hold Memorial Service for Steve Jobs
California, tech, TV pay tribute to Steve Jobs
Bill Gates on Steve Jobs, Who Died Wednesday
Disney's Iger pays tribute to Apple's Steve Jobs
Eternal Flame
The Tech World Reacts to Jobs Death
What Bill Gates Has Said About Steve Jobs Through the Decades
Eric Schmidt on Steve Jobs
Discovery orders Steve Jobs documentary with 'Mythbusters' hosts
XKCD's Perfect Steve Jobs Tribute
What we really owe to Steve Jobs
Steve Jobs Talk 1983 - Center for Design Innovation by TNW on SoundCloud
The Real Leadership Lessons of Steve Jobs
D10 Video: Steve Jobs's Career Lessons | Video | AllThingsD
How Steve Jobs transformed the tech industry
Timeline: Steve Jobs' career
Steve Jobs: His Legacy of Deals