Sociology - France
Iisoc. Emile Durkheim 1858-1917 | Bolender Initiatives. Video Presentation: What is Sociology?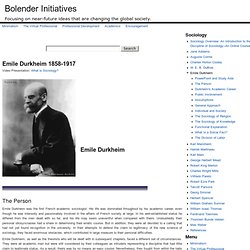 Emile Durkheim The Person Emile Durkheim was the first French academic sociologist. His life was dominated throughout by his academic career, even though he was intensely and passionately involved in the affairs of French society at large. In his well-established status he differed from the men dealt with so far, and his life may seem uneventful when compared with theirs. Marcel Mauss: a biography. Henri Hubert. Henri Hubert (Paris, June 23, 1872 – May 25, 1927) was an archaeologist and sociologist of comparative religion who is best known for his work on the Celts and his collaboration with Marcel Mauss and other members of the Annee Sociologique.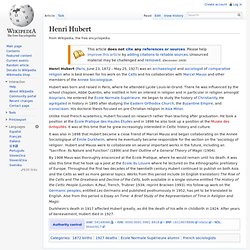 Hubert was born and raised in Paris, where he attended Lycée Louis-le-Grand. There he was influenced by the school chaplain, Abbé Quentin, who instilled in him an interest in religion and in particular in religion amongst Assyrians. He entered the École Normale Supérieure. He began to study the history of Christianity. He agrégated in history in 1895 after studying the Eastern Orthodox Church, the Byzantine Empire, and iconoclasm.
Célestin Bouglé. Célestin Bouglé in 1924 Célestin Bouglé (1870–1940) was a French philosopher known for his role as one of Émile Durkheim's collaborators and a member of the L'Année Sociologique.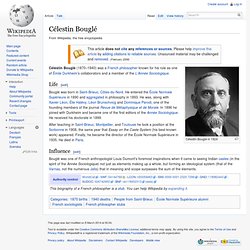 Life[edit] Bouglé was born in Saint-Brieuc, Côtes-du-Nord. He entered the École Normale Supérieure in 1890 and aggregated in philosophy in 1893. Robert Hertz. Robert Hertz (1881, Saint-Cloud, Hauts-de-Seine - 1915) was a French sociologist who was killed in World War I.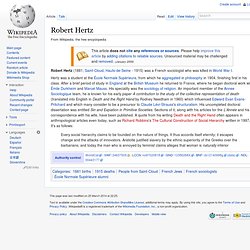 Every social hierarchy claims to be founded on the nature of things. It thus accords itself eternity; it escapes change and the attacks of innovators. Aristotle justified slavery by the ethnic superiority of the Greeks over the barbarians; and today the man who is annoyed by feminist claims alleges that woman is naturally inferior. François Simiand. François Joseph Charles Simiand (18 April 1873 – 13 April 1935) was a French sociologist and economist best known as a participant in the Année Sociologique.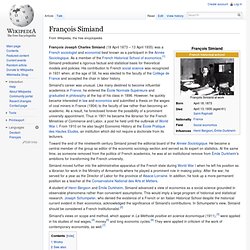 As a member of the French Historical School of economics,[1] Simiand predicated a rigorous factual and statistical basis for theoretical models and policies. His contribution to French social science was recognized in 1931 when, at the age of 58, he was elected to the faculty of the Collège de France and accepted the chair in labor history. Simiand's career was unusual. Maurice Halbwachs. Maurice Halbwachs (French: [mɔˈʁis ˈalbvaks]; 11 March 1877 – 16 March 1945) was a French philosopher and sociologist known for developing the concept of collective memory.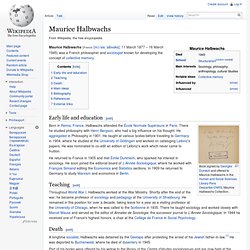 Early life and education[edit] Born in Reims, France, Halbwachs attended the École Normale Supérieure in Paris. L'Année Sociologique. L'Année Sociologique is a sociology journal founded in 1898 by Émile Durkheim, who also served as its editor.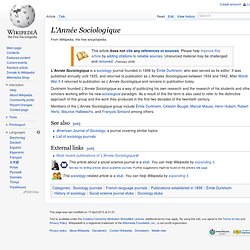 It was published annually until 1925, and returned to publication as L'Annales Sociologiques between 1934 and 1942. After World War II it returned to publication as L'Année Sociologique and remains in publication today. Durkheim founded L'Année Sociologique as a way of publicizing his own research and the research of his students and other scholars working within his new sociological paradigm. As a result of this the term is also used to refer to the distinctive approach of this group and the work they produced in the first two decades of the twentieth century. Émile Durkheim. David Émile Durkheim (French: [emil dyʁkɛm] or [dyʁkajm];[1] April 15, 1858 – November 15, 1917) was a French sociologist, social psychologist and philosopher.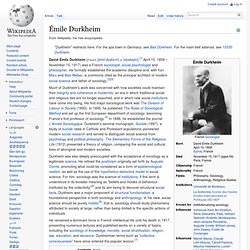 He formally established the academic discipline and, with Karl Marx and Max Weber, is commonly cited as the principal architect of modern social science and father of sociology.[2][3] Durkheim was also deeply preoccupied with the acceptance of sociology as a legitimate science. He refined the positivism originally set forth by Auguste Comte, promoting what could be considered as a form of epistemological realism, as well as the use of the hypothetico-deductive model in social science. École Normale Supérieure. The École normale supérieure (French pronunciation: ​[ekɔl nɔʁmal sypeʁjœʁ]; also known as Normale sup', Normale, and ENS) is a French grande école (higher education establishment outside the mainstream framework of the public university system).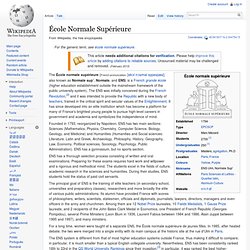 The ENS was initially conceived during the French Revolution,[2] and it was intended to provide the Republic with a new body of teachers, trained in the critical spirit and secular values of the Enlightenment. It has since developed into an elite institution which has become a platform for many of France's brightest young people to pursue high-level careers in government and academia and symbolizes the independence of mind.
---