EARTH Science
Journey North Citizen Science: A Global Study of Wildlife Migration and Seasonal Change. Seasonal change is all around us.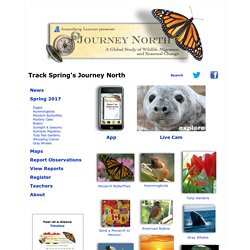 Children see it in the length of a day, in the appearance of a flower, in the flight of a butterfly. Journey North is a free, Internet-based program that explores the interrelated aspects of seasonal change. Through interrelated investigations, students discover that sunlight drives all living systems and they learn about the dynamic ecosystem that surrounds and connects them. Journey North for Kids: A simple, student-directed entry point to Journey North studies. Ees.as.uky.edu/sites/default/files/elearning/module09swf.swf. ONR Science & Technology Focus. Frozen Planet: Explore the polar regions. Click on the image below to start exploring the Arctic and Antarctic.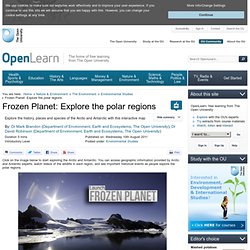 You can access geographic information provided by Arctic and Antarctic experts, watch videos of the wildlife in each region, and see important historical events as people explore the polar regions. Copyrighted image Credit: The Open University Launch Frozen Planet 9. Extreme Ice Survey :: Home Page. Map Gallery Page. The Map Gallery contains a variety of static maps generated and regularly updated from ARMAP.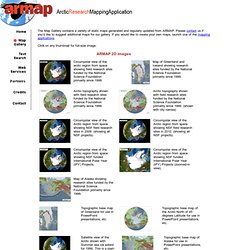 Please contact us if you'd like to suggest additional maps for our gallery. If you would like to create your own maps, launch one of the mapping applications. Click on any thumbnail for full-size image: Climate Kids: Recycle THIS! SmithsonianNMNH's Channel. Living Our Cultures Play The Arctic Studies Center's "Living Our Cultures, Sharing Our Heritage: The First Peoples of Alaska" exhibition at the Anchorage Museum features more than 600 Alaska Native objects from NMNH and NMAI collections.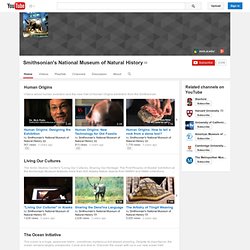 Through Native voice and text, with video and interactive media, the exhibit places masterworks of the past into the context of peoples' lives today. Ongoing programs include endangered language and cultural heritage workshops and monthly lectures by Alaska Native artists and scholars.For more information about the exhibit: Challenge Based Learning - Home Page. Ocean Currents. Animations. Return Home The Following animations can be downloaded and viewed at your computer.
Plate Tectonic Animations NEW Breakup of Pangea: Pangea Breakup VR NEW Tectonic Evolution of the North Atlantic: N. Digital Library for Earth System Education. Climate Change and Colorado's Future Climate change is real and it is occurring faster than originally predicted.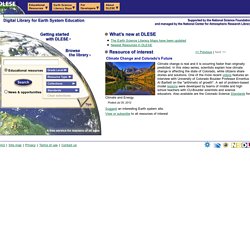 In this video series, scientists explain how climate change is affecting the state of Colorado, while citizens share stories and solutions. One of the more recent videos features an interview with University of Colorado Boulder Professor Emeritus Al Bartlett on the "arithmetic of growth". A set of problem-based model lessons were developed by teams of middle and high school teachers with CU-Boulder scientists and science educators. Also available are the Colorado Science Standards for Climate and Energy. Dynamic Earth . Intro. Extreme Weather 2011. A year for the record books From extreme drought, heat waves and floods to unprecedented tornado outbreaks, hurricanes, wildfires and winter storms, a record 14 weather and climate disasters in 2011 each caused $1 billion or more in damages — and most regrettably, loss of human lives and property.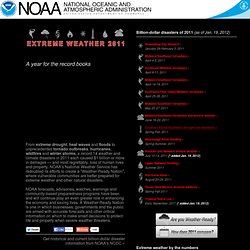 NOAA's National Weather Service has redoubled its efforts to create a "Weather-Ready Nation", where vulnerable communities are better prepared for extreme weather and other natural disasters. NOAA forecasts, advisories, watches, warnings and community-based preparedness programs have been and will continue play an even greater role in enhancing the economy and saving lives. A Weather-Ready Nation is one in which businesses, governments and the public are armed with accurate forecasts and other critical information on which to make smart decisions to protect life and property when severe weather threatens.
---