Podcasts
The Psych Files Podcast. The Brain: Teaching Modules. 1.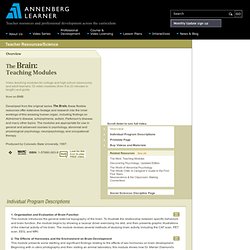 Organization and Evaluation of Brain Function This module introduces the general external topography of the brain. To illustrate the relationship between specific behaviors and brain function, the module begins by showing a racecar driver exercising his skill, and then presents graphic illustrations of the internal activity of his brain. The module reviews several methods of studying brain activity including the CAT scan, PET scan, EEG, and MRI. 2.
Cognitive Science C127, 001, Psychology C127, 001|Fall 2009|UC Berkeley - Download free content from UC Berkeley. Mental Health Concepts - Download free content from East Tennessee State University. Description These narrated Powerpoints come from the online Mental Health Concepts course (SOWK 4957-504/5957-504) in the Department of Social Work.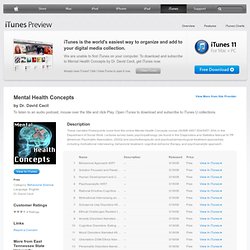 Lectures survey basic psychopathology (as found in the Diagnostics and Statistics Manual IV-TR [American Psychiatric Association, 2000]) and psychotherapeutic and psychopharmacological treatment approaches, including motivational interviewing, behavioral treatment, cognitive-behavior therapy, and psychoanalytic approach. Critical Social Psychology - iPod/iPhone video - Download free content from The Open University.
Description We live in a complex, fast changing and highly social world.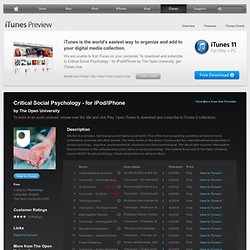 One of the most compelling questions we face is how to understand ourselves and other people. The video tracks on this album introduce the four main theoretical perspectives in social psychology - cognitive, psychoanalytical, discursive and phenomenological. Introduction to Psychology - Download free content from MIT. Description This course surveys questions about human behavior and mental life ranging from how you see to why you fall in love.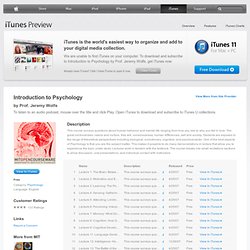 The great controversies: nature and nurture, free will, consciousness, human differences, self and society. Psychology - Download free content from Yale University. Needs Slideshow and Reading Materials Included by Hulk1964 I watched only a portion of the introduction and decided not to invest my time in this particular Yale course.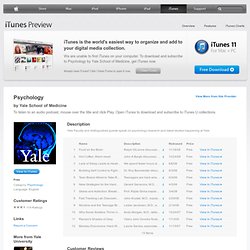 This was ONLY because you cannot see the sideshow or other read the materials that are mentioned in the introduction as a crucial part of the course. I cannot rate the entire course. Cognitive Psychology - Audio - Download free content from The Open University. Description The consciousness of the human mind has long been a topic of fascination and curiosity amongst writers, artists and psychologists, from Carl Jung and Salvador Dali to Virginia Wolfe and Gertrude Stein.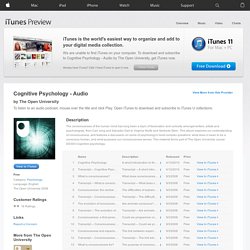 This album explores our understanding of consciousness, and features a discussion on some of psychology's most complex questions: what does it mean to be a conscious human, and what purposes our consciousness serves. This material forms part of The Open University course DD303 Cognitive psychology.
---