Mostly for kids
Drawing game Draw online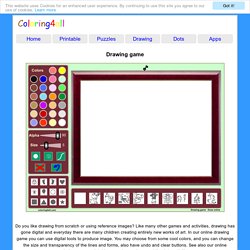 Do you like drawing from scratch or using reference images? Like many other games and activities, drawing has gone digital and everyday there are many children creating entirely new works of art. In our online drawing game you can use digital tools to produce image, through a computer mouse. You may choose from some cool colors, and you can change the size and transparency of the lines and forms, also have undo and clear buttons.
Coloring Pages for Kids Online
CBBC - Games: Creative Games
Create | Add popular Characters to online drawings
Wall-E Photo Mashup | Design collages and wallpapers
Draw That Habitat
Finding Nemo - Paper Toys - Free Online Play Best Finding Nemo - Paper Toys Flash Game At FREEONLINEGAMES.NAME
Toy Story 3 Toy Creator
Open Season - Create Your Own Wallpaper
Free Drawings for Members and Free Online Coloring and Drawing Tool at TimTim.com
Gingerbread House: Dress-up Game: HighlightsKids.com - Games: Art Plays - HighlightsKids.com
Express Yourself: Picture Maker: HighlightsKids.com
Grabba Beast
Madcap Logic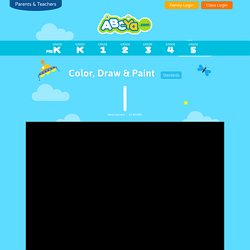 ABCya Paint is an online paint, color and drawing activity for children. Fun tools and accessories such as stickers, coloring pages, spray paint, stamps, typing, rainbow brushes and much more allow kids to be creative. Paint is a great app for kids to engage in digital storytelling. Images can be saved and used in other creative applications. Prefer the original version of Paint? You can play it here.
paint-vedoque-game.swf - Free Learning Games Vedoque
Paper Cutting - Free Online Play Best Flash Game At - FREEONLINEGAMES.NAME
Play My Fashion Sketchbook for free online | Painting Games for Girls | GirlsgoGames
Play Paper Cutting 2 for free online | Painting Games for Girls | GirlsgoGames
Play Sketch for free online | Painting Games for Girls | GirlsgoGames
RedKid.Net
Trim a Jan Brett Gingerbread Baby House
Games . Street Art
Games . Colour Colour
Games . My Imaginary City
Games . Tate Paint
Games . Airbrush
Welcome to FRABOOM Online Children's Museum
Victorian (Flash) - Geffrye
Advertisement
A World for Girls: Girls 5-9: Activities