Literatura
S area. ...style guide 1.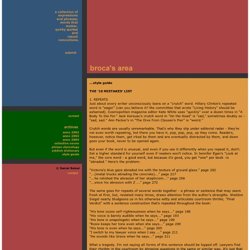 REPEATS Just about every writer unconsciously leans on a "crutch" word. Hillary Clinton's repeated word is "eager" (can you believe it? Welcome to Storytree! El nadador | Las historias. John Cheever (1912-1982) fue uno de los grandes narradores estadounidenses del siglo XX: un novelista y sobre todo un cuentista extraordinario, que no abandonó las narraciones breves ni siquiera cuando su "saga" de la familia Wapshot se convirtió en una de las más celebradas series novelescas de su tiempo.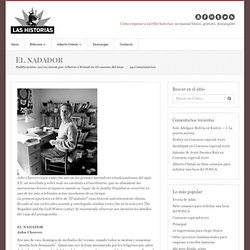 La primera aparición en libro de "El nadador" (una historia auténticamente clásica, llevada al cine en los años sesenta y antologada muchas veces) fue en la colección The Brigadier and the Golf Widow (1964). Se recomienda observar con atención los detalles del viaje del protagonista. EL NADADOR John Cheever Era uno de esos domingos de mediados del verano, cuando todos se sientan y comentan "Anoche bebí demasiado". Writers, Quotes, Biography, Poetry, Fiction, Artists - Paris Review. Purchase this Issue $15.00 Michael Holroyd on the art of biography: "I believe in private life for the living, and I think that when one is dead one should be a little bit bolder, so that the rest of us may have some record of how things actually were."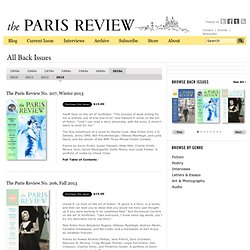 And Hermione Lee: "Some cynical biographer said to me, Make sure it's a good death. Make sure you're not picking someone who just declined." Imre Kertész on the art of fiction: "Perhaps I'm being impertinent, but I feel that my work has a rare quality—I tried to depict the human face of this history, I wanted to write a book that people would actually want to read." The Best English-Language Fiction of the Twentieth Century - Library Journal list. Kurt Vonnegut's 8 Tips on How to Write a Great Story - Entertainment. Why you should be cruel to your readers AP Images The year of reading more and writing better is well underway with writing advice the likes of David Ogilvy's 10 no-bullshit tips, Henry Miller's 11 commandments, Jack Kerouac's 30 beliefs and techniques, John Steinbeck's 6 pointers, and various invaluable insight from other great writers.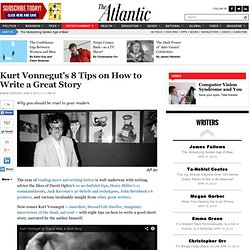 Now comes Kurt Vonnegut -- anarchist, Second Life dweller, imaginary interviewer of the dead, sad soul -- with eight tips on how to write a good short story, narrated by the author himself. The Analysis of mind, by Bertrand Russell. Las plumas de la serpiente. Stanley Moss. Stanley Moss was educated at Trinity College (Connecticut) and Yale University and makes his living as a private art dealer, specializing in Spanish and Italian Old Masters.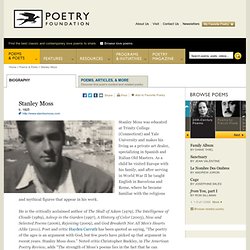 As a child he visited Europe with his family, and after serving in World War II he taught English in Barcelona and Rome, where he became familiar with the religious and mythical figures that appear in his work. He is the critically acclaimed author of The Skull of Adam (1979), The Intelligence of Clouds (1989), Asleep in the Garden (1997), A History of Color (2003), New and Selected Poems (2006), Rejoicing (2009), and God Breaketh Not All Men's Hearts Alike (2011). Poet and critic Hayden Carruth has been quoted as saying, "The poetry of the ages is an argument with God, but few poets have picked up that argument in recent years. Stanley Moss does." 36 Writing Essays by Chuck Palahniuk. 1: Establishing Your Authority Chuck teaches two principal methods for building a narrative voice your readers will believe in.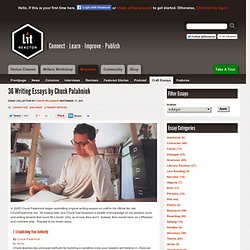 Discover the Heart Method and the Head Method and how to employ each to greatest effect. 2: Developing a Theme. PoetsArtists. Rhythm and Meter in English Poetry. Rhythm and Meter in English Poetry English poetry employs five basic rhythms of varying stressed (/) and unstressed (x) syllables.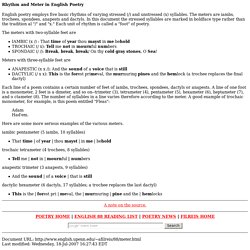 The meters are iambs, trochees, spondees, anapests and dactyls. A  Ian Mcewan sobre "Solar" Philosophy 132, 001|Spring 2010|UC Berkeley - Download free content from UC Berkeley. Customer Reviews Searle phlo mind by Pseudoneuro The philosophy course I wish I had had in graduate school.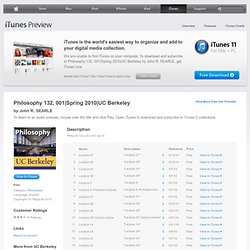 Packed with insights. Clearly a luminary, one of Americas foremost pholosophers tho loose repetitive and rambling at times (status post subdural); nonetheless probably the smartest philosopher I've ever heard. Mashups at GoodBlimey – Home to 2,748 mashups! Here are mashups for you to enjoy.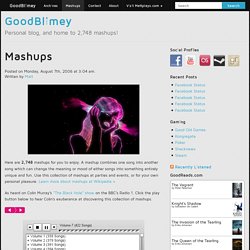 A mashup combines one song into another song which can change the meaning or mood of either songs into something entirely unique and fun. Use this collection of mashups at parties and events, or for your own personal pleasure. Learn more about mashups at Wikipedia » As heard on Colin Murray's "The Black Hole" show on the BBC's Radio 1. Click the play button below to hear Colin's exuberance at discovering this collection of mashups.
Music
English 50. English 50 – Intro to Creative Writing: Exercises for Poets First Lines: The King James Bible has long been recognized for its importance to English literature.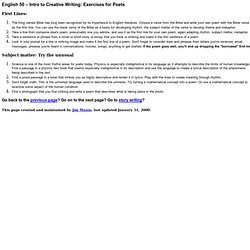 Choose a verse from the Bible and write your own poem with the Bible verse as the first line. PhilPapers: Online Research in Philosophy. Kurt Vonnegut explains drama. I was at a Kurt Vonnegut talk in New York a few years ago. Talking about writing, life, and everything. He explained why people have such a need for drama in their life. Cult Films. Directors with Cult Status: Ed Wood Oft-maligned Ed Wood has generally been regarded as the worst Hollywood film-maker of all time - and therefore has a number of classic cult films in his filmography. His directorial debut film was titled Glen or Glenda? (1953) (aka I Changed My Sex, I Led Two Lives, The Transvestite, or He or She) - about cross-dressing, with Wood starring as a transvestite struggling with his addiction to angora, and Bela Lugosi as the narrator. The comically-awful Bride of the Monster (1955) displayed the following teaser on its posters: "The Screen's Master of the Weird in his Newest and Most Daring Shocker!
" 25 Things Writers Should Stop Doing. I read this cool article last week — "30 Things To Stop Doing To Yourself" — and I thought, hey, heeeey, that's interesting. Writers might could use their own version of that. So, I started to cobble one together. Storytech Literary Consulting. Hero's journey. "A Practical Guide to Joseph Cambell's The Hero with a Thousand Faces" by Christopher Vogler © 1985 "There are only two or three human stories, and they go on repeating themselves as fiercely as if they had never happened before." In the long run, one of the most influential books of the 20th century may turn out to be Joseph Campbell's THE HERO WITH A THOUSAND FACES. List of common misconceptions. STRANDBEEST. The First Zombie Proof House. Concursos Poesía. ChannelChooser - Watch online TV channels live on the internet. TV Theme Music - D TV Shows. The Best English-Language Fiction of the Twentieth Century - Alternative Rankings. C. 150-Point Scale.
---