Literatura
s area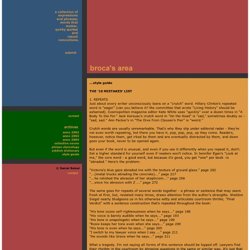 ...style guide 1. REPEATS Just about every writer unconsciously leans on a "crutch" word. Hillary Clinton's repeated word is "eager" (can you believe it?
Welcome to Storytree!
El nadador | Las historias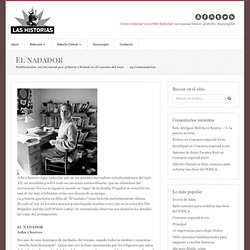 John Cheever (1912-1982) fue uno de los grandes narradores estadounidenses del siglo XX: un novelista y sobre todo un cuentista extraordinario, que no abandonó las narraciones breves ni siquiera cuando su "saga" de la familia Wapshot se convirtió en una de las más celebradas series novelescas de su tiempo. La primera aparición en libro de "El nadador" (una historia auténticamente clásica, llevada al cine en los años sesenta y antologada muchas veces) fue en la colección The Brigadier and the Golf Widow (1964).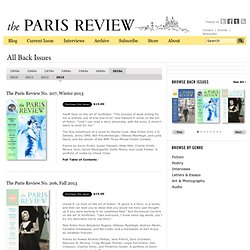 Writers, Quotes, Biography, Poetry, Fiction, Artists - Paris Review
Purchase this Issue $15.00
The Best English-Language Fiction of the Twentieth Century - Library Journal list
Why you should be cruel to your readers
Kurt Vonnegut's 8 Tips on How to Write a Great Story - Entertainment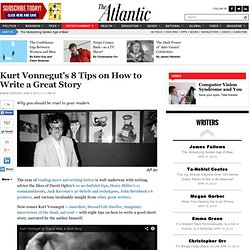 The Analysis of mind, by Bertrand Russell.
Las plumas de la serpiente
Stanley Moss was educated at Trinity College (Connecticut) and Yale University and makes his living as a private art dealer, specializing in Spanish and Italian Old Masters. As a child he visited Europe with his family, and after serving in World War II he taught English in Barcelona and Rome, where he became familiar with the religious and mythical figures that appear in his work.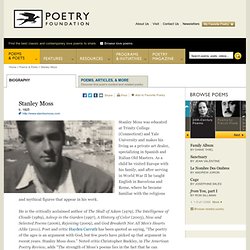 Stanley Moss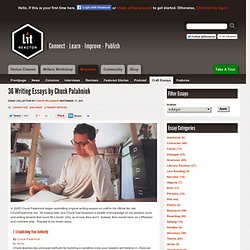 1: Establishing Your Authority
36 Writing Essays by Chuck Palahniuk
PoetsArtists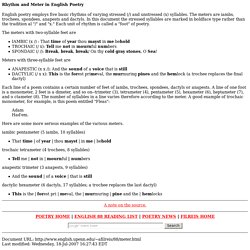 Rhythm and Meter in English Poetry
Rhythm and Meter in English Poetry English poetry employs five basic rhythms of varying stressed (/) and unstressed (x) syllables. The meters are iambs, trochees, spondees, anapests and dactyls.
A 
Ian Mcewan sobre "Solar"
Philosophy 132, 001|Spring 2010|UC Berkeley - Download free content from UC Berkeley on iTunes
Customer Reviews Searle phlo mind by Pseudoneuro The philosophy course I wish I had had in graduate school. Packed with insights. Clearly a luminary, one of Americas foremost pholosophers tho loose repetitive and rambling at times (status post subdural); nonetheless probably the smartest philosopher I've ever heard.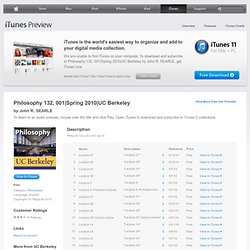 Here are mashups for you to enjoy. A mashup combines one song into another song which can change the meaning or mood of either songs into something entirely unique and fun.
Mashups at GoodBlimey – Home to 2,748 mashups!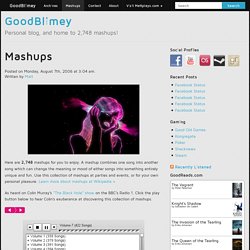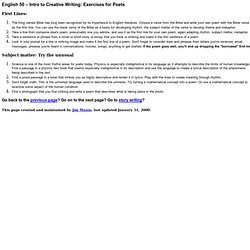 English 50 – Intro to Creative Writing: Exercises for Poets
English 50
PhilPapers: Online Research in Philosophy
I was at a Kurt Vonnegut talk in New York a few years ago. Talking about writing, life, and everything. He explained why people have such a need for drama in their life.
Kurt Vonnegut explains drama
Cult Films
Directors with Cult Status: Ed Wood
25 Things Writers Should Stop Doing
I read this cool article last week — "30 Things To Stop Doing To Yourself" — and I thought, hey, heeeey, that's interesting. Writers might could use their own version of that. So, I started to cobble one together.
Storytech Literary Consulting
"A Practical Guide to Joseph Cambell's The Hero with a Thousand Faces" by Christopher Vogler © 1985 "There are only two or three human stories, and they go on repeating themselves as fiercely as if they had never happened before." In the long run, one of the most influential books of the 20th century may turn out to be Joseph Campbell's THE HERO WITH A THOUSAND FACES.
hero's journey
List of common misconceptions
STRANDBEEST
The First Zombie Proof House
Concursos Poesía
ChannelChooser - Watch online TV channels live on the internet
TV Theme Music - D TV Shows - TelevisionTunes.com
The Best English-Language Fiction of the Twentieth Century - Alternative Rankings. C. 150-Point Scale.