How to write a book review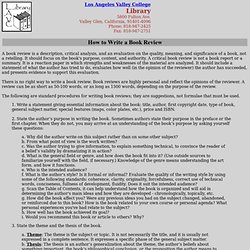 How to Write a Book Review
A book review is a description, critical analysis, and an evaluation on the quality, meaning, and significance of a book, not a retelling. It should focus on the book's purpose, content, and authority. A critical book review is not a book report or a summary. It is a reaction paper in which strengths and weaknesses of the material are analyzed. It should include a statement of what the author has tried to do, evaluates how well (in the opinion of the reviewer) the author has succeeded, and presents evidence to support this evaluation. There is no right way to write a book review.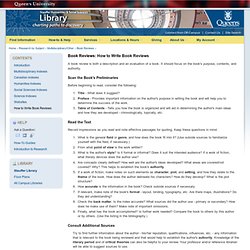 Book Reviews - How to Write Book Reviews | Queen's University Library
A book review is both a description and an evaluation of a book. It should focus on the book's purpose, contents, and authority. Scan the Book's Preliminaries Before beginning to read, consider the following: Title - What does it suggest?
by Bill Asenjo A book review describes, analyzes and evaluates. The review conveys an opinion, supporting it with evidence from the book. Do you know how to write a book review?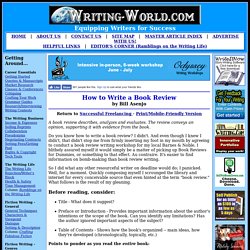 How to Write a Book Review
Before You Start | Steps to Follow | What to Put in a Book Review | What to Leave Out of a Book Review | Reminders Before You Start You may want to read about book reviewing. For books about writing book reviews, look up BOOK REVIEWING in the Library Catalogue. Two books which might be useful are: Webster's New World Student Writing Handbook QEII Reference PE 1408 S6577 1988 How To Write Book Reports QEII Reference PN 98 B7 T45 (ON RESERVE)
How to Write a Book Review: Memorial University Libraries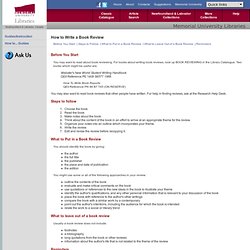 Book Reviews - Libraries - Dalhousie University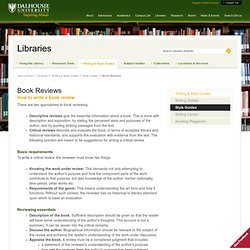 There are two approaches to book reviewing: Descriptive reviews give the essential information about a book. This is done with description and exposition, by stating the perceived aims and purposes of the author, and by quoting striking passages from the text. Critical reviews describe and evaluate the book, in terms of accepted literary and historical standards, and supports this evaluation with evidence from the text. The following pointers are meant to be suggestions for writing a critical review. Basic requirements
Introduction How to Write a Book Review in 10 Easy Steps Okay, so you have to write a book review. What do you need to do and in what order?
How to Write a Book Review - Information, Facts, and Links