InfoGraphics (Visual Maps)
Pricing for Education Over 100 professional themes No Piktochart branding Search engine friendly output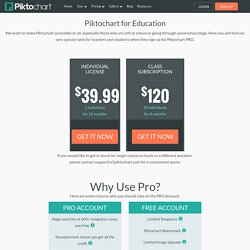 Education - Piktochart Infographics
ScapeToad 1.1 is available for download at SourceForge under GPL license. The latest versions of ScapeToad can also be downloaded here: The platform independent version of ScapeToad needs the Java Runtime Environment available here. More technical information, bug reports, feature requests and a forum on ScapeToad can also be found on the ScapeToad tracker at SourceForge.
ScapeToad - cartogram software by the Choros laboratory - download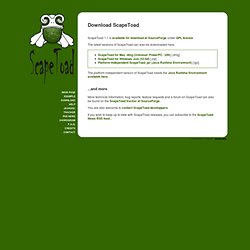 [Facebook] netvizz
Infographics from KISSmetrics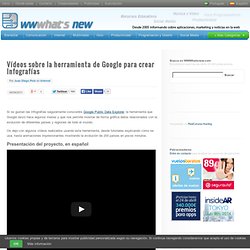 Vídeos sobre la herramienta de Google para crear Infografías
Si os gustan las infografías seguramente conoceréis Google Public Data Explorer, la herramienta que Google lanzó hace algunos meses y que nos permite mostrar de forma gráfica datos relacionados con la evolución de diferentes países y regiones de todo el mundo. Os dejo con algunos vídeos realizados usando esta herramienta, desde tutoriales explicando cómo se usa, hasta animaciones impresionantes mostrando la evolución de 200 países en pocos minutos. Presentación del proyecto, en español
The Past, Present & Future of Email [INFOGRAPHIC]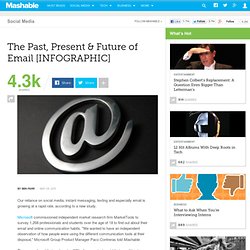 Our reliance on social media, instant messaging, texting and especially email is growing at a rapid rate, according to a new study. Microsoft commissioned independent market research firm MarketTools to survey 1,268 professionals and students over the age of 18 to find out about their email and online communication habits. "We wanted to have an independent observation of how people were using the different communication tools at their disposal," Microsoft Group Product Manager Paco Contreras told Mashable. The survey found that a whopping 96% of respondents said their email load either increased (45%) or stayed the same (51%) over the last year. Ninety percent said that social media communication has increased (28%) or stayed the same (65%).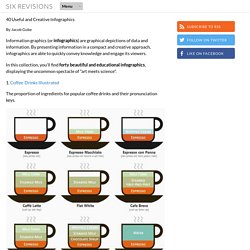 40 Useful and Creative Infographics
Information graphics (or infographics) are graphical depictions of data and information. By presenting information in a compact and creative approach, infographics are able to quickly convey knowledge and engage its viewers. In this collection, you'll find forty beautiful and educational infographics, displaying the uncommon spectacle of "art meets science". 1.
amMap: Interactive flash maps
Gapminder: Unveiling the beauty of statistics for a fact based world view.
amMap: Interactive flash maps
All sizes | "Infographic"
Infographics Blog: Reviews of the Best Infographic Design Ideas
Here are 44 Simple Daily Activities To Enjoy Your Work created by OfficeVibe to help keep the motivation high and add some fun back in your work day! You might think it's a truism, but most people tend to forget this crucial fact:You should always make the effort to build good habits that will make you healthier, happier, and more productive over time.Also, when it comes to new habits, it's important to remember that these are things to do for long term changes.This infographic will give you an overview of 44 habits to improve your productivity, your health and the overall quality of your workdays. A fun infographic for Friday! There is some fantastic information included in here. The topic choice will also have a long Online Lifespan, and has the potential to be relevant to readers for years.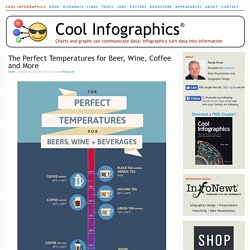 Cool Infographics - Blog
Ward Shelley Homepage
Building a 3D Infographic Brick by LEGO Brick#!5773295/3d-lego-infographics
My former Art Director at Público Fernando 'Rapa' Carballo exhibes these days and until february 27th is Antifichus at Casa de América in Madrid. A review of 200 years of his native Argentina seen with designers eyes. To works exhibited are done with friends and collegues, and one of them is the inforaphics journalist of Publico Samuel Granados. His project is very funny: a 3D cartogram about emigration and inmigration between american countries.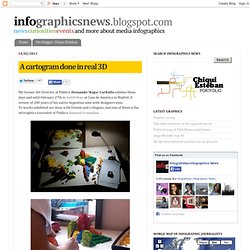 A cartogram done in real 3D
Infographic: Tallest Mountain to Deepest Ocean Trench | Our Amazing Planet
Earth Engine Access Develop, access and run algorithms on the full Earth Engine data archive, all using Google's parallel processing platform. Access to Earth Engine is currently available as a limited release to a small group of partners.
Google Earth Engine
Interceder
the_internet 2160x3240.jpg
CEO Portal
World News Map
Google News Timeline
Information Is Beautiful
IS IE9 A MODERN BROWSER
windows-phone-7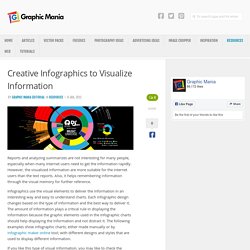 GraphicMania
Reports and analyzing summarizes are not interesting for many people, especially when many Internet users need to get the information rapidly. However, the visualized information are more suitable for the internet users than the text reports. Also, it helps remembering information through the visual memory for further reference.
Eugenio Archontopoulos
Data Visualization: Modern Approaches - Smashing Magazine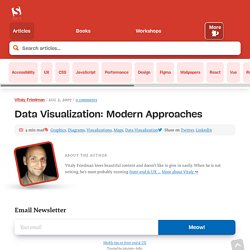 Advertisement Data presentation can be beautiful, elegant and descriptive. There is a variety of conventional ways to visualize data – tables, histograms, pie charts and bar graphs are being used every day, in every project and on every possible occasion. However, to convey a message to your readers effectively, sometimes you need more than just a simple pie chart of your results. In fact, there are much better, profound, creative and absolutely fascinating ways to visualize data.
VIZUALIZE: Archive
10 Gorgeous Social Media Infographics
10 Beautiful Social Media Infographics
This series is supported by Ben & Jerry's Joe, Ben & Jerry's new line-up of Fair Trade and frozen iced coffee drinks. Learn more about it here. Infographics help communicate information in a digestible manner as they creatively present data in an understandable and engaging format. With social media growing at an ever increasing pace, there is now a wealth of data about how people interacting with one another on the web. Naturally, infographics have proven an excellent aid in expressing high volumes of social web information in a clear, visually appealing manner.
SFMOMA ArtScope
Who can resist a colourful, thoughtful venn diagram anyway? In terms of blogging success, infographics are far more likely to be shared than your average blog post. This means more eyeballs on your important information, more people rallying for your cause, more backlinks and more visits to your blog. In short, a quality infographic done well could be what your blog needs right now.
10 Awesome Free Tools To Make Infographics
Dzinepress
NYT Visualization Lab
François Sinzikiramuka, perpetrator (left); Christophe Karorero, survivor. Jean Pierre Karenzi, perpetrator (left); Viviane Nyiramana, survivor. Godefroid Mudaheranwa, perpetrator (left); Evasta Mukanyandwi, survivor. Juvenal Nzabamwita, perpetrator (right); Cansilde Kampundu, survivor. Deogratias Habyarimana, perpetrator (right); Cesarie Mukabutera, survivor. François Ntambara, perpetrator (left); Epiphanie Mukamusoni, survivor.
analysis-one | online tools for business performance management
An Effective Poster :: Creating Effective Poster Presentations
Pantheon, a project from the Macro Connections group at The MIT Media Lab, explores cultural influences across countries and domains. To make our efforts tractable, Pantheon will not focus on culture, as it is understood in its broadest sense, but on cultural production. In a broad sense, culture can be understood as all of the information that humans—or animals [1]—generate and transmit through non-genetic means [2]. At Pantheon, however, we do not focus on the entire range of cultural information, but in a subset of this information that we define narrowly as cultural production. That is, we do not focus on cultural information such as passed on family values or societal trust [3], but on cultural production as proxied by the biographies of notable historical characters. Moreover, we focus on the subset of cultural production that we can identify as global culture, meaning the subset of cultural production that has broken the barriers of space, time and language.
FlowingData | Data Visualization, Infographics, and Statistics
Well-formed data
Nathan Yau's new book "Data Points" is out, and while I am still waiting for a copy, here is already a short contribution I made — a few paragraphs of bla: Nathan Yau: With client work, you must hear "innovative", "compelling", and "engaging" often. Personally, I get a lot of this, and potential clients often don't have data to work with. What makes a project interesting to you and worth your time?