Hormones Stress and the Brain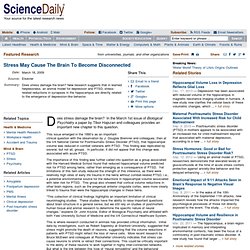 Stress May Cause The Brain To Become Disconnected
Mar. 16, 2009 — Does stress damage the brain?
Effect of chronic stress on the structural plasticity in the brain
So, after exposure to chronic stress, if the cells in your hippocampus are shrinking, and the cells in your amygdala are growing, "you may have all sorts of anxieties and anger and fear, and yet you don't have the hippocampus to help you connect it to where you were and what you were doing to make it specific.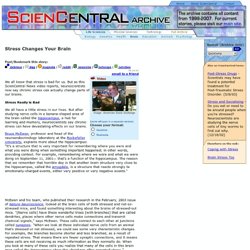 Stress Changes Your Brain: Science Videos - Science News - ScienCentral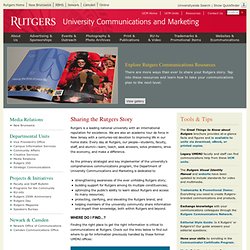 Richard J.
Does Stress Change the Brain?
We all know what it feels like to be overwhelmed by stress, and this site has many techniques that can effectively reduce high levels of stress to more manageable levels so you don't suffer negative health consequences. However, the best way to manage severe stress is to prevent it, or catch it while it's still low-grade stress and prevent it from becoming severe and chronic.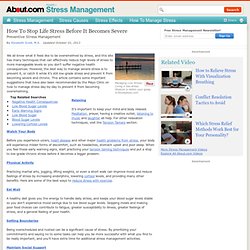 Life Stress - How To Stop Life Stress Before It Becomes Severe
May 18, 2012 | Like this article? Join our email list: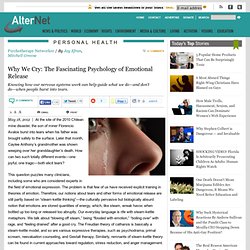 Stress sometimes seems like the new normal to people who face its fury on a daily basis.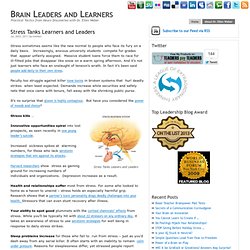 Stress Tanks Learners and Leaders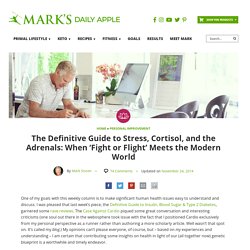 One of my goals with this weekly column is to make significant human health issues easy to understand and discuss. I was pleased that last week's piece, the Definitive Guide to Insulin, Blood Sugar & Type 2 Diabetes , garnered some rave reviews .
The Definitive Guide to Stress, Cortisol, and the Adrenals: When 'Fight or Flight' Meets the Modern World
Cortisol and Stress: How Cortisol Affects Your Body, and How To Stay Healthy in the Face of Stress
Cortisol is an important hormone in the body, secreted by the adrenal glands and involved in the following functions and more: Proper glucose metabolism Regulation of blood pressure Insulin release for blood sugar maintanence Immune function Inflammatory response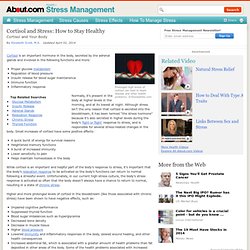 Feb. 10, 2011 — Cortisol, the so-called stress hormone, seems to behave in contradictory ways in children.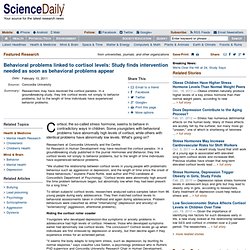 Behavioral problems linked to cortisol levels: Study finds intervention needed as soon as behavioral problems appear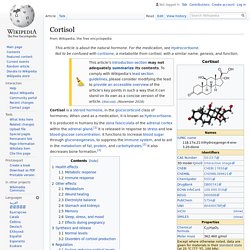 Cortisol
Cortisol , known more formally as hydrocortisone ( INN , USAN , BAN ), is a steroid hormone , more specifically a glucocorticoid , produced by the zona fasciculata of the adrenal cortex . [ 1 ] It is released in response to stress and a low level of blood glucocorticoids . Its primary functions are to increase blood sugar through gluconeogenesis ; suppress the immune system; and aid in fat, protein and carbohydrate metabolism. [ 2 ] It also decreases bone formation. Various synthetic forms of cortisol are used to treat a variety of diseases.