Knee Pain
The page you requested cannot be found. The page you are looking for might have been removed, had its name changed, or is temporarily unavailable. Please try the following: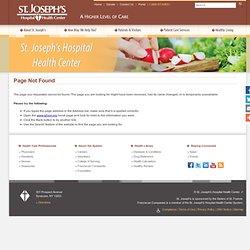 Knee pain
Knee pain is a common complaint that affects people of all ages. Knee pain may be the result of an injury, such as a ruptured ligament or torn cartilage. Medical conditions — including arthritis, gout and infections — also can cause knee pain.
Knee pain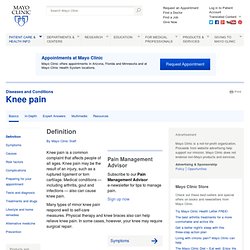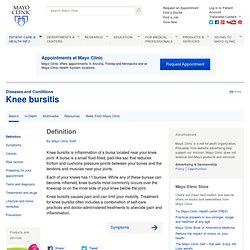 Knee bursitis is inflammation of a bursa located near your knee joint. A bursa is a small fluid-filled, pad-like sac that reduces friction and cushions pressure points between your bones and the tendons and muscles near your joints. Each of your knees has 11 bursae. While any of these bursae can become inflamed, knee bursitis most commonly occurs over the kneecap or on the inner side of your knee below the joint.
Knee bursitis
Arthritis of the knee joint is one of the most common causes of knee pain. There are different types of arthritis that can affect the knee joint, and the treatments may vary depending on the condition that is causing the arthritis. Osteoarthritis is the most common type of knee arthritis.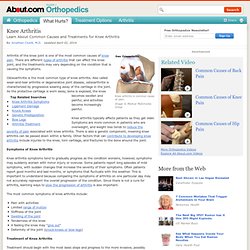 Knee Arthritis | Information About Knee Arthritis
Acupuncture - Knee Osteoarthritis May Improve After Acupuncture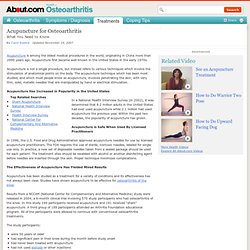 Acupuncture is among the oldest medical procedures in the world, originating in China more than 2000 years ago.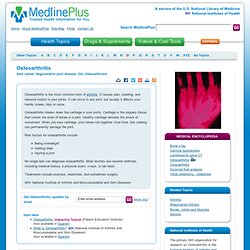 Osteoarthritis is the most common form of arthritis.
Osteoarthritis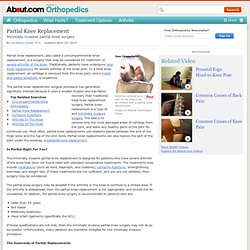 Partial knee replacement, also called a unicompartmental knee replacement, is a surgery that may be considered for treatment of severe arthritis of the knee. Traditionally, patients have undergone total knee replacement for severe arthritis of the knee joint. In a total knee replacement, all cartilage is removed from the knee joint, and a metal and plastic prosthetic is implanted.
Partial Knee Replacement - Unicompartmental Knee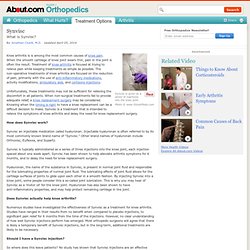 Synvisc Injections - Joint Lubrication Injections for the Knee
Knee arthritis is is among the most common causes of knee pain. When the smooth cartilage of knee joint wears thin, pain in the joint is often the result. Treatment of knee arthritis is focused at trying to relieve pain while keeping treatments as simple as possible.
Question: Is It Normal To Hear Clicking After Knee Replacement Surgery?
Clicking After Knee Replacement - Is It Normal To Hear Clicking After Knee Replacement Surgery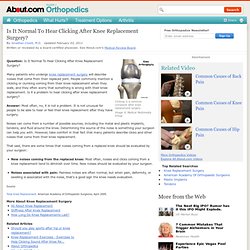 Knee arthroscopy: MedlinePlus Medical Encyclopedia
Knee arthroscopy is surgery that uses a tiny camera to look inside your knee. Small cuts are made to insert the camera and small surgical tools into your knee for the procedure. Description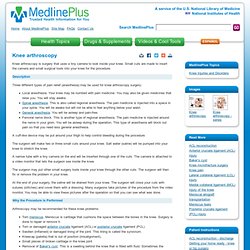 Patello-Femoral Syndrome - Symptoms, Treatment and Prevention
Definition
Synvisc Injections - Synvisc Injections May Delay Knee Surgery
Synvisc Injections
The knee is a hinge joint formed by two bones (femur and tibia) which are held together by four ligaments (medial collateral ligament, lateral collateral ligament, anterior cruciate ligament, posterior cruciate ligament).
Knee Pain Causes - The Cause of Knee Pain
Your Knee Pain: Is It Chondromalacia? Medical Author: Melissa Conrad Stöppler, MD Medical Editor: Barbara K.
Chondromalacia Patella (Patellofemoral Syndrome) Causes, Diagnosis, Symptoms and Treatment on MedicineNet
Knee Arthroscopy - Your Orthopaedic Connection - AAOS
Copyright 2010 American Academy of Orthopaedic Surgeons Knee Arthroscopy