University Inc. corporate corruption of Research & HE
Pearltrees interface Help & intro Videos
scienceguide: Wetenschap zoekt belangen verstrengeling
2 november 2011 - Volgens een enquête van de Jonge Akademie en het Rathenau Instituut staan jonge onderzoekers positief jegens valorisatie. Maar dit roept direct nieuwe en oude vragen op. Hoe past valorisatie in het onderzoeksysteem? En wat is het eigenlijk? "Valorisatie in optima forma is dat je onderzoek in de Donald Duck staat." Peter-Paul Verbeek, voorzitter van de Jonge Akademie presenteerde tijdens de Valorisatieparade van het Rathenau Instituut de uitslag van de Relevantiewijzer , een zelftest om te ontdekken hoe valorisatie bij een onderzoeker past.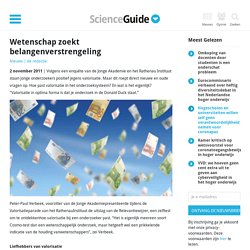 1ste-geldstroom verdwijnt: kabinet_herijkt onderzoeksgeld:
selling your rights / your choise /voice/ access/ privacy for ?
Banker Bonuses for Boffins
inside job: banks & academia
10 november 2011 - De affaire Stapel dwingt de wetenschap tot zelfreflectie in de omgang met datagegevens. De KNAW heeft besloten een commissie in het leven te roepen die gaat onderzoeken hoe in verschillende disciplines met onderzoeksgegevens wordt omgegaan. Onder leiding van KNAW-lid prof. dr. mr. Kees Schuyt zal de commissie 'onderzoeksgegevens in de wetenschap' de komende zich de komende maanden bezighouden met: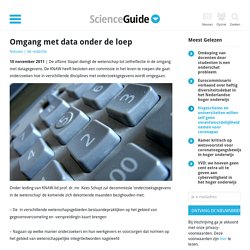 Omgang met data onder de loep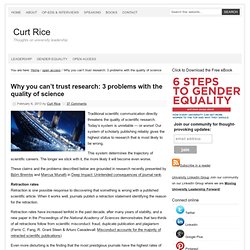 Traditional scientific communication directly threatens the quality of scientific research. Today's system is unreliable — or worse! Our system of scholarly publishing reliably gives the highest status to research that is most likely to be wrong.
Why you can't trust research: 3 problems with the quality of science
politicizing independent institutions
corporatization of science policy at independent universities
public uni's & corporate founding father's partnership
public money into private profit transformers
Wetenschap zoekt belangenverstrengeling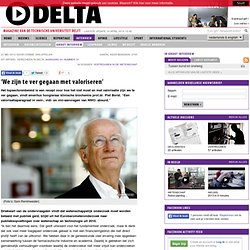 23 mei 2012 door Connie van UffelenAantal keer bekeken: 2611Dit artikel verscheen in Delta jaargang 44, nummer 15 In dossier: Vertrouwen in de wetenschap Het topsectorenbeleid is een recept voor hoe het níet moet en met valorisatie zijn we te ver gegaan, vindt emeritus hoogleraar klinische biochemie prof.dr. Piet Borst. "Een valorisatieparagraaf in veni-, vidi- en vici-aanvragen van NWO: absurd." (Foto's: Sam Rentmeester)
TUdelta: 'We zijn te ver gegaan met valoriseren'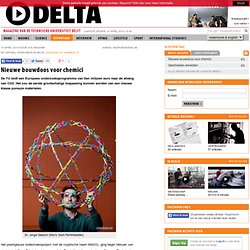 19 december 2013 door Jos Wassink Aantal keer bekeken: 798 WEB ONLY In het QC laboratorium dat op 18 december geopend werd, werken Delftse onderzoekers aan 's werelds eerste quantumcomputer. Lezers van New Scientist NL waren als eersten uitgenodigd voor een rondleiding. Foto's Sam Rentmeester Er was een foutje binnengeslopen bij de inschrijving, vertelt hoofdredactrice en Delfts alumnus ir. Irene de Bel.
TUdelta: Duivelse Dilemma's
collaborations between Universities & Industry
private patents suffocating free independent public research
reviewing publishing research culture
blurring Research Labs Universities & Corporations
blurring research and advertising entertainment
blurring treatment / marketing / entertainment spaces
blurring research and fundraising / advertising
blurring research & therapeutic space
ghostwriting - getting closer to the test tube
News from the University | Cyber security status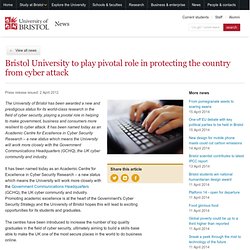 Press release issued 2 April 2012 The University of Bristol has been awarded a new and prestigious status for its world-class research in the field of cyber security, playing a pivotal role in helping to make government, business and consumers more resilient to cyber attack. It has been named today as an Academic Centre for Excellence in Cyber Security Research – a new status which means the University will work more closely with the Government Communications Headquarters (GCHQ), the UK cyber community and industry. Promoting academic excellence is at the heart of the Government's Cyber Security Strategy and the University of Bristol hopes this will lead to exciting opportunities for its students and graduates.
Corrupt Medicine and Science
blurring research and policy
ResearchLabScienceCentre mashup's
from research institute to cake bakery
public - private research communities
A managerial culture is growing in universities as they "position themselves to align more systematically with government and industrial sectors", a conference has heard. Nick Fowler, managing director for academic and government institutions at the publisher Elsevier, said that his company had observed the change via a rise in demand for management information. "Whether universities should be managed as drivers of economic growth or not, the fact is that significant forces - perhaps most of all government policy - are spurring them to do so," he told the Higher Education Policy Institute's autumn conference in London on 5 December.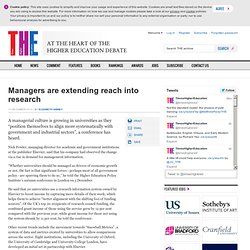 Managers are extending reach into research
Snowball Metrics in partnership with elsevier
hacking peer review publication process
Science Parks - Technology Transfer Offices - TTO
blurring University and HBO ( Higher Professional Education)
Het is cruciaal dat de samenleving universiteiten als onafhankelijk blijft beschouwen.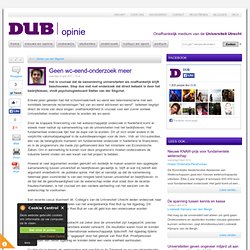 DUB: Geen Wc-eend-onderzoek meer | Opinie
blurring 'private' & common LAW
blurring research & lobbying
PPP - Public Private Partnerships
mediators - lobbyists - consultants
FoliaWeb; Studenten mogen eigen bedrijf niet gebruiken voor stage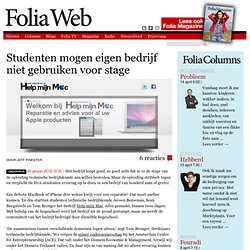 Onderwijs25 januari 2012 10:30 |Het bedrijf loopt goed, zo goed zelfs dat ze er de stage van de opleiding technische bedrijfskunde aan willen besteden. Maar de opleiding stribbelt tegen en verplicht de HvA-studenten ervaring op te doen in een bedrijf van honderd man of groter. Een defecte MacBook of iPhone drie weken kwijt voor een reparatie? Dat moet sneller kunnen.
twitters Bestuurders beleidsambtenaren
nevenfuncties -outside jobs-
bijzondere hoogleraren lectoren
endowed chair - professorship
Don Poldermans bijzonder hoogleraar EMC
RIVM - Roel Coutinho - Ab Osterhaus
De Prijs Akademiehoogleraren is een Nederlandse wetenschappelijke prijs uitgereikt door de Koninklijke Nederlandse Akademie van Wetenschappen (KNAW).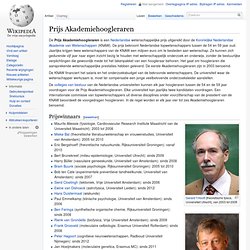 Akademie hoogleraar
blurring academia / hotemetoten = idiots ~ officials
SURFspace vraagt jouw toestemming om cookies te gebruiken In afwachting van de verwachte wijziging van de Telecomwet hanteert SURFspace deze cookiemelding om aan de wet te voldoen. Zodra de Telecomwet gewijzigd is zal SURFspace de cookiemelding aanpassen. Over cookies
Wat willen studenten met ICT in het onderwijs? - Artikel - SURFspace
UvA-studenten houden van Facebook, maar niet van Twitter
onderzoek15 juli 2012 10:00 |Het overgrote merendeel van de studenten aan de Universiteit van Amsterdam gebruikt Facebook, maar heeft geen interesse in Twitter. Dat blijkt uit een enquête van de UvA onder ruim tweeduizend studenten. Facebook wordt door 85 procent van de studenten gebruikt.
researching 'disinterested' education research
redefining "public" schools ?
leenstelsel ~ feudelism :-)
17 juli 2012 - Wie zich interesseert voor online ontwikkelingen in de onderwijswereld, loopt tegen termen als 'open access', 'open education' en 'open courseware' op. Willem van Valkenburg (TU Delft) zet alle begrippen op een rijtje. Willem van Valkenburg is E-Learning consultant aan de TU Delft. Hij merkte dat een heel aantal termen door elkaar worden gebruikt, zoals OER, OpenCourseWare, Open Courses (MOOCs), Open Education, Online Distance Education en greep op zijn blog de gelegenheid aan om duidelijkheid in de terminologie te scheppen.
scienceguide: Open Wat?
Ernst & Young en de Erasmus School of Economics gaan samen onderzoek verrichten op het gebied van externe verslaggeving en corporate governance. Dat hebben beide organisaties vandaag bekendgemaakt. Door deze samenwerking worden de onderzoeksexpertise van de Erasmus School of Economics en de kennis en ervaring van Ernst & Young gebundeld. Zo wordt het bedrijfsleven geholpen bij de toekomstige uitdagingen op het gebied van financial accounting en corporate governance. Het onderzoek richt zich op actuele uitdagingen in het bedrijfsleven.
Ernst & Young en Erasmus School of Economics bundelen krachten - Nieuws - Erasmus Universiteit Rotterdam
Of je als onderzoeker nu het bedrijfsleven of de overheid adviseert; het maakt weinig meer uit. Volgens hoogleraar Martin van den Berg is het risico van belangenverstrengeling bij beide even groot. Recent vroeg een Nederlands weekblad mij voor een interview over belangenverstrengeling van onderzoekers op mijn vakgebied. Aanleiding was een onderzoek van het Europese Parlement naar de European Food Safety Authority (EFSA).
DUB: Overheid of bedrijfsleven adviseren; zoek de verschillen | Opinie
Harvard University first chartered corporation
collaborative tools/ initiatives gauge expose the 'complicity'
NextGeneration journalist's
demise of disinterested art & science popularisation journalism
demise of disinterested - not for profit - science advise
background /controversies edu. system-reform NL
background edu. system/controversies
background edu. system/controversies
people van Dyck , Tyrone Hayes , Dompeling , Zamboni etc:
Irony , Satire, sarcasm etc:
other pearltrees curators
academic / economic espionage via cloudservices like google etc:
redesigning University Inc: pearltree - still unordered