Energies fossiles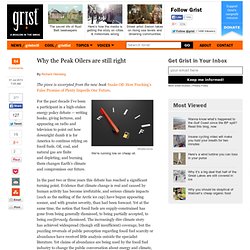 The piece is excerpted from the new book Snake Oil: How Fracking's False Promise of Plenty Imperils Our Future . For the past decade I've been a participant in a high-stakes energy policy debate — writing books, giving lectures, and appearing on radio and television to point out how downright dumb it is for America to continue relying on fossil fuels. Oil, coal, and natural gas are finite and depleting, and burning them changes Earth's climate and compromises our future. In the past two or three years this debate has reached a significant turning point. Evidence that climate change is real and caused by human activity has become irrefutable, and serious climate impacts (such as the melting of the Arctic ice cap) have begun appearing sooner, and with greater severity, than had been forecast. Yet at the same time, the notion that fossil fuels are supply-constrained has gone from being generally dismissed, to being partially accepted, to being vociferously dismissed.
Why the Peak Oilers are still right
Oil Spills: U.S. well sites in 2012 discharged more than Valdez -- Monday, July 8, 2013
Advertisement It went up orange, a gas-propelled geyser that rose 100 feet over the North Dakota prairie. But it was oil, so it came down brown. So much oil that when they got the well under control two days later, crude dripped off the roof of a house a half-mile away.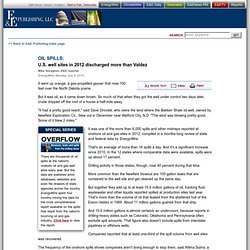 La plupart des énergies fossiles doivent rester dans les sous-sols car les brûler provoquera des changements qui "mettront en cause l'eistence de notre société", a prévenu lundi un nouveau rapport d'une agence gouvernementale en Australie, exportateur majeur de charbon et de gaz. Selon la Commission sur le climat, brûler les énergies fossiles telles que le charbon, est le principal facteur de changement climatique. "Brûler toutes les réserves d'énergie fossile mènerait à des changements climatiques sans précédent si sévères qu'ils mettraient en cause l'existence de notre société telle qu'on la connaît aujourd'hui", assène le rapport intitulé "La décennie cruciale". "Il est évident que la plupart des énergies fossiles doivent être laissées dans les sous-sols et ne pas être consumées", ajoute l'étude. La plupart des pays, dont l'Australie, considèrent qu'une hausse des températures de plus de deux degrés serait trop prononcée.
Danger pour la société si plus de 20% des énergies fossiles sont brûlées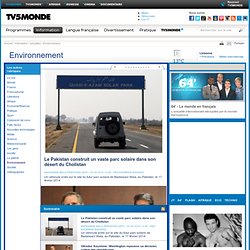 The good folks at BP , Shell , and Statoil would never break the law and screw over their customers in a quest for inflated profits, surely. Yet that is the very accusation coming out of Europe, where the industry giants are suspected of colluding to fix prices for crude, biofuel, and refined oil products at artificially high levels, allowing them to reap greater profits than the laws of supply and demand would dictate in a truly competitive economy. Offices of the companies were raided last week by European Commission officials, and the Justice Department is being urged to investigate whether the alleged price fixing spilled over onto American shores.
BP, Shell, Statoil accused of fixing oil prices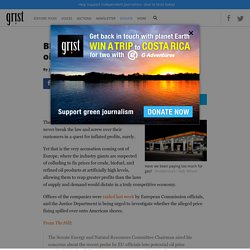 cyberaction mise en ligne le lundi 15 avril 2013 En partenariat avec : Collectifs français contre la recherche et l'exploitation des hydrocarbures « ultimes » Elle sera envoyée à : Président de l'Assemblée Nationale et à votre député à vos sénateurs Elle prendra fin le : dimanche 30 juin 2013 Nos députés et sénateurs, emboîtant le pas à MM. Bataille et Lenoir, s'interrogent depuis novembre 2012 sur les alternatives à la Fracturation hydraulique, cherchant un moyen de contourner la loi et de délivrer, au mépris du risque climatique, sanitaire, social et environnemental, les Hydrocarbures non conventionnels que la nature a pris soin de piéger dans la roche. Jeudi 18 avril prochain, dans le cadre de l'Office parlementaire d'évaluation des choix scientifiques et technologiques, ils auditionneront1 des « spécialistes » du sujet.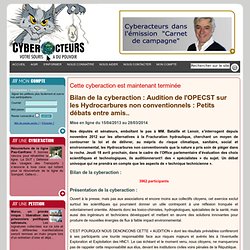 cyberaction Audition de l'OPECST sur les Hydrocarbures non conventionnels : Petits débats entre amis..
Do You Know Where Your Oil Comes From?
Global Bioenergies concocte un hydrocarbure sans pétrole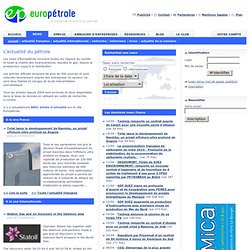 Europétrole, le portail de l'industrie du pétrole, du gaz et de l'énergie
L'actualité du pétrole Les news d'Europétrole couvrent toutes les régions du monde et toute la chaîne des hydrocarbures, liquides et gaz, depuis la prospection jusqu'à la distribution. Les articles diffusés émanent de plus de 500 sources et sont collectés directement auprès des entreprises du secteur. Ils sont donc fiables et vierges de toute interprétation journalistique. Tous les articles depuis 2004 sont archivés et donc disponibles dans la base de donnée en utilisant les outils de recherche ci-contre. Il y a actuellement 6975 billets d'actualité sur le site Europétrole.
DESTOYERS, PEAK OIL, PLANET DEVESTATION!
Schistes bitumineux et XL pipeline project
Gaz et huiles de schistes
5 Things That Actually Determine the Price of Gasoline - Part 5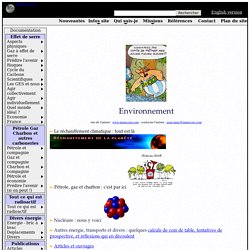 Accueil
Manicore English version Documentation Environnement site de l'auteur : www.manicore.com - contacter l'auteur : jean-marc@manicore.com