Schistes bitumineux et XL pipeline project
Le département américain des transports (DoT) a prévenu, jeudi 2 janvier, que le pétrole extrait des gisements de schiste du bassin de Bakken, au nord des Etats-Unis, était probablement « plus inflammable que le pétrole brut traditionnel ».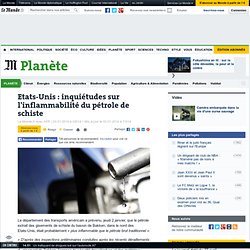 Etats-Unis : inquiétudes sur l'inflammabilité du pétrole de schiste
WASHINGTON –- A group of Democratic Senators and House members expressed concern Friday that trade negotiators are trying to undermine fuel standards in the European Union so that the U.S. can export tar sands oil from the Keystone XL pipeline.
Democrats Demand Clarity On Trade Representative's Position On Tar Sands Oil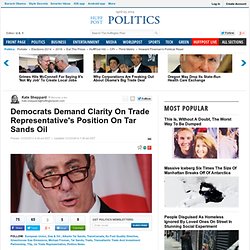 On n'arrête pas l'éco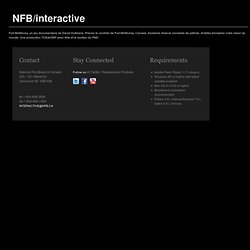 Fort McMoney, un jeu documentaire de David Dufresne.
Fort McMoney
Judge Blocks Shipment of Oil Equipment Through Idaho Forest
What do you do when monstrous piles of dusty black carbon move into your city?
Kochs must move their massive piles of tar-sands waste, Detroit mayor says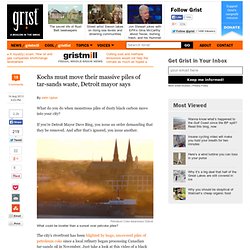 350.org
EcoInternet : If we kill the planet all other
EcoInternet : Exhibiting profound sickness,
Sables bitumineux - Greenpeace accuse Ottawa et Shell de complicité
Why Tar Sands Oil Is The Dirtiest On Earth [Video]
Oil Sands Fever and Lack of Environmental Review
Deformed Fish Found Downstream of Tar Sands Mines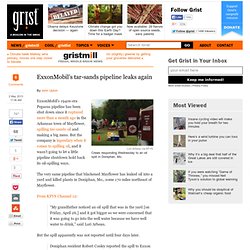 ExxonMobil's 1940s-era Pegasus pipeline has been shut down since it ruptured more than a month ago in the Arkansas town of Mayflower, spilling tar-sands oil and making a big mess.
ExxonMobil's tar-sands pipeline leaks again
Paris ne veut plus pénaliser les sables bitumineux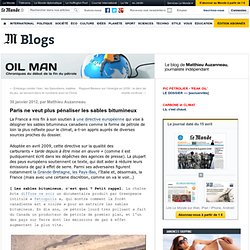 La France a mis fin à son soutien à une directive européenne qui vise à désigner les sables bitumineux canadiens comme la forme de pétrole de loin la plus néfaste pour le climat, a-t-on appris auprès de diverses sources proches du dossier. Adoptée en avril 2009, cette directive sur la qualité des carburants « tarde depuis à être mise en œuvre » (comme il est pudiquement écrit dans les dépêches des agences de presse). La plupart des pays européens soutiennent ce texte, qui doit aider à réduire leurs émissions de gaz à effet de serre. Parmi ses adversaires figurent notamment la Grande-Bretagne, les Pays-Bas, l'Italie et, désormais, la France (mais avec une certaine discrétion, comme on va le voir...)
February 21, 2012 - Only a Couple Days to Support European Union Labeling of Tar Sands as Highly Polluting
Additional Background BREAKING UPDATE: EU blocks passage of Canada's 'tar sands' ranking The vote by a European Commission committee to label Alberta oil sands as a highly polluting source of oil has failed. Proponents of the tar sand fuel quality directive listing failed to win a majority of votes in favor, but neither was there a majority to kill the proposal. As a result, the directive will be taken up by a committee of EU ministers in the coming months.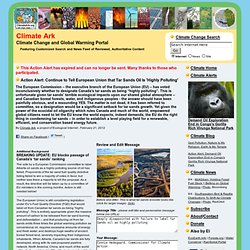 Le blog de nongazdeschisteinfos
Un autre hydrocarbure non-conventionnel encore plus méconnu que les gaz de schiste risque de faire parler de lui dans les prochains jours : le pétrole de schiste fait en effet l'objet d'après Greenpeace "de projets d'exploration dans le Nord de la France".
Pétrole de schiste : des forages seraient iminents > Pétrole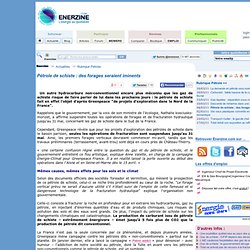 Tar Sands Action Goes Nationwide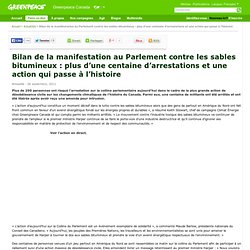 Des centaines de personnes se réunissent sur la colline du Parlement pour dire « Non aux sables bitumineux » | Greenpeace Canada
« L'action d'aujourd'hui constitue un moment décisif dans la lutte contre les sables bitumineux alors que des gens de partout en Amérique du Nord ont fait front commun en faveur d'un avenir énergétique fondé sur les énergies propres et durables », a résumé Keith Stewart, chef de campagne Climat Énergie chez Greenpreace Canada et qui compte parmi les militants arrêtés. « Le mouvement contre l'industrie toxique des sables bitumineux va continuer de prendre de l'ampleur si le premier ministre Harper continue de se faire le porte-voix d'une industrie destructrice et qu'il continue d'ignorer ses responsabilités en matière de protection de l'environnement et de respect des communautés. »
Tar Sands in Alberta
L'Alberta, Eldorado des pétrolièresLes sables bitumineux de l'Alberta présentent bien des avantages économiques, mais bien des risques environnementaux.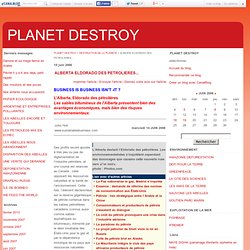 ALBERTA ELDORADO DES PETROLIERES... - PLANET DESTROY
The talk coming out of Canada's oil patch in recent months has been increasingly tinged with panic.
Canada Oil And Gas Industry: Shrinking Profits May Be A Sign Of Things To Come
A major spill of toxic oil waste has wiped out trees and vegetation across a 104-acre swath of Alberta, Canada. The apparent cause of the spill: The rupture of a five-year-old pipeline that was designed to last at least 30 years.
Pipeline spills oil waste over more than 100 acres of Alberta
Ottawa et Edmonton ont profité du Jour de la terre pour présenter cette initiative conjointe, qui permet d'observer les effets de l'industrie sur l'air, l'eau et la biodiversité. Le site retrace les concentrations de différents polluants en Alberta, en Saskatchewan, en Colombie-Britannique et dans les Territoires du Nord-Ouest, sur une superficie de 140 000 kilomètres carrés.
Sables bitumineux: un site web pour mesurer la pollution | Martin Croteau | Environnement
Josh Fox Writer & Director of GASLAND Arrested Protesting Tar Sands at White House
Tar Sands Action/ Josh Fox on Vimeo