Schistes bitumineux et XL pipeline project
Etats-Unis : inquiétudes sur l'inflammabilité du pétrole de schiste. Le département des transports américain a prévenu, jeudi 2 janvier, que le pétrole extrait des gisements de schiste du bassin de Bakken, dans le nord des Etats-Unis, était probablement « plus inflammable que le pétrole brut traditionnel ». « D'après des inspections préliminaires conduites après les récents déraillements dans le Dakota du Nord, en Alabama », et au Québec, impliquant du pétrole brut du gisement de Bakken, l'agence de sécurité des oléoducs et des matériaux dangereux (PHMSA) « requiert de tester correctement, signaler et classifier, et, quand c'est nécessaire, de dégazéifier suffisamment les matériaux dangereux avant leur transport ».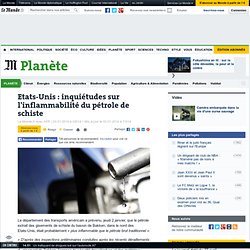 Trois trains ont déraillé, deux aux Etats-Unis et un au Canada, entraînant de graves incendies ces six derniers mois. Democrats Demand Clarity On Trade Representative's Position On Tar Sands Oil. WASHINGTON –- A group of Democratic Senators and House members expressed concern Friday that trade negotiators are trying to undermine fuel standards in the European Union so that the U.S. can export tar sands oil from the Keystone XL pipeline.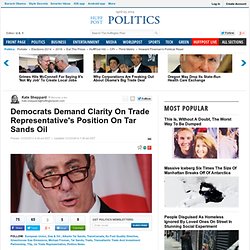 The EU has a policy known as the Fuel Quality Directive, which calls for a 6 percent reduction in emissions from transportation fuels like gasoline and diesel by 2020. As part of that, the EU wants to assign values to different types of fuel based on the emissions they generate. Tar sands oil, which has much higher emissions than conventional crude, would be assigned a higher value under the system. A letter from 21 Senators and House members cites "troubling" reports that the U.S. might be working to undermine those rules as part of the negations over the Transatlantic Trade and Investment Partnership (TTIP).
On n'arrête pas l'éco. Fort McMoney. Fort McMoney, un jeu documentaire de David Dufresne.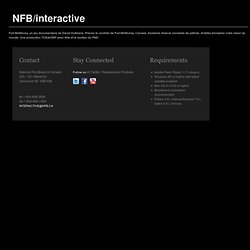 Prenez le contrôle de Fort McMurray, Canada, troisième réserve mondiale de pétrole, et faites triompher votre vision du monde. Une production TOXA/ONF avec Arte et le soutien du FMC Experience innovative interactive documentaries, videos, and animations that thoughtfully explore relevant issues and unique Canadian perspectives. Judge Blocks Shipment of Oil Equipment Through Idaho Forest. Kochs must move their massive piles of tar-sands waste, Detroit mayor says. What do you do when monstrous piles of dusty black carbon move into your city?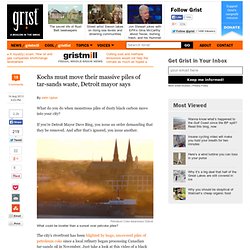 If you're Detroit Mayor Dave Bing, you issue an order demanding that they be removed. And after that's ignored, you issue another. The city's riverfront has been blighted by huge, uncovered piles of petroleum coke since a local refinery began processing Canadian tar-sands oil in November. 350.org. EcoInternet : If we kill the planet all other... EcoInternet : Exhibiting profound sickness,... Non aux sables bitumineux ! | Cauzio. Le projet Oléoduc Énergie Est de TransCanada transporterait 1,1 million de barils par jour de pétrole des sables bitumineux de l'Alberta jusqu'au port de Saint John (NB) d'où le pétrole serait exporté.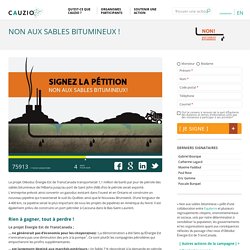 L'entreprise prévoit ainsi convertir un gazoduc existant dans l'ouest et en Ontario et construire un nouveau pipeline qui traverserait le sud du Québec ainsi que le Nouveau-Brunswick. D'une longueur de 4 400 km, ce pipeline serait le plus important de tous les projets de pipelines en Amérique du Nord. Sables bitumineux - Greenpeace accuse Ottawa et Shell de complicité. Why Tar Sands Oil Is The Dirtiest On Earth [Video] Thousands of Americans have petitioned, marched, and been arrested in an effort to stop the controversial Keystone XL pipeline.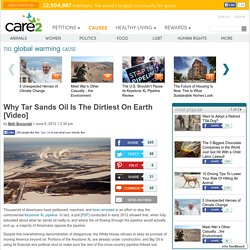 In fact, a poll [PDF] conducted in early 2012 showed that, when fully educated about what tar sands oil really is, and where the oil flowing through the pipeline would actually end up, a majority of Americans oppose the pipeline. Despite this overwhelming demonstration of disapproval, the White House refuses to keep its promise of moving America beyond oil. Portions of the Keystone XL are already under construction, and Big Oil is using its financial and political clout to make sure the rest of this cross-country pipeline follows suit. Many people make judgement about energy based on the things that affect them most: the price of gas or their personal utility bill.
Oil Sands Fever and Lack of Environmental Review. The Harper Conservatives are well known for being defenders of the oil sands (no matter what effect they have on the climate), going so far as to modify the environmental assessment process in the latest budget so the project can go ahead more quickly.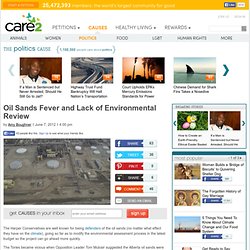 The Tories became vicious when Opposition Leader Tom Mulcair suggested the Alberta oil sands were artificially inflating the Canadian dollar and that was hurting other industries across the country, particularly manufacturing in Ontario. The Tories demanded that Mulcair visit the oil sands before having any such opinion on them, and suggested that he could not have an open mind when he scheduled his visit. Deformed Fish Found Downstream of Tar Sands Mines. Written by Jason Mark Chief Allan Adam, the head of the Fort Chipewyan community in the far north of Alberta, has been fishing in Lake Athabasca for all of his life.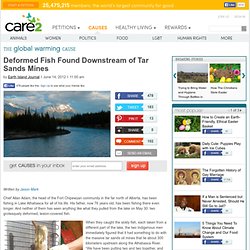 His father, now 76 years old, has been fishing there even longer. ExxonMobil's tar-sands pipeline leaks again. ExxonMobil's 1940s-era Pegasus pipeline has been shut down since it ruptured more than a month ago in the Arkansas town of Mayflower, spilling tar-sands oil and making a big mess.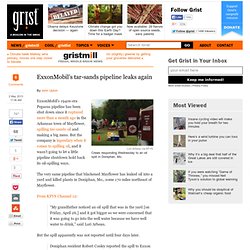 But the company is legendary when it comes to spilling oil, and it wasn't going to let a little pipeline shutdown hold back its oil-spilling ways. The very same pipeline that blackened Mayflower has leaked oil into a yard and killed plants in Doniphan, Mo., some 170 miles northeast of Mayflower. From KFVS Channel 12: Paris ne veut plus pénaliser les sables bitumineux. La France a mis fin à son soutien à une directive européenne qui vise à désigner les sables bitumineux canadiens comme la forme de pétrole de loin la plus néfaste pour le climat, a-t-on appris auprès de diverses sources proches du dossier.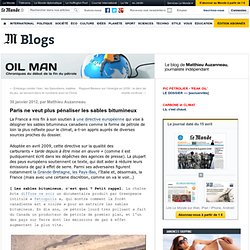 Adoptée en avril 2009, cette directive sur la qualité des carburants « tarde depuis à être mise en œuvre » (comme il est pudiquement écrit dans les dépêches des agences de presse). La plupart des pays européens soutiennent ce texte, qui doit aider à réduire leurs émissions de gaz à effet de serre. Parmi ses adversaires figurent notamment la Grande-Bretagne, les Pays-Bas, l'Italie et, désormais, la France (mais avec une certaine discrétion, comme on va le voir...) February 21, 2012 - Only a Couple Days to Support European Union Labeling of Tar Sands as Highly Polluting.
Additional Background BREAKING UPDATE: EU blocks passage of Canada's 'tar sands' ranking The vote by a European Commission committee to label Alberta oil sands as a highly polluting source of oil has failed. Proponents of the tar sand fuel quality directive listing failed to win a majority of votes in favor, but neither was there a majority to kill the proposal. As a result, the directive will be taken up by a committee of EU ministers in the coming months.
Le blog de nongazdeschisteinfos. Pétrole de schiste : des forages seraient iminents > Pétrole. Un autre hydrocarbure non-conventionnel encore plus méconnu que les gaz de schiste risque de faire parler de lui dans les prochains jours : le pétrole de schiste fait en effet l'objet d'après Greenpeace "de projets d'exploration dans le Nord de la France". Rappelons que le gouvernement, par la voix de son ministre de l'écologie, Nathalie kosciusko-morizet, a affirmé suspendre toutes les opérations de forages et de fracturation hydraulique jusqu'au 31 mai, concernant les gaz de schiste dans le Sud de la France. Cependant, Greenpeace révèle que pour les projets d'exploration des pétroles de schiste dans le bassin parisien, seules les opérations de fracturation sont suspendues jusqu'au 31 mai. Ainsi, les premiers forages verticaux devraient commencer mi-avril, tandis que les travaux préliminaires (terrassement, avant-trou) sont déjà en cours près de Château-Thierry.
Schistes bitumineux / gaz de schistes et + Tar Sands Action Goes Nationwide. Des centaines de personnes se réunissent sur la colline du Parlement pour dire « Non aux sables bitumineux » « L'action d'aujourd'hui constitue un moment décisif dans la lutte contre les sables bitumineux alors que des gens de partout en Amérique du Nord ont fait front commun en faveur d'un avenir énergétique fondé sur les énergies propres et durables », a résumé Keith Stewart, chef de campagne Climat Énergie chez Greenpreace Canada et qui compte parmi les militants arrêtés. « Le mouvement contre l'industrie toxique des sables bitumineux va continuer de prendre de l'ampleur si le premier ministre Harper continue de se faire le porte-voix d'une industrie destructrice et qu'il continue d'ignorer ses responsabilités en matière de protection de l'environnement et de respect des communautés. »
Petropolis. Tar Sands in Alberta. ALBERTA ELDORADO DES PETROLIERES... - PLANET DESTROY. L'Alberta, Eldorado des pétrolièresLes sables bitumineux de l'Alberta présentent bien des avantages économiques, mais bien des risques environnementaux. Des profits record ajoutés à très peu ou pas de réglementation de l'industrie pétrolière, et une course est relancée au Canada : celle opposant les ressources naturelles et la santé de l'environnement.
Cette fois, l'élément déclencheur est la réserve gigantesque de pétrole contenue dans les sables pétrolifères canadiens (connus aussi comme sables asphaltiques ou bitumineux). Alimenté par le désir insatiable des États-Unis pour le gaz et par la dépendance historique de ce pays aux ressources naturelles canadiennes, le présent boom devrait prochainement s'accroître dans une course folle aux profits. La hausse des prix du pétrole brut a déclenché une urgence qui fait de l'exploitation des sables bitumineux une entreprise profitable. Canada Oil And Gas Industry: Shrinking Profits May Be A Sign Of Things To Come. Pipeline spills oil waste over more than 100 acres of Alberta.
Sables bitumineux: un site web pour mesurer la pollution | Martin Croteau | Environnement. Josh Fox Writer & Director of GASLAND Arrested Protesting Tar Sands at White House. Josh Fox, réalisateur anti-gaz de schiste classé "terroriste" Tar Sands Action/ Josh Fox. Tar Sands.
---