Online Education
TEDEducation. View full lesson: The coelacanth, a prehistoric fish that was mistakenly thought to have gone extinct at the same time as the dinosaurs, has managed to stick around our seas for 360 million years.
Erin Eastwood details the surprising "back from the dead" discovery of the coelacanth and explains how this fish's fins shed light on the evolutionary movement of vertebrates from water to land. Lesson by Erin Eastwood, animation by James Price for The Foreign Correspondents' Club. Show less. A Technology Integrator. Free Science and Video Lectures Online! Videos from the World's Best Conferences and Events. The Great Courses. Free Courses and Resources. Open Education. MOOCs. Coding. Logic and Rhetoric. Online Course Provider Paves Path to College Credit. An increasing push for online courses with no student tuition has helped address the education access problem.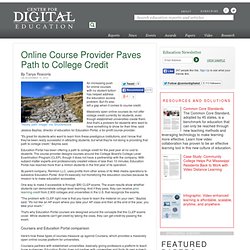 But it's also left a gap when it comes to course credit. Massively open online courses do not offer college credit currently for students, even though established universities create them. And that's a problem for students who want to have something to show for their time, said Jessica Bayliss, director of education for Education Portal, a for-profit course provider. About. Most of the world's high aptitude students are not privileged with the resources and opportunities necessary to reach their full potential.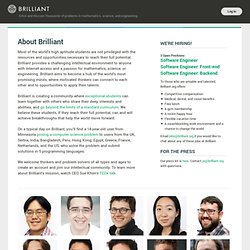 Brilliant provides a challenging intellectual environment to anyone with internet access and a passion for mathematics, science, or engineering. Brilliant aims to become a hub of the world's most promising minds, where motivated thinkers can connect to each other and to opportunities to apply their talents. Brilliant is creating a community where exceptional students can learn together with others who share their deep interests and abilities, and go beyond the limits of a standard curriculum. We believe these students, if they reach their full potential, can and will achieve breakthroughs that help the world move forward. Degreed - The Digital Lifelong Diploma. MOOCs, Large Courses Open to All, Topple Campus Walls. Max Whittaker for The New York Times Sebastian Thrun, left, a Stanford professor, and Andy Brown, a course manager, recording in their studio in Palo Alto, Calif.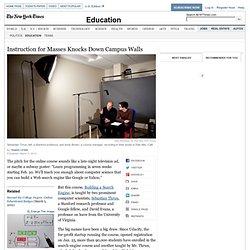 But this course, Building a Search Engine, is taught by two prominent computer scientists, Sebastian Thrun, a Stanford research professor and Google fellow, and David Evans, a professor on leave from the University of Virginia. The big names have been a big draw. Since Udacity, the for-profit startup running the course, opened registration on Jan. 23, more than 90,000 students have enrolled in the search-engine course and another taught by Mr. 50 Best Sources of Free STEM Education Online.
Colleges, online universities, and other educational forums in your community can be excellent places to learn more about a variety of STEM topics, but there is also a wealth of educational material available on the web for those who prefer to learn at their own pace or take a more individual approach.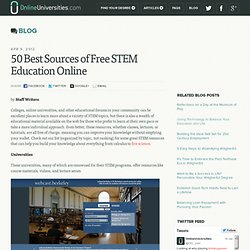 Even better, these resources, whether classes, lectures, or tutorials, are all free of charge, meaning you can improve your knowledge without emptying your wallet. Check out our list (organized by topic, not ranking) for some great STEM resources that can help you build your knowledge about everything from calculus to fire science. Coursera. EdX. University of the People – The world's first tuition-free online university. Open Yale Courses. OpenCourseWare | Free Online Course Materials. Your Complete Guide to All Online Courses. Courses | The Open Education Consortium. SlideRule: Find Online Courses/MOOCs. Read Reviews/Ratings. You should know these. MOOC List | A complete list of Massive Open Online Courses (free online courses) offered by the best universities and entities. Open Culture. Khan Academy. Great Video Lessons from Great Teachers | LearnZillion.
NSW HSC Online. ShowMe - The Online Learning Community. Skillshare. Success in a MOOC. What You Need to Know About MOOCs - Technology. We'll be updating this page regularly.Please check back for updates.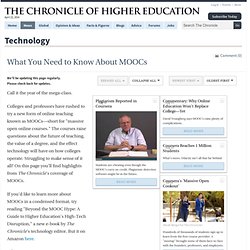 Call it the year of the mega-class. Colleges and professors have rushed to try a new form of online teaching known as MOOCs—short for "massive open online courses. " The courses raise questions about the future of teaching, the value of a degree, and the effect technology will have on how colleges operate. Struggling to make sense of it all?
---