Earth Paradigm
A new planet —probably a rocky super-Earth—has been found squarely within its star's habitable zone, making it one of the best candidates yet to support life , its discoverers say. The planet, dubbed GJ 667Cc, orbits a red dwarf star 22 light-years from Earth , in the constellation Scorpio. A binary pair of orange dwarf stars are part of the same system.
New "Super Earth" Found at Right Distance for Life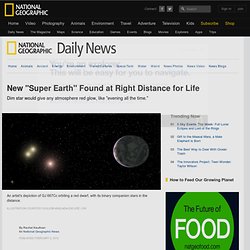 What's the Latest Development?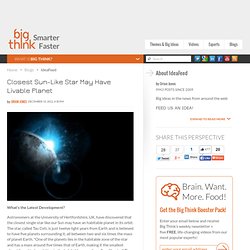 Closest Sun-Like Star May Have Livable Planet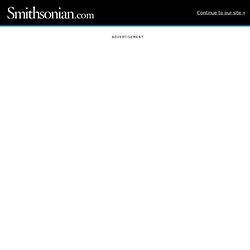 Newly Discovered Earth-like Planet Could be Habitable | Surprising Science
An artist's rendering of the theorized Earth-like planet, potentially capable of containing liquid water. Image via University of Hertfordshire/J.
Genetically Modified Organisms
New Landsat Earth-monitoring satellite launched
GEO - Group on Earth Observations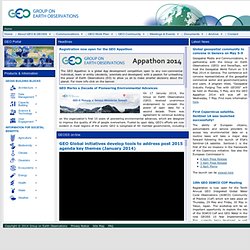 The study of planetary habitability is partly based upon extrapolation from knowledge of the Earth 's conditions, as the Earth is the only planet currently known to harbour life The Gaia hypothesis , also known as Gaia theory or Gaia principle , proposes that organisms interact with their inorganic surroundings on Earth to form a self-regulating , complex system that contributes to maintaining the conditions for life on the planet. Topics of interest include how the biosphere and the evolution of life forms affect the stability of global temperature , ocean salinity , oxygen in the atmosphere and other environmental variables that affect the habitability of Earth.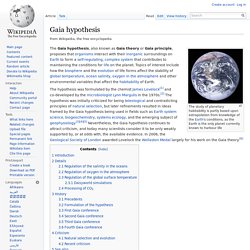 Silent Spring is a book written by Rachel Carson and published by Houghton Mifflin on September 27, 1962. [ 1 ] The book is widely credited with helping launch the contemporary American environmental movement . [ 2 ] The New Yorker started serializing Silent Spring in June 1962, and it was published in book form (with illustrations by Lois and Louis Darling ) by Houghton Mifflin on Sept. 27.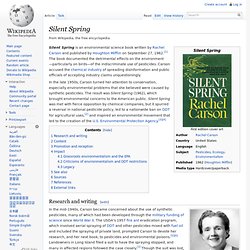 Silent Spring
Silent Spring Institute | Welcome
Mobile Apps for Exploring Nature
Vandana Shiva: Earth Democracy at PCC
CC_2012_FinalScores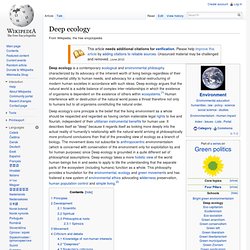 Deep ecology is a contemporary ecological philosophy distinguished by its advocacy of the inherent worth of living beings regardless of their instrumental utility to human needs. Deep ecology argues that the natural world is a subtle balance of complex inter-relationships in which the existence of organisms is dependent on the existence of others within ecosystems . [ 1 ] Human interference with or destruction of the natural world poses a threat therefore not only to humans but to all organisms constituting the natural order. Deep ecology's core principle is the belief that the living environment as a whole should be respected and regarded as having certain legal rights to live and flourish. It describes itself as "deep" because it regards itself as looking more deeply into the actual reality of humanity's relationship with the natural world arriving at philosophically more profound conclusions than that of the prevailing view of ecology as a branch of Darwinian biological science.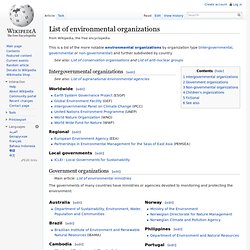 This is a list of the more notable environmental organizations by organization type ( intergovernmental , governmental or non-governmental ) and further subdivided by country.
List of environmental organizations
An invisible, ancient source of energy surrounds us—energy that powered the first explorations of the world, and that may be a key to the future. This map shows you the delicate tracery of wind flowing over the US. The wind map is a personal art project, not associated with any company. We've done our best to make this as accurate as possible, but can't make any guarantees about the correctness of the data or our software. Please do not use the map or its data to fly a plane, sail a boat, or fight wildfires :-)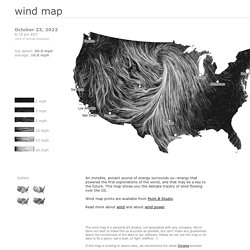 Home page | Planetary Skin Institute
Building Energy Efficient With Energy Management Software and Sustainable Materials