Data Visualization Tools
Utilities and tools used in the visualization of data Apr 4
A picture is worth a thousand words, but creating cool infographics can be time-consuming.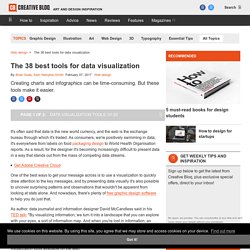 The 20 best tools for data visualization | Web design
Selected Tools
by Sindice
Free Data Visualization Software
VisiNav is a system to search and navigate web data, collected from a multitude of sources.
VisiNav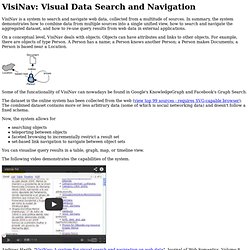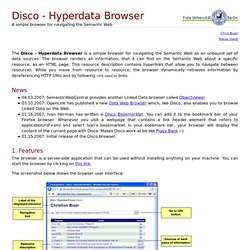 The Disco - Hyperdata Browser is a simple browser for navigating the Semantic Web as an unbound set of data sources. The browser renders all information, that it can find on the Semantic Web about a specific resource, as an HTML page. This resource description contains hyperlinks that allow you to navigate between resources.
Disco Hyperdata Browser
Berners-Lee paper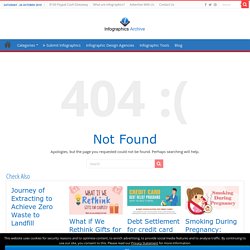 9 Powerful Free Infographic Tools To Create Your Own Infographics - DATA VISUALIZATION
Powerful Free Infographic Tools To Create Your Own Infographics A Do-It-Yourself Guide to Infographics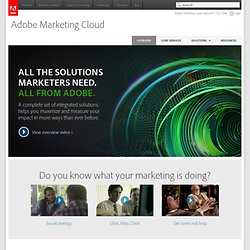 "At Lenovo, my executive team challenged the Global Business Intelligence practice to provide an 8x return on investment for every dollar invested.
Online Analytics | Web Analytics - SiteCatalyst | Online Business Optimization by Omniture
Piwik - Web analytics - Open source
Yahoo! Web Analytics
Impure Blog
Polychart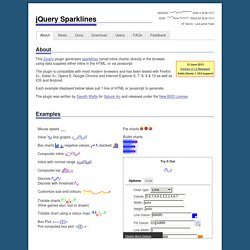 Sparklines
News 15 June 2013 - Version 2.1.2 Relased This release adds support for jQuery 1.10.0 and other bug fixes and minor improvements. See the full changelog for details of all changes.
Quadrigram
Gephi, an open source graph visualization and manipulation software
Crazy Egg – visualize your visitors
The Power of Maps
Maps are both necessary tools for analysis and crucial delivery visuals for foresight and warning products. They constitute a very powerful type of delivery form, as they change both the world and the mind. The pivotal importance of maps and of the process of mapping has notably been shown, in the case of the birth of nations and of nationalism, by two remarkable books: Imagined Communities by Benedict Anderson and Siam Mapped: A History of the Geo-Body of a Nation by Winichakul Thongchai.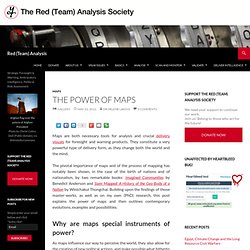 Multiple Outcome Measurement
Jolicharts
Demo Videos | Ifbyphone
Datavisualization.ch Selected Tools
Webtrends, The Global Leader in Mobile and Social Analytics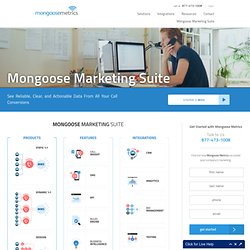 AccuTrack SPC™ - Keyword Level Phone Call Tracking Product
By incorporating call tracking into your marketing and advertising campaigns, you'll have access to actionable data that can better inform future efforts, as well as more accurately measure your current ROI. Clearly see which campaigns are performing and which aren't. Discover the keywords that are driving visitors to your site, and better understand what's driving customer behavior.
FeedBurner
iPerceptions - Customer Satisfaction Measurement
InfoGraphics (Visual Maps)
easel.ly | create and share visual ideas online
Venngage
Infographics and charts - interactive data visualization | Infogr.am
Data Science Toolkit
Usage Command Line on OS X and Linux
File to Text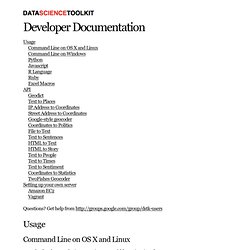 OCRopus™ is an OCR system written in Python, NumPy, and SciPy focusing on the use of large scale machine learning for addressing problems in document analysis. OCRopus 0.7 is the latest release of the OCRopus OCR system.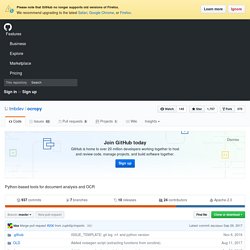 ocropus - The OCRopus(tm) open source document analysis and OCR system
IP Address to Coordinates
Usage Command Line on OS X and Linux Download python_tools.zip, extract into a new folder, cd into it and run .
Geolocation and Online Fraud Prevention from MaxMind
google wonder wheel
GoogAWHO
Prezi - presentation editor
Information Visualization Manifesto
Posted: August 30th, 2009 | Author: Manuel Lima | Filed under: Uncategorized |
Sprint
SOFTWARE
Dzinpress
Online Analytics | Web Analytics - SiteCatalyst | Online Business Optimization by Omniture
Toolbox
Remote data visualization
GazeHawk - Eye Tracking For Everyone - Usability Services & Software
Edistorm
Information Architects
The main goal of data visualization is its ability to visualize data, communicating information clearly and effectivelty.
Infographics
From navigating the Web in entirely new ways to seeing where in the world twitters are coming from, data visualization tools are changing the way we view content. We found the following 16 apps both visually stunning and delightfully useful.
Mashable
google-refine
SIGMA