Data Visualization Tools
Utilities and tools used in the visualization of data Apr 4
Where Did My Post Go? (beta) I am a bot that posts GIFs generated from the reblog network of posts that you submit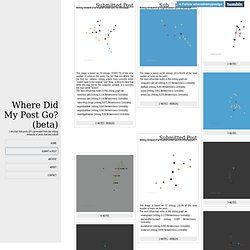 Where Did My Post Go? (beta)
If you are using Google Chrome there is a browser extension for scraping web pages. It's called "Scraper" and it is easy to use. It will help you scrape a website's content and upload the results to google docs.
Scraping websites using the Scraper extension for Chrome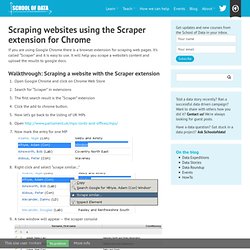 Instructional and Educational Videos, Animated Explanations, - Explania
It's often said that data is the new world currency, and the web is the exchange bureau through which it's traded. As consumers, we're positively swimming in data; it's everywhere from labels on food packaging design to World Health Organisation reports. As a result, for the designer it's becoming increasingly difficult to present data in a way that stands out from the mass of competing data streams. One of the best ways to get your message across is to use a visualization to quickly draw attention to the key messages, and by presenting data visually it's also possible to uncover surprising patterns and observations that wouldn't be apparent from looking at stats alone.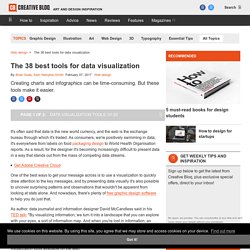 The 20 best tools for data visualization | Web design
Selected Tools
by Sindice
Free Data Visualization Software
VisiNav is a system to search and navigate web data, collected from a multitude of sources. In summary, the system demonstrates how to combine data from multiple sources into a single unified view, how to search and navigate the aggregated dataset, and how to re-use query results from web data in external applications. On a conceptual level, VisiNav deals with objects. Objects can have attributes and links to other objects.
VisiNav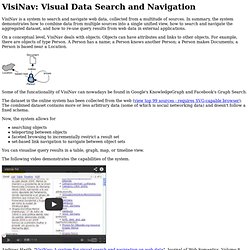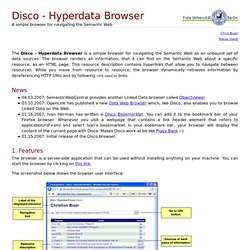 The Disco - Hyperdata Browser is a simple browser for navigating the Semantic Web as an unbound set of data sources. The browser renders all information, that it can find on the Semantic Web about a specific resource, as an HTML page. This resource description contains hyperlinks that allow you to navigate between resources.
Disco Hyperdata Browser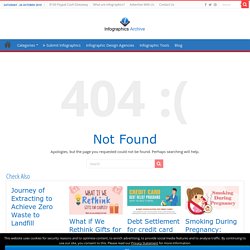 9 Powerful Free Infographic Tools To Create Your Own Infographics - DATA VISUALIZATION
Powerful Free Infographic Tools To Create Your Own Infographics A Do-It-Yourself Guide to Infographics Infographics are everywhere, and we can't get enough of them! By presenting information in a compact and creative format, infographics are able to quickly convey knowledge and engage its viewers. Most Infographics are fun to read and provide valuable information. Important to marketers, submitting unique infographics to the web that have to do with your niche, is one of the best things you can do for online marketing!
Online Analytics | Web Analytics - SiteCatalyst | Online Business Optimization by Omniture
Piwik - Web analytics - Open source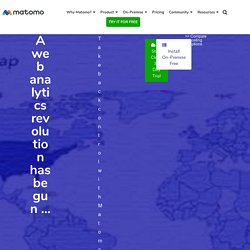 Get to know more about your users and their behaviour on your website – where they came from (referrers), which pages are most popular, how often they visit and which marketing campaigns have been successful. Whether you are an individual blogger, a small business, or a large corporation, Piwik helps you gain valuable insights to help your business or readership grow. Piwik will always respect your and your users privacy, while giving you full control of your data.
Yahoo! Web Analytics
Impure Blog
Polychart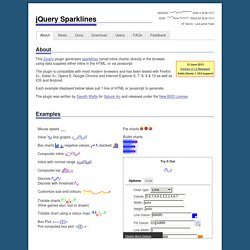 Sparklines
News 15 June 2013 - Version 2.1.2 Relased This release adds support for jQuery 1.10.0 and other bug fixes and minor improvements. See the full changelog for details of all changes.
Quadrigram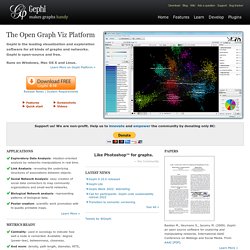 Gephi, an open source graph visualization and manipulation software
Applications Exploratory Data Analysis: intuition-oriented analysis by networks manipulations in real time. Link Analysis: revealing the underlying structures of associations between objects, in particular in scale-free networks.
Over 200,000 businesses Convert Better with Crazy Egg, The Original Heatmapping Technology A heatmap is an easy way to understand what users want, care about and do on your site by visually representing their clicks - which are the strongest indicators of visitor motivation and desire. A Crazy Egg heatmap lets you collect more than 88% of the data you would using a traditional eye-tracking process.
Crazy Egg – visualize your visitors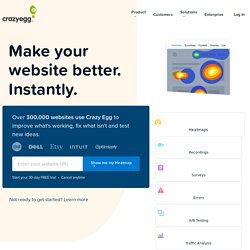 The Power of Maps
Maps are both necessary tools for analysis and crucial delivery visuals for foresight and warning products. They constitute a very powerful type of delivery form, as they change both the world and the mind. The pivotal importance of maps and of the process of mapping has notably been shown, in the case of the birth of nations and of nationalism, by two remarkable books: Imagined Communities by Benedict Anderson and Siam Mapped: A History of the Geo-Body of a Nation by Winichakul Thongchai.
Multiple Outcome Measurement
Jolicharts
Demo Videos | Ifbyphone
Datavisualization.ch Selected Tools
« Webtrends Streams™ nous a aidé à donner vie à nos données d'une façon qui n'était pas envisageable auparavant. Grâce à de nouvelles méthodes de visualisation, notre équipe est désormais capable d'apprécier l'ensemble de notre business digital en temps réel, et nous sommes excités par les opportunités que cette vue instantanée des comportements en ligne de nos clients va nous apporter.» David N. Williams, responsable de l'intelligence client chez | ASOS
Webtrends, The Global Leader in Mobile and Social Analytics
AccuTrack SPC™ - Keyword Level Phone Call Tracking Product
The Marketer's Challenge Digital marketing teams are tasked with optimizing campaigns across Search, Social, Mobile, Display or Email channels, with the objective of driving positive ROI. Yet, optimization requires effective management of an array of tools and platforms.
FeedBurner
iPerceptions - Customer Satisfaction Measurement
InfoGraphics (Visual Maps)
easel.ly | create and share visual ideas online
Venngage
Infographics and charts - interactive data visualization | Infogr.am
Data Science Toolkit
File to Text
ocropus - The OCRopus(tm) open source document analysis and OCR system
IP Address to Coordinates
Geolocation and Online Fraud Prevention from MaxMind
google wonder wheel
GoogAWHO
Prezi - presentation editor
Information Visualization Manifesto
Sprint
SOFTWARE
Dzinpress
Online Analytics | Web Analytics - SiteCatalyst | Online Business Optimization by Omniture
Toolbox
Remote data visualization
GazeHawk - Eye Tracking For Everyone - Usability Services & Software
Edistorm
Information Architects
Infographics
Mashable
google-refine
SIGMA