Researchers & Theories...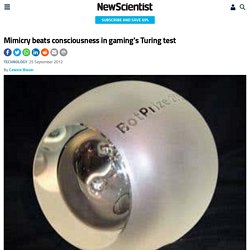 The Turing test might still be too hard for software to crack – but two programs have already aced video gaming's answer to this famous evaluation of machine intelligence. The two winning programs, or bots, relied on strategies of direct human mimicry to win an annual software tournament called BotPrize – and beat an intriguing rival based on a stripped-down model of human consciousness As in the original Turing test, BotPrize bots attempt to convince human judges that they too are human.
Mimicry beats consciousness in gaming's Turing test - tech - 25 September 2012
Zygon Center for Religion and Science
ASSC
Figure 1: The Neuronal Correlates of Consciousness (NCC) are the minimal set of neural events and structures – here synchronized action potentials in neocortical pyramidal neurons – sufficient for a specific conscious percept or a conscious (explicit) memory.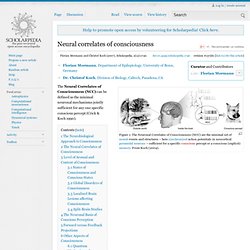 Neural correlates of consciousness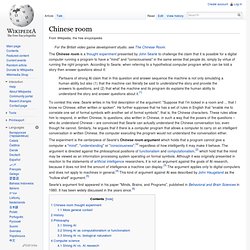 Chinese room
The Chinese room is a thought experiment presented by John Searle in order to challenge the claim that it is possible for a digital computer running a program to have a "mind" and "consciousness" in the same sense that people do, simply by virtue of running the right program.
John Searle: Our shared condition -- consciousness
Dan Dennett | Profile on TED.com
An intuition pump is a thought experiment structured to elicit intuitive answers about a problem.[1] The term was coined by Daniel Dennett.
Intuition pump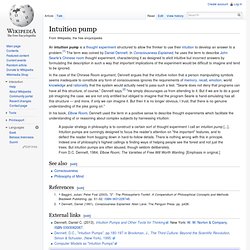 Daniel Dennett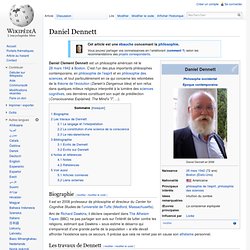 Un article de Wikipédia, l'encyclopédie libre.
Core consciousness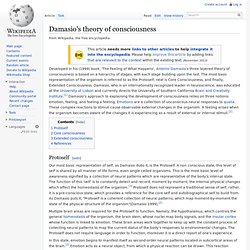 Developed in his (1999) book, 'The Feeling of What Happens', Antonio Damasio's three layered theory of consciousness is based on a hierarchy of stages, with each stage building upon the last. The most basic representation of the organism is referred to as the Protoself, next is Core Consciousness, and finally, Extended Consciousness. Damasio, who is an internationally recognized leader in neuroscience, was educated at the University of Lisbon and currently directs the University of Southern California Brain and Creativity Institute.[1] Damasio's aproach to explaining the development of consciousness relies on three notions: emotion, feeling, and feeling a feeling. Emotions are a collection of unconsicous neural responses to qualia. These complex reactions to stimuli cause observable external changes in the organism.
Consciousness Explained is a 1991 book by the American philosopher Daniel Dennett which offers an account of how consciousness arises from interaction of physical and cognitive processes in the brain.
Consciousness Explained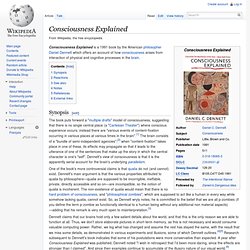 La Conscience expliquée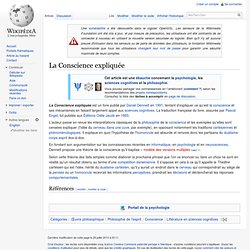 Un article de Wikipédia, l'encyclopédie libre.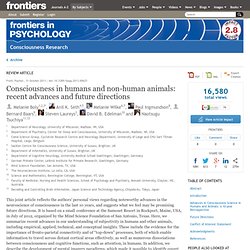 Melanie Boly1,2,3*, Anil K. Seth4,5, Melanie Wilke6,7, Paul Ingmundson8, Bernard Baars9,
Consciousness in humans and non-human animals: Recent advances and future directions. | Frontiers in Consciousness Research
Antonio Damasio (born February 25, 1944) is a University Professor and David Dornsife Professor of Neuroscience at the University of Southern California (where he also heads the Brain and Creativity Institute), an Adjunct Professor at the Salk Institute,[1] and the author of several books describing his scientific thinking. "As a leading neuroscientist, Damasio has dared to speculate on neurobiological data, and has offered a theory about the relationship between human emotions, human rationality, and the underlying biology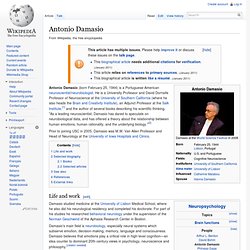 Antonio Damasio
"We are conscious of something, on this model, when we have a thought about it. So a mental state will be conscious if it is accompanied by a thought about that state...The core of the theory, then is that a mental state is a conscious state when, and only when, it is accompanied by a suitable HOT [Higher Order Thought]" David M. Rosenthal, 'A Theory of Consciousness', The Nature of Consciousness (ed Block, Flanagan and Güzeldere), 1997
Definitions of consciousness.
The Mind Unleashed: 3 Censored TED Talks They Don't Want You To See
The current establishment has plenty to gain by keeping the people of this planet in the dark about ideas that can lead to a revolution in human consciousness. It's time to change that. 1. Graham Hancock – The War on Consciousness
The existence of a "hard problem" is controversial and has been disputed by some philosophers.[4] Providing an answer to this question could lie in understanding the roles that physical processes play in creating consciousness and the extent to which these processes create our subjective qualities of experience.[5] Several questions about consciousness must be resolved in order to acquire a full understanding of it. These questions include, but are not limited to, whether being conscious could be wholly described in physical terms, such as the aggregation of neural processes in the brain.
Hard problem of consciousness
Several theorists have proposed that consciousness can be understood as an electromagnetic phenomenon.
Consciousness Based on Wireless?
Human consciousness is actually wireless communication between the cells of your brain, according to a professor of molecular genetics at the University of Surrey in Great Britain. Pulling together research from neuroscience, psychology, physics and biology, Johnjoe McFadden has proposed a radical answer to questions that have vexed philosophers and scientists since Plato's time and, more recently, those on a quest for artificial intelligence: What is consciousness? How does the brain create intelligent thoughts? Do we have free will?
Our Conscious Mind Could Be An Electromagnetic Field
David Chalmers
David Chalmers
Category:Consciousness studies
College of Letters, Arts, & Sciences :: Brain and Creativity Center
MindPapers: Contents
JCS, Journal of Consciousness Studies
Center for Consciousness Studies . Tucson . Arizona
dmoz Consciousness Studies
Santa Barbara Institute for Consciousness Studies
Connectome
Connectome
Connectomics
Neural correlates of consciousness
Take the Neuron Express for a brief tour of consciousness
Panpsychism
Cosmic consciousness
Peter Russell - The Primacy of Consciousness (Excerpted)
Hylopathism
Homunculus
Homunculus argument
Cartesian theater
Category:Consciousness researchers and theorists
Soul
Consciousness research and scientific studies on mind, brain, & soul - WIE.org
Why Physicists Are Saying Consciousness Is A State Of Matter, Like a Solid, A Liquid Or A Gas — The Physics arXiv Blog
Vilayanur S. Ramachandran
The 8-Circuit Model of Consciousness
Consciousness
Level of consciousness (Esotericism)