Club TED
This Pearltree is for Club TED at Avon Old Farms School in Avon, CT. We will pearl any video that we watch in the club.
Education Ted Talks. Dan Ariely on the Truth About Dishonesty, Animated. By Maria Popova "It's all about rationalization."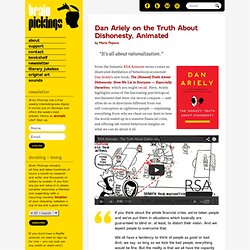 From the fantastic RSA Animate series comes an illustrated distillation of behavioral economist Dan Ariely's new book, The (Honest) Truth About Dishonesty: How We Lie to Everyone — Especially Ourselves, which you might recall. Here, Ariely highlights some of the fascinating psychological mechanisms that steer our moral compass — and often do so in directions different from our self-conception as righteous people — explaining everything from why we cheat on our diets to how the world ended up in a massive financial crisis, and offering lab-tested behavioral insights on what we can do about it all.
If you think about the whole financial crisis, we've taken people and we've put them in situations which basically are guaranteed to blind or, at least, to distort their vision. And we expect people to overcome that. Renny Gleeson: 404, the story of a page not found. 'This Is Water': Complete Audio of David Foster Wallace's Kenyon Graduation Speech (2005) Last month, on the occasion of the author's 50th birthday, we posted a large collection of free essays and stories by David Foster Wallace.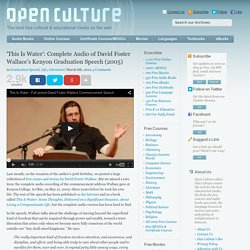 But we missed a rare item: the complete audio recording of the commencement address Wallace gave at Kenyon College, in Ohio, on May 21, 2005–three years before he took his own life. The text of the speech has been published on the Internet and as a book called This Is Water: Some Thoughts, Delivered on a Significant Occasion, about Living a Compassionate Life, but the complete audio version has been hard to find.
Ted Talks. Shimon Schocken: The self-organizing computer course. 10 talks on making schools great. With just over a month to go before the 2012 presidential election in the US, eyes around the world are on the contest between Barack Obama and Mitt Romney.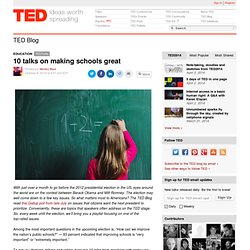 The election may well come down to a few key issues. So what matters most to Americans? The TED Blog read this Gallup poll from late July on issues that citizens want the next president to prioritize. Conveniently, these are topics that speakers often address on the TED stage. So, every week until the election, we'll bring you a playlist focusing on one of the top-rated issues. Ken Robinson says schools kill creativity. Salman Khan: Let's use video to reinvent education. Sugata Mitra's new experiments in self-teaching. Chaîne de TEDEducation. View full lesson: The coelacanth, a prehistoric fish that was mistakenly thought to have gone extinct at the same time as the dinosaurs, has managed to stick around our seas for 360 million years.
Erin Eastwood details the surprising "back from the dead" discovery of the coelacanth and explains how this fish's fins shed light on the evolutionary movement of vertebrates from water to land. Lesson by Erin Eastwood, animation by James Price for The Foreign Correspondents' Club. Arvind Gupta: Turning trash into toys for learning. TEDxMaastricht - Simon Sinek - "First why and then trust" What a Non-Partisan Plan for U.S. Entrepeneurship Would Look Like - Derek Thompson. The Republican National Convention praised small businesses and the Democratic response will praise the administration's role in helping job creators.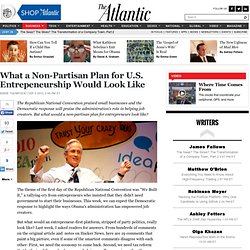 But what would a non-partisan plan for entrepreneurs look like? The theme of the first day of the Republican National Convention was "We Built It," a rallying-cry from entrepreneurs who insisted that they didn't need government to start their businesses. This week, we can expect the Democratic response to highlight the ways Obama's administration has empowered job creators. Barry Schwartz: Using our practical wisdom. Barry Schwartz on our loss of wisdom. TED-Ed website launches in beta, lets teachers customize video lessons. TED-Ed Launches Groundbreaking Website with New Tools for Customized Learning TED-Ed Platform Allows Teachers to "Flip" Video Content and Create Tailored Lesson Plans NEW YORK--(BUSINESS WIRE)--TED, the nonprofit organization devoted to "Ideas Worth Spreading," today launches the second phase of its TED-Ed initiative: a groundbreaking website [ housed on TED.com that enables teachers to create unique lesson plans around TED-Ed video content.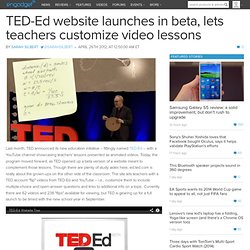 "Kohl's is committed to kids' education and we are thrilled to partner with TED to provide inspiring educational tools for teachers and students around the world" TED Reveals Top 20 Most-Watched Talks, Sir Ken Robinson Tops The List. Warning: Clicking through to see the top 20 most watched TEDTalks is akin to finding a new show on Netflix.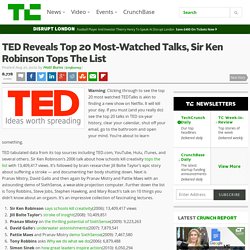 It will kill your day. If you must (and you really do) see the top 20 talks in TED six-year history, clear your calendar, shut off your email, go to the bathroom and open your mind. Sherry Turkle: Connected, but alone? Sam Richards: A radical experiment in empathy. TEDxNYED - Dennis Littky - 03/05/2011. Jonathan Haidt on the moral roots of liberals and conservatives. Sebastian Thrun: Google's driverless car. Ludwick Marishane: A bath without water. James H Kunstler dissects suburbia. Paul Romer's radical idea: Charter cities. RSA Animate - Crises of Capitalism. Richard Wilkinson: How economic inequality harms societies. Chris Anderson: How YouTube is driving innovation. Steve Jobs' 2005 Stanford Commencement Address.
Charlie Todd: The shared experience of absurdity. Natalie Warne: Being young and making an impact. Derek Sivers: How to start a movement. Cindy Gallop: Make love, not porn. Temple Grandin: The world needs all kinds of minds. Philip Zimbardo: The demise of guys?
Bodycard 0305
---
morgangh Nov 22 2012

It is called "Club TED" because it is a student club at Avon Old Farms School for which we who created the pearltree are the advisors. (It's a play on "Club Med.")

evolving Nov 22 2012

perhaps could collaborated with who ever is operating TED title ? anyhow its possible to export by clicking button to the right with 3 lines and then DATA Export.. .. Cheers!

ardidito Nov 22 2012

Haha, I do agree with your sentiment but Club TED showed up sooner whereas I would have had to manually search for an ideal pearl.

It's a sketch if you will. Not sure I like the whole Pearl idea. I have bookmarks? Also, no export feature promised. I'm not gonna make this pretty and, if you insist, Pearlitically Correct without some assurance.

evolving Oct 5 2012

What is the reason for club in the peartree title? usually means private orginization , whereas to my acknowledgement ~TED is open to all
---