Club TED
This Pearltree is for Club TED at Avon Old Farms School in Avon, CT. We will pearl any video that we watch in the club. morgangh Jul 29
Dan Ariely on the Truth About Dishonesty, Animated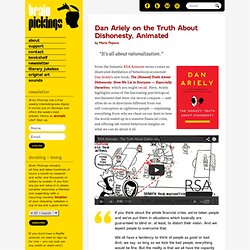 by Maria Popova "It's all about rationalization."
Renny Gleeson: 404, the story of a page not found
'This Is Water': Complete Audio of David Foster Wallace's Kenyon Graduation Speech (2005)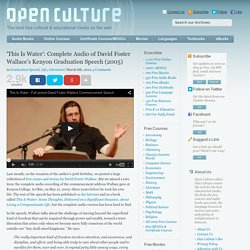 Last month, on the occasion of the author's 50th birthday, we posted a large collection of free essays and stories by David Foster Wallace. But we missed a rare item: the complete audio recording of the commencement address Wallace gave at Kenyon College, in Ohio, on May 21, 2005–three years before he took his own life. The text of the speech has been published on the Internet and as a book called This Is Water: Some Thoughts, Delivered on a Significant Occasion, about Living a Compassionate Life, but the complete audio version has been hard to find.
Shimon Schocken: The self-organizing computer course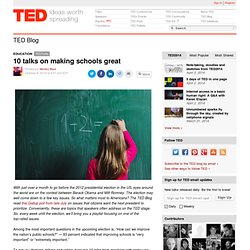 With just over a month to go before the 2012 presidential election in the US, eyes around the world are on the contest between Barack Obama and Mitt Romney. The election may well come down to a few key issues.
10 talks on making schools great
Ken Robinson says schools kill creativity
Salman Khan: Let's use video to reinvent education
Sugata Mitra's new experiments in self-teaching
Chaîne de TEDEducation
Welcome to YouTube! The location filter shows you popular videos from the selected country or region on lists like Most Viewed and in search results.To change your location filter, please use the links in the footer at the bottom of the page. Click "OK" to accept this setting, or click "Cancel" to set your location filter to "Worldwide". The location filter shows you popular videos from the selected country or region on lists like Most Viewed and in search results.
Arvind Gupta: Turning trash into toys for learning
TEDxMaastricht - Simon Sinek - "First why and then trust"
What a Non-Partisan Plan for U.S. Entrepeneurship Would Look Like - Derek Thompson
The Republican National Convention praised small businesses and the Democratic response will praise the administration's role in helping job creators.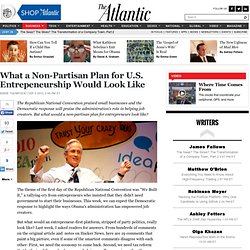 Barry Schwartz: Using our practical wisdom
Barry Schwartz on our loss of wisdom
Barry Schwartz makes a passionate call for "practical wisdom" as an antidote to a society gone mad with bureaucracy. He argues powerfully that rules often fail us, incentives often backfire, and practical, everyday wisdom will help rebuild our world.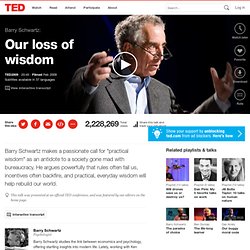 TED-Ed Launches Groundbreaking Website with New Tools for Customized Learning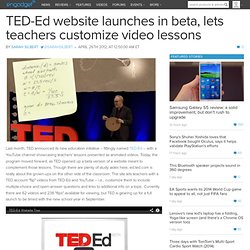 TED-Ed website launches in beta, lets teachers customize video lessons
Warning: Clicking through to see the top 20 most watched TEDTalks is akin to finding a new show on Netflix. It will kill your day. If you must (and you really do) see the top 20 talks in TED six-year history, clear your calendar, shut off your email, go to the bathroom and open your mind.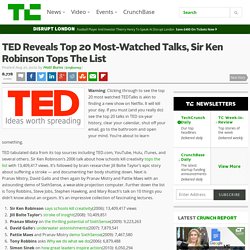 TED Reveals Top 20 Most-Watched Talks, Sir Ken Robinson Tops The List
Sherry Turkle: Connected, but alone?
Sam Richards: A radical experiment in empathy
TEDxNYED - Dennis Littky - 03/05/2011
Jonathan Haidt on the moral roots of liberals and conservatives
Sebastian Thrun: Google's driverless car
Ludwick Marishane: A bath without water
James H Kunstler dissects suburbia
Paul Romer's radical idea: Charter cities
RSA Animate - Crises of Capitalism
Richard Wilkinson: How economic inequality harms societies
Chris Anderson: How YouTube is driving innovation
Steve Jobs' 2005 Stanford Commencement Address
Charlie Todd: The shared experience of absurdity
Natalie Warne: Being young and making an impact
Derek Sivers: How to start a movement
Cindy Gallop: Make love, not porn
Temple Grandin: The world needs all kinds of minds
Philip Zimbardo: The demise of guys?