CAD
BRL-CAD | Open Source Solid Modeling
CADDIT CAD CAM Design Software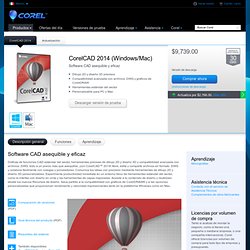 Instrucciones de descarga Cuando compras una versión de descarga, puedes descargar el software, instalarlo en el sistema y desbloquearlo con un número de serie que obtendrás una vez realizada la compra. Nota: puede no incluir manual de usuario ni CD de copia de seguridad, aunque sí tienes la opción de adquirirlos para algunos productos. Si no deseas adquirirlos, recibirás solamente un vínculo de descarga al software y el número de serie.
CAD - Ilustración técnica
Tgi3D | Revolution in 3D Modeling | Home
20-20 Technologies
Systems, Incorporated: Providing software for the lifecycle of the world's infrastructure
Graphisoft Home Page
DesignCAD Series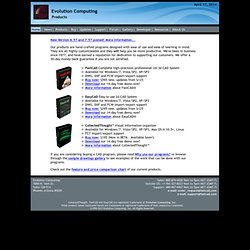 Products
New Version 6.57 and 7.57 posted! More Information... Our products are hand-crafted programs designed with ease of use and ease of learning in mind. They are all highly customizeable and they will help you be more productive. We've been in business since 1977, and have earned a reputation for dedication to supporting our customers.
VariCAD - 3D / 2D CAD software for mechanical engineering VariCAD is compact, fast, easy to use, and provides everything necessary for mechanical design. VariCAD is sold "fully loaded", including all features and functions, for one affordable price. The system contains: 3D Modeling 2D Drawing and Editing Optional Support of Parameters Optional Support of Geometrical Constraints Shells Modeling, Pipelines, Wires Crash Tests (Interferences) 3D Assemblies and Groups Surface Development (Sheet Metal Unbending) Mechanical Part Libraries and Symbol Libraries Calculations of 3D Objects or 2D Sections BOM and Title Blocks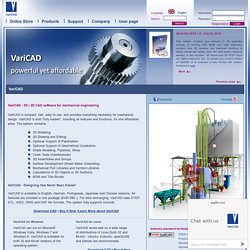 VariCAD - 3D/2D CAD system
IntelliCAD is a powerful Computer Aided Design (CAD) product for engineers, architects, designers and drafters. Anyone who creates, edits, or views professional drawings will appreciate the power and value of IntelliCAD. IntelliCAD has set the standard for affordable CAD software that offers full compatibility with the DWG file format and a familiar easy to use command set and application programming interface. Anyone who has used or programmed applications for Autodesk® AutoCAD® software can easily learn to use IntelliCAD in no time. IntelliCAD is also the platform that supports some of the most popular applications for suveyors and architects.
Powerful CAD Platform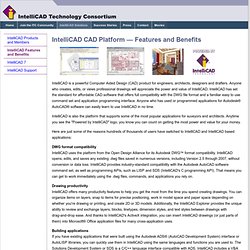 CadStd - Cad Standard Lite freeware and inexpensive Pro software.
Products: DataCAD
TurboCAD
AutoDesSys | bonzai3d
SketchUp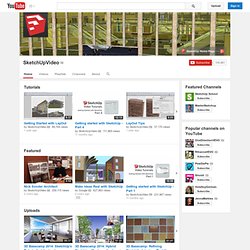 Canal de SketchUpVideo
Upload SketchUp Home Page Subscription preferences Loading... Working... SketchUpVideo
3D Design & Engineering Software for Architecture, Manufacturing, and Entertainment
Manual del usuario | Autodesk Exchange
Autodesk Education Community
Autodesk University - Autodesk University 2011 Conference and Exhibition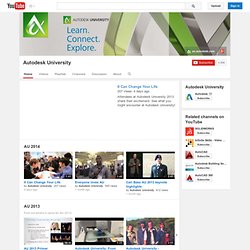 Welcome to YouTube! The location filter shows you popular videos from the selected country or region on lists like Most Viewed and in search results.To change your location filter, please use the links in the footer at the bottom of the page. Click "OK" to accept this setting, or click "Cancel" to set your location filter to "Worldwide". The location filter shows you popular videos from the selected country or region on lists like Most Viewed and in search results. To change your country filter, please use the links in the footer at the bottom of the page. About Autodesk University
Canal de AutodeskUniversity