Buddhist Audio Video
Dharma Media - Rime Buddhist Archives. Media - Phayul.com - Your website for all audios and videos on Tibet. Mirror of Wisdom Video-Vajrayana Buddhist Video Archive. Recalling a Buddha. The Sixteenth Karmapa was the leader of one of Tibetan Buddhism's four major schools of spiritual teachings: the Kagyu lineage.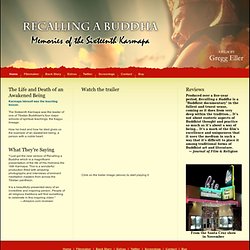 How he lived and how he died gives us the example of an awakened being, a person with a noble heart. What They're Saying "I just got the new version of Recalling a Buddha which is a magnificent presentation of the life of His Holiness the 16th Karmapa. This is a wonderful production filled with amazing photographs and interviews of eminent meditation masters from across the Tibetan pantheon. It is a beautifully presented story of an incredible and inspiring person. Unfettered Mind - Download free podcast episodes by Ken McLeod on iTunes.
---