Bouddhisme
In Buddhism, and especially in Tibetan Buddhism, there are numerous sadhana (instructions for practice) for a wide range of meditations, visualizations, guru yogas and deity yogas. People are very busy nowadays and so I would like to offer some prayer books of varying lengths that you can use to begin or maintain a daily practice. These prayer books present authentic Buddhist meditations, visualizations, deity yoga, and guru yogas that are from a tradition that is over 2600 years old. I hope these prayer books will be beneficial for you and all living beings. Feel free to download and make your own copy of these prayer books. If you enjoy them and find them beneficial and would like support the creation of future prayer books please click the link below to make a donation.
Losang Samten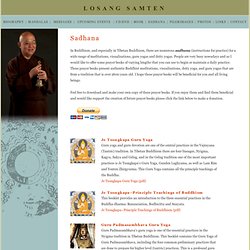 Cave Temples
In 386 the Northern Wei dynasty was declared by the Tuoba, a nomadic people from the north. As it consolidated power in north China during the fifth century, this non-Han dynasty found it beneficial to associate themselves with the burgeoning popularity of Buddhism. Despite this, the Northern Wei emperor Taiwu (r. 424-452) was persuaded by Daoist and Confucian officials at court to curb the Buddhist church. This persecution of Buddhism, begun in 446, lasted until his death in 452. Taiwu's grandson, Wencheng (r. 452-465) succeeded him and reinstated Buddhism to its previous, eminent position. One of the ways in which he made up for his grandfather's actions was by commissioning the excavation of some of the enormous caves at Yungang.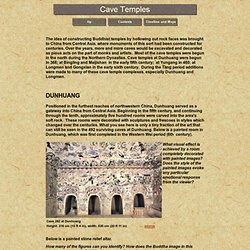 Le blog de HolyDeadMonkey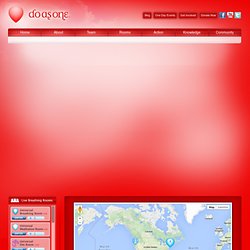 Do As One invites you to use color therapy coupled with breathing to stimulate the entire spectrum of energy within your body temple. Choose whether you want to breathe in one, two or three breaths per color and then sit back and calmly receive a mind, body and spirit full-spectrum boost. You can also choose to breath one breathe per color continuously. The map on this page shows you where everyone you are breathing with is located around the world in real time.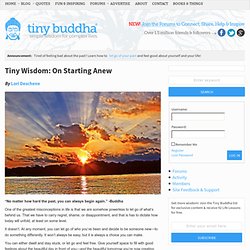 by Lori Deschene "No matter how hard the past, you can always begin again." -Buddha One of the greatest misconceptions in life is that we are somehow powerless to let go of what's behind us.
6/15/10 Tiny Wisdom: On Starting Anew
A meditative technique which will help you to feel more vibrant - justpaste.it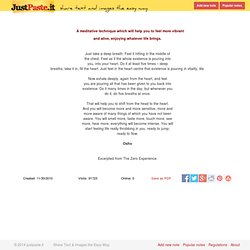 A meditative technique which will help you to feel more vibrant and alive, enjoying whatever life brings. Just take a deep breath. Feel it hitting in the middle of the chest. Feel as if the whole existence is pouring into you, into your heart. Do it at least five times – deep breaths; take it in, fill the heart.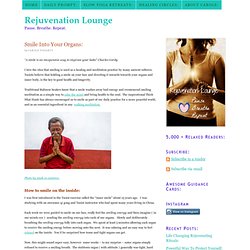 "A smile is an inexpensive way to improve your looks" Charles Gordy I love the idea that smiling is used as a healing and meditation practice by many ancient cultures. Taoists believe that holding a smile on your face and directing it inwards towards your organs and inner body, is the key to good health and longevity. Traditional Balinese healers know that a smile washes away bad energy and recommend smiling meditation as a simple way to calm the mind and bring health to the soul.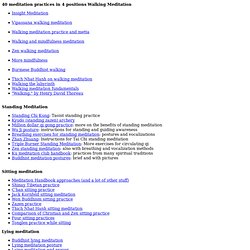 40 meditation practices in 4 positions Walking Meditation Standing Meditation Standing Chi Kung : Taoist standing practice Kyudo (standing zazen) archery Million dollar qi gong practice : more on the benefits of standing meditation Wu Ji posture : instructions for standing and guiding awareness Breathing exercises for standing meditation : postures and vocalizations Zhan Zhuang : Instructions for Tai Chi standing meditation Triple Burner Standing Meditation : More exercises for circulating qi Zen standing meditation : also with breathing and vocalization methods Ku meditation club handbook : practices from many spiritual traditions Buddhist meditation postures : brief and with pictures Sitting meditation Lying meditation
Lojong (Tib. བློ་སྦྱོང་, Wylie : blo sbyong ) is a mind training practice in the Tibetan Buddhist tradition based on a set of aphorisms formulated in Tibet in the 12th century by Geshe Chekhawa . The practice involves refining and purifying one's motivations and attitudes. The fifty-nine or so slogans that form the root text of the mind training practice are designed as a set of antidotes to undesired mental habits that cause suffering.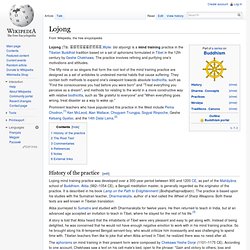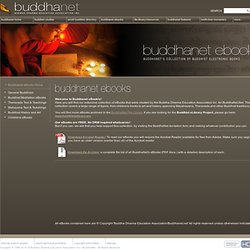 Welcome to Buddhanet eBook!s! Here you will find our extensive collection of eBooks that were created by the Buddha Dharma Education Association Inc. for BuddhaNet.Net. The collection covers a large range of topics, from childrens books to art and history, spanning Mayahayana, Theravada and other Buddhist traditions. You will find more eBooks archived in the BuddhaNet File Library .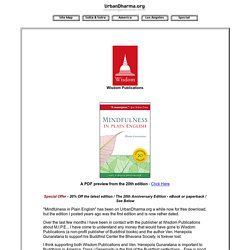 - Mindfulness In Plain English - Ven. Henepola Gunaratana From the introduction: The subject of this book is Vipassana meditation practice. Repeat, practice.
The Tibetan Pages; Dharma Haven
Directory of Pages Tibetan Buddhism and Shambhala Tibetan Buddhism Resources -- Tibetan Buddhist Centers
UC Berkeley Webcasts | Video and Podcasts: Psychology 107
404, File Not Found, Where did the old content go? Thank you for your interest in webcast.berkeley. Please note that we launched a new site on June 30, 2011. As part of the launch, much of our back catalog of courses that we were unable to migrate out of a proprietary format which we no longer support are now unavailable.
* Part I — From Birth to Parivraja * * Part II — Renunciation for Ever * * Part III — In Search of New Light * * Part IV — Enlightenment and the Vision of a New Way * * Part V — The Buddha and His Predecessors * * Part VI — The Buddha and His Contemporaries * * Part VII — Comparison and Contrast * * Part I — Buddha and His Vishad Yoga * * Part II — The Conversion of the Parivrajakas * * Part III — Conversion of the High and the Holy * * Part IV — Call from Home * * Part V — Campaign for Conversion Resumed * * Part VI — Conversion of the Low and the Lowly * * Part VII — Conversion of Women * * Part VIII — Conversion of the Fallen and the Criminals * * Part I — His Place in His Dhamma * * Part II — Different Views of the Buddha's Dhamma * * Part III — What is Dhamma * * Part IV — What is Not Dhamma * * Part V — What is Saddhamma *