Private Prisons
Inmates To Be Firefighters In Camden Co.? - News4Georgia Story - WJXT Jacksonville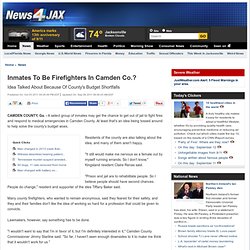 CAMDEN COUNTY, Ga. - A select group of inmates may get the chance to get out of jail to fight fires and respond to medical emergencies in Camden County. At least that's an idea being tossed around to help solve the county's budget woes. Residents of the county are also talking about the idea, and many of them aren't happy.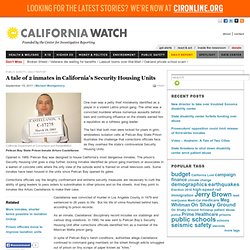 California Department of Corrections and Rehabilitation Pelican Bay State Prison Inmate Arturo Castellanos One man was a petty thief mistakenly identified as a player in a violent Latino prison gang. The other was a convicted murderer whose numerous assaults behind bars and continuing influence on the streets earned him a reputation as a ruthless gang leader. The fact that both men were locked for years in grim, windowless isolation cells at Pelican Bay State Prison illustrates the challenge that corrections officials face as they overhaul the state's controversial Security Housing Units. Opened in 1989, Pelican Bay was designed to house California's most dangerous inmates.
A tale of 2 inmates in California's Security Housing Units
New AZ law mandates $25 fee for prison visits
PHOENIX - Family visits may be good for inmates. Only now, it's going to come with a price tag - a one-time $25-per-visitor fee. A state law that took effect July 1 allows the Department of Corrections to charge a one-time fee on any family member who wants to come see a relative behind bars. The fee is expected to generate about $750,000 this year.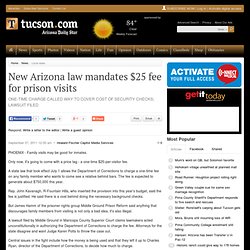 Sheriff Saves $1 Million By De-Privatizing County Jail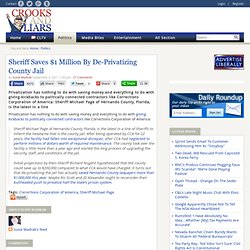 Privatization has nothing to do with saving money and everything to do with giving kickbacks to politically connected contractors like Corrections Corporation of America: Sheriff Michael Page of Hernando County, Florida, is the latest in a line of Sheriffs to inherit the headache that is the county jail. After being operated by CCA for 22 years, the facility had fallen into exceptional disrepair , after CCA had neglected to perform millions of dollars worth of required maintenance .
This article has been updated On a conference call with investors less than two months after the Sept. 11 terrorist attacks, Wall Street executive Steve Logan predicted a new era of unbridled growth for his industry: the for-profit prison business. "It is clear that since Sept. 11, there's a heightened focus on detention, both on the borders and in the U.S.," Logan, the chief executive of publicly-traded prison corporation Cornell Companies, told analysts on a quarterly earnings call. "More people are gonna get caught. ... So I would say that's positive."
After 9/11, A New Era In The Business Of Detaining Immigrants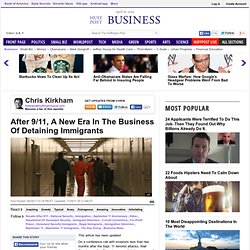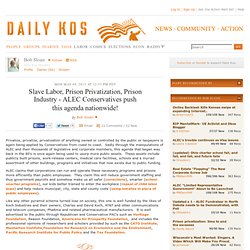 The foregoing entities with links provided, are funded, founded or supported with Koch money. They do the bidding of Koch regarding dispersing EPA and climate disinformation to the public, promoting the Koch and ALEC agendas. Much of the efforts of ALEC is centered around Criminal Justice in the U.S. Creation of harsh drug and other criminal justice laws were the springboard that launched ALEC into the limelight back in 1980-85 under the Reagan Administration. They have relied upon crime and related issues for more than a quarter century now as a basis for acquiring money, power and influence for pursuing other important initiatives profitable to corporate interests.
Slave Labor, Prison Privatization, Prison Industry - ALEC Conservatives push this agenda nationwide!
AMY GOODMAN : "The Hidden History of ALEC and Prison Labor" is our next segment. Lisa Graves, of the Center for Media and Democracy, in New Orleans. I wanted to turn now to the article I just referenced, which begins: "The breaded chicken patty your child bites into at school may have been made by a worker earning twenty cents an hour, not in a faraway country, but by a member of an invisible American workforce: prisoners." Mike Elk is our next guest. He's a contributing editor to The Nation magazine and has done this exposé with Bob Sloan in The Nation . Welcome to Democracy Now!
Democracy Now! Mobile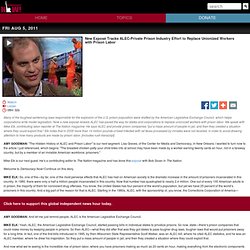 This article is part of a Nation series exposing the American Legislative Exchange Council, in collaboration with the Center For Media and Democracy. John Nichols introduces the series. About the Author Bob Sloan
The Hidden History of ALEC and Prison Labor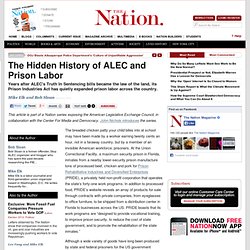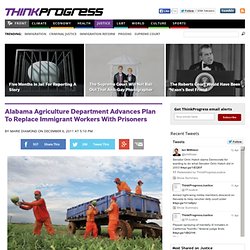 Alabama Agriculture Department Advances Plan To Replace Immigrant Workers With Prisoners
ThinkProgress has been reporting on the catastrophic economic consequences of Alabama's harshest-in-the-nation immigration law. Undocumented workers are the backbone of Alabama's agriculture industry , and their exodus has already created a labor shortage in the state. Farmers say crops are rotting in the field and they are in danger of losing their farms by next season. GOP politicians have crowed that driving immigrants out of the state will reduce unemployment by letting native citizens fill those jobs. But they've quickly discovered that Americans are simply unwilling to do the back-breaking labor of harvesting crops.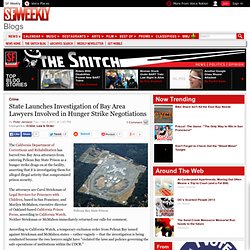 ​ The California Department of Corrections and Rehabilitation has barred two Bay Area attorneys from entering Pelican Bay State Prison as a hunger strike drags on at the facility, asserting that it is investigating them for alleged illegal activity that compromised prison security. The attorneys are Carol Strickman of Legal Services for Prisoners with Children , based in San Francisco; and Marilyn McMahon, executive director of Oakland-based California Prison Focus , according to California Watch . Neither Strickman or McMahon immediately returned our calls for comment. According to California Watch, a temporary exclusion order from Pelican Bay issued against Strickman and McMahon states -- rather vaguely -- that the investigation is being conducted because the two lawyers might have "violated the laws and policies governing the safe operations of institutions within the CDCR."
State Launches Investigation of Bay Area Lawyers Involved in Hunger Strike Negotiations
Ohio first for privatizing prisons Dayton Business Journal Date: Friday, September 2, 2011, 7:00am Ohio is about to become the first state in the country to privatize a prison, with the planned sale of the Lake Erie Correctional Institution in Ashtabula County, according to the Toledo Blade. Corrections Corporation of America will pay more than $70 million for the prison, making it the only one of five originally put up for sale by the state to be sold. The others did not have deals that could be worked out to make it beneficial for taxpayers if they were sold, according to the Blade. http://www.bizjournals.com/dayton/blog/morning_call/201... Kasich considers selling 5 prisons, newspaper says Wednesday, March 9, 2011 11:27 AM
Thom Hartmann: Privatized Prisons...Criminal in a Democracy (explains ALEC's involvement)
corrections-officers-to-protest
September 12, 2011 10:42 PM PHOENIX — A Quaker group filed suit Monday to block the state from awarding any more contracts for private prisons, at least for the time being. The lawsuit points out the Department of Corrections is supposed to award a contract for 5,000 additional private prison beds as early as the end of the week. Four companies have been chosen as finalists. GEO Group, whose world headquarters is located in Boca Raton, Fla., has a bid for sites at the Yuma Prison for 2,000 or 3,000 beds. Management and Training Corp., from Centerville, Utah, has a bid for sites in Yuma for 3,000 beds.
Quakers file suit against private prison contracts | file, phoenix, prison
USA - Concerns raised about treatment of Michigan's HIV-positive prisoners
After Troy Davis: End the Death Penalty or End the Prison Industrial Complex? - The ITT List
At a public lecture on the prison industrial complex and the prison abolition movement held at the University of Chicago on Monday, the audience was eager to discuss the recent execution of Troy Davis. "How can we effectively seize this moment?" an audience member asked of the worldwide movement that converged around opposition to Davis' execution by the state of Georgia, fueled in part by the substantial doubt surrounding his guilt. But scholar and activist Ruth Wilson Gilmore—delivering a lectured titled "Beyond the Prison Industrial Complex: the World We Want is the World We Need"—was adamant about the need to move beyond the question of Davis' guilt or innocence.
On May 29 in Tucson, Ariz., a policeman questions a man in the city's predominately Latino south side. The Tucson Police Department is gearing up to train its officers on how to implement the state's new immigration law, S.B. 1070. (Photo by: Scott Olson/Getty Images)
Corporate Con Game
If you want to make crime a growth industry to create more jobs, just privatize prisons. It's happening across the nation. Heck, crime has been an institutional engine for a huge work force even in the public sector. Think of the hundreds of thousands of lawyers, judges, clerks, prison guards, police, parole officers, social workers etc. depending upon keeping people incarcerated. And then there's the construction industry that is hot footin' it to build new maximum security facilities.
The Private Prison Industry Makes Crime Profitable
Arizona House Democrats: Campbell urges GOP to 'cease and desist' on private prisons
Private prison
Calif. Prison Hunger Strike Reaches 12th Day As Citizens Rally In Support
Arizona judge refuses to block private prison beds
Conservative legislation mill a driving force behind private prisons | Raw Replay
Visitors to Arizona Prisons Hit with $25 Fee