ALERTES A SUIVRE
176,578 ont signé la pétition. Ensemble allons jusqu'à 200,000 Publié le 29 Juin 2011Le gouvernement Sarkozy veut censurer internet par un décret qui pourrait bloquer des sites et pages de recherche que nous utilisons tous les jours. Mais un tollé national peut stopper cet assaut contre la liberté d'expression. Ce nouveau décret permettrait aux ministres de retirer tout contenu internet menaçant selon eux "l'ordre public", sans passer par un juge. C'est pourquoi un Conseil en charge de l'Internet créé par Sarkozy a condamné cette mesure comme étant inconstitutionnelle, et les experts internationaux sont en état d'alerte.
France: sauvons internet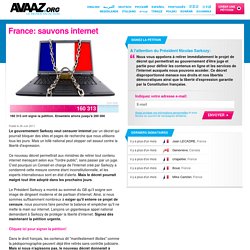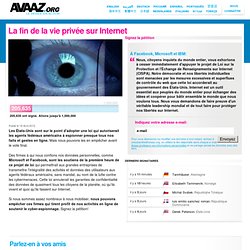 146,800 ont signé. Allons jusqu'à 1,000,000 Publié le 18 Avril 2012Les États-Unis sont sur le point d'adopter une loi qui autoriserait les agents fédéraux américains à espionner presque tous nos faits et gestes en ligne. Mais nous pouvons les en empêcher avant le vote final. Des firmes à qui nous confions nos données personnelles, comme Microsoft et Facebook, sont les soutiens de la première heure de ce projet de loi qui permettrait aux grandes entreprises de transmettre l'intégralité des activités et données des utilisateurs aux agents fédéraux américains, sans mandat, au nom de la lutte contre les cybermenaces. Cette loi annulerait les garanties de confidentialité des données de quasiment tous les citoyens de la planète, où qu'ils vivent et quoi qu'ils fassent sur Internet.
La fin de la vie privée sur Internet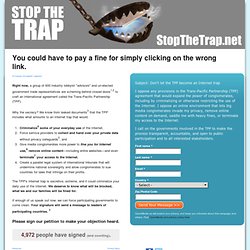 Footnotes [1] Find OpenMedia's backgrounder on the TPP here, and OpenMedia's press release about Ottawa's irresponsible participation here. [2] The TPP suffers from a lack of transparency, public participation, and democratic accountability. In this letter, a number of U.S. civil society organizations detail and decry the opacity of the process. [3] Public interest groups have obtained the February 2011 draft of the TPP's Intellectual Property Rights Chapter.
Stop The Trap | OpenMedia International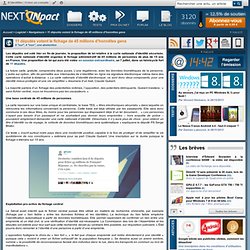 Les députés ont voté hier en fin de journée, la proposition de loi relative à la carte nationale d'identité sécurisée. Cette carte nationale d'identité organise le fichage administratif de 45 millions de personnes de plus de 15 ans en France. Une proposition de loi qui aura été votée en session extraordinaire, un 7 juillet, dans un hémicycle fort de 11 députés. La future carte, gratuite, comprendra deux puces.
11 députés votent le fichage de 45 millions d'honnêtes gens
Take Action – Google
Save the Internet
Human Rights Petition: Stop CISPA (Cyber Intelligence Sharing and Protection Act)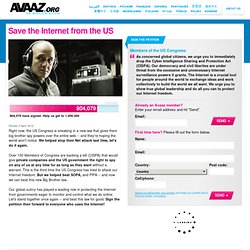 701,460 have signed. Help us get to 1,000,000 Posted: 5 April 2012 Right now, the US Congress is sneaking in a new law that gives them big brother spy powers over the entire web -- and they're hoping the world won't notice. We helped stop their Net attack last time, let's do it again. Over 100 Members of Congress are backing a bill (CISPA) that would give private companies and the US government the right to spy on any of us at any time for as long as they want without a warrant. This is the third time the US Congress has tried to attack our Internet freedom.
Save the Internet from the US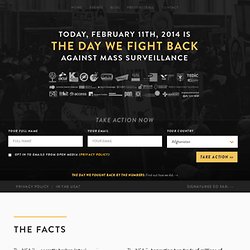 Take part Add the banner to your site Or simply copy the code below and add it just before the closing tag in your site's HTML. <!--[if !(lt IE 8)]><!
The Day We Fight Back - February 11th 2014
If you're a developer, promise to add one new surveillance-resistant feature to your app or website, and announce it here on June 5th. If you're an Internet user, promise to try out one new privacy tool that directly confronts mass surveillance. We'll have an epic and definitive list for you to choose from. Then tell your friends to get protected too.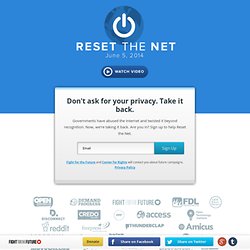 Reset the Net
On March 11th, 2011 the Tōhoku earthquake and resulting tsunami wreaked havoc on Japan. It also resulted in the largest nuclear disaster since Chernobyl when the tsunami damaged the Fukushima Daiichi Nuclear Power Plant. Radioactive particles were released into the atmosphere and ocean, contaminating groundwater, soil and seawater which effectively closed local Japanese fisheries. Rather unfortunately, it has also led to some wild speculation on the widespread dangers of Fukushima radiation on the internet. Posts with titles like "Holy Fukushima – Radiation From Japan Is Already Killing North Americans" and "28 Signs That The West Coast Is Being Absolutely Fried With Nuclear Radiation From Fukushima" (which Southern Fried Science has already throughly debunked ) keep popping up on my facebook feed from well-meaning friends.
True facts about Ocean Radiation and the Fukushima Disaster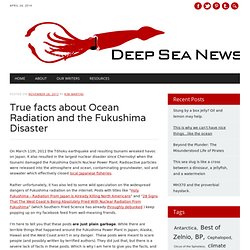 Les plus fidèles du blog savent l'intérêt que je porte à l'oeuvre de Noam Chomsky, en particulier sur le domaine de la "fabrication de l'opinion publique" par les médias. Je reprends donc sur ce thème ce billet du blog www.noam-chomsky.fr, qui servira en fait d'introduction au billet suivant, qui permettra de passer de la théorie à la pratique. ENTRAIDE : j'aurais besoin de l'aide d'un pro du maquettage pour mettre un document Word joliment en forme pour faire un beau PDF… Et aussi de faire une traduction d'un article anglais très vite. Merci de me contacter.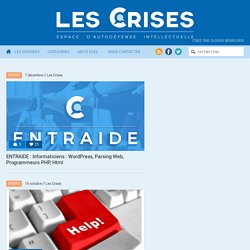 Le Blog d'Olivier Berruyer sur les crises actuelles
Food Emergency: How the World Bank and IMF Have Made African Famine Inevitable
September 8, 2011 | Like this article? Join our email list: Stay up to date with the latest headlines via email.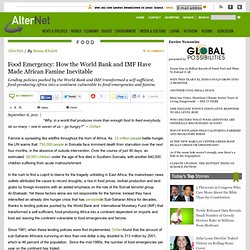 SKYTRUTH: using remote sensing and digital mapping to educate the public and policymakers about the environmental consequences of human activities
Climate Reality
Intercontinental Cry - Reporting on the world's Indigenous Peoples
International Networks Archive / Map of the Month
In a word, everyone. Democrats, Republicans, tech companies, unions, libertarians, environmentalists, and Internet freedom advocates all oppose Fast Tracking the TPP. It's common sense: decisions that affect everyone shouldn't be made in secret without public input. Below are blog posts and articles from many organizations who are rallying against Fast Track for the TPP. Read up, share, and get all the facts about what the Trans-Pacific Partnership means for you.
Stop Fast Track! Stop the TPP!
Bonjour M. Aïvazov! Pourriez-vous brièvement exposer aux lecteurs votre méthode d'analyse de la situation économique et financière? Sur quelles théories se fonde-t-elle? L'épine dorsale du "Système périodique du développement capitaliste mondial du milieu du XVIIIe siècle à la moitié du XXIe siècle" que j'ai élaboré est constituée par la théorie des grands cycles de Kondratiev, la théorie du développement par l'innovation de Schumpeter, et par la théorie du chaos de Prigogine. Dans mon Système, j'ai réussi à intégrer en un seul et même ensemble des cycles différents, les cycles courts de Kitchin (3-5 ans) et de Juglar (8-11 ans), les cycles moyens de Kouznetsov (20-25 ans), avec les cycles longs de Kondratiev (40-60 ans), les cycles de formation des Structures technologiques (ST) de Glaziev, M.Hirooka et K.Peres et les cycles séculaires d'Arrighi, Pantine et Badalyan et Krivorotov.
Alexandre Aïvazov: "Le dollar s'effondrera en 2014" | Débats
Un volcan s'écroulant dans l'Atlantique pourrait faire naître une vague géante qui innonderait les Caraïbes et tout le littoral oriental des Etats-Unis, a indiqué un scientifique.Le docteur Simon Day du Centre de recherche Benfield Greg Hazard du University College London au Royaume-Uni croit qu'un flanc du volcan Cumbre Vieja de l'île La Palma, dans l'archipel des Canaries, est instable et pourrait plonger dans l'océan Le mur d'eau s'affaiblirait en traversant l'océan, mais pourrait encore être de 40-50 mètres de haut au moment de toucher la côte.
+ de 720 tremblements de terre : Danger de tsunami sur les iles canaris
Asteroid 2012 DA14 heads for Earth next year
Scientists are predicting that the asteroid 2012 DA14 has a small chance of colliding with Earth in eleven months. Watch the skies in February 2013! According to RT, NASA has confirmed that the 60 meter (or 197 feet) asteroid, which was spotted by Spanish stargazers in February this year, may be on a collision course to Earth. The scientists suggest confronting this asteroid with either big guns or, more strangely, with paint. The problem with either option is that there is no time to build a spaceship for the operation.
Global Risks 2011 Gallery
Cumbre Vieja
Arctic Sea Ice Minimum 2011
Crise des dettes souveraines 2010-2012
Strike Debt
Occupy lance un préavis de "grève de la dette"
Crise systémique & chaos économique
10 bonnes raisons de faire à nouveau la Révolution
Le sable, enquête sur une disparition- Vers une disparition des plages
Le grand orchestre de la nature se tait peu à peu
12 Things That The Mainstream Media Is Being Strangely Quiet About Right Now
Viande reconstituée, jambon à la colle: sait-on ce que l'on mange? - RTBF Societe
keny arkana 5eme soleil CHOC
Protest.Net: A calendar of protest, meetings, and conferences.
The IUCN Red List of Threatened Species
Mass Extinction Underway | Biodiversity Crisis | Global Species Loss
La fin programmée de la civilisation du gâchis. Réflection faite. De quoi est fait notre avenir? Quel avenir pour notre civilisation? Dates d'puisement des ressources naturelles de notre planète.
L'étude russe qui prouve que les OGM stériliseront l'humanité au bout de 3 Générations
La fin de la planète en 2100
Africa_china_investments_v2.jpg (Image JPEG, 1280x1254 pixels) - Redimensionnée (64%)
La Suisse se prépare à d'importants soulèvements en Europe