Writing
Writing. Character Development. 5 Quick Tips for Writing in Multiple Perspectives. Writing a novel from one unique perspective can be challenging enough for many writers, but writing a character's story through multiple perspectives will multiply the challenges, but also the rewards.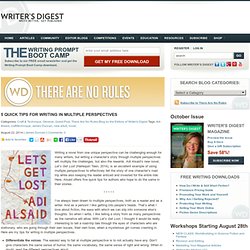 Adi Alsaid's new novel, Let's Get Lost (Harlequin Teen, 2014), is an excellent example of using multiple perspectives to effectively tell the story of one character's road trip while also keeping the reader enticed and invested for the entire ride. Here, Alsaid offers five quick tips for authors who hope to do the same in their stories. I've always been drawn to multiple perspectives, both as a reader and as a writer. An Online Portfolio Can Change Your Career: 10 Writer Websites We Love. The Rules of Writing According to 20 Famous Writers. Few professions are as solitary yet as full of advice as writing.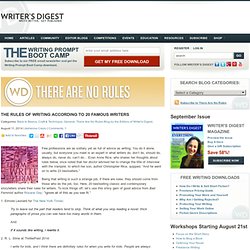 You do it alone, usually, but everyone you meet is an expert in what writers do, don't do, should do, always do, never do, can't do… Even Anne Rice, who shares her thoughts about rules below, once noted that her doctor advised her to change the title of Interview with the Vampire, to which her son, author Christopher Rice, quipped, "And he went on to write 23 bestsellers." Being that writing is such a strange job, if there are rules, they should come from those who do the job, too.
Here, 20 bestselling classic and contemporary storytellers share their rules for writers. To kick things off, let's use this shiny gem of good advice from Bad Feminist author Roxane Gay: "Ignore all of this as you see fit." Nature senarios. 10 Tips for Writing Loglines. Loglines are tricky things – distilling 120 pages of script into one sentence and imbuing it with the power to summarise, titillate and intrigue is a surprisingly difficult task.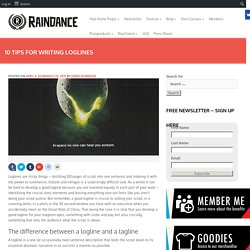 As a writer it can be hard to develop a good logline because you are invested equally in each part of your work – identifying the crucial story elements and leaving everything else out feels like you aren't doing your script justice. But remember, a good logline is crucial to selling your script; in a covering letter, in a pitch, in the 30 second window you have with an executive when you accidentally meet on the Great Wall of China. Unique Plots. The Writers Helpers. This will not help everyone and some of you may plan in a completely different way.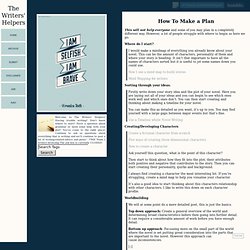 However, a lot of people struggle with where to begin so here we go. Where do I start? Screenwriting: How To Write a Musical Sequence - Steve's Digicams. In screenwriting, musical sequences in films often randomly show up in places throughout the script.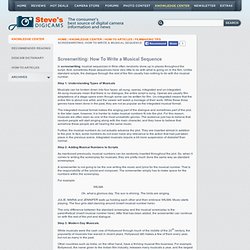 And, sometimes these sequences have very little to do with what is going on in the film. Unlike standard scripts, the dialogue through the rest of the film usually has nothing to do with the musical number. Plot. Structure. This is (not) psychology. Author Andy Weir Shares Advice on How to Write More. You have ideas for stories, but when you launch your word processor, you stare helplessly at a blank page.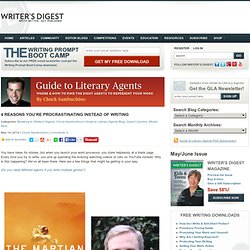 Every time you try to write, you end up spending the evening watching videos of cats on YouTube instead. Why is this happening? We've all been there. How to Write a Musical: 8 Steps. Edit Article Edited by Viral, Jack Herrick, Maluniu, Teresa and 9 others Do you think you're the next Stephen Sondheim or Rodgers and Hammerstein?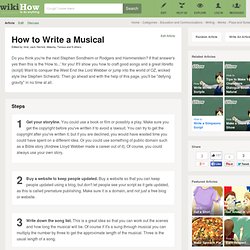 Online tools and apps that will help you revise your writing. Hiring an editor is an important step in publishing a book-length manuscript.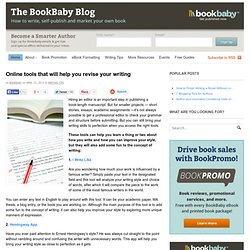 But for smaller projects — short stories, essays, academic assignments —it's not always possible to get a professional editor to check your grammar and structure before submitting. But you can still bring your writing skills to perfection when you access the right tools. These tools can help you learn a thing or two about how you write and how you can improve your style, but they will also add some fun to the concept of writing: 1. Important Writing Lessons From First-Time Novelists. KIRA PEIKOFF (kirapeikoff.com) is the author of the acclaimed thriller Living Proof (Tor Books).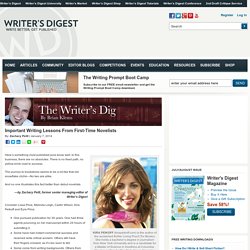 She holds a bachelor's degree in journalism from New York University and is a candidate for a Master of Science in bioethics at Columbia. She has written for The Daily News, Newsday, The Orange County Register and New York magazine. Writing communities and networking strategies in the Digital Age. When you first started composing your masterpiece, you probably thought the biggest hurdle was actually getting it done.
By now, you've learned there are many more challenges than just the writing process. You need to find an editor, a publisher, a peer review group. And, you need to engage in some serious marketing – of yourself and your book. With each new task you face, you probably feel there is no possible way to make it all happen. Writer's Diet. I Write Like. Writing Fiction: How to Structure a Killer Novel Ending. There are more than a few writers and teachers out there, many of them orders of magnitude more famous than I am (not hard to do), who don't like to compartmentalize or even attempt to define the sequential parts and essential milestones of a story's plot structure. Too formulaic, they say. Takes the fun and creativity out of it, they claim. A write-by-the-numbers strategy for hacks, a vocal few plead. When they do talk about how to write a book and, more specifically, story structure, they tend to dress it up with descriptions that are less engineering-speak in nature—"the hero's journey" … "the inciting incident" … "the turn"—and are more appropriate to a lit class at Oxford.
Preparing Your Book for eBook Conversion | BookBaby. Proof your file for proper spelling, grammar, and syntax. Once your book has been converted to ePub format, it's too late to fix a typo! BookBaby does not proofread your book. Use a consistent method of paragraph and line formatting throughout your document. You may use tabs or your program's paragraph or alignment formatting functions, but do not use a mixture of both. Do not use the space bar to format paragraphs or individual lines. 6 Ways to Knock Your Next Guest Post Out of the Park. The Write Life : Helping writers create, connect and earn. AuthorHouse | Thinking Outside the Bookstore. Fans line up at a book signing Welcome to AuthorHouse Writer Advice Center! Today we'd like to talk about marketing your book; in particular, we'd like to share some ideas for where to hold your next book signing. A book signing is a great way to meet your readers (and potential readers) face-to-face, and to help them see you as a real person with a personality–not just a name on a book spine.
A person that knows and likes you is more likely to buy your book, and to recommend it to others. Plus, meeting an author in person adds an element of interest to the book, making it more likely that a customer will give it a try. 7 Questions to Ask Before You Write a Nonfiction Book. [This article was written by guest contributor Bobbi Linkemer.] 1. Why do you want to write a nonfiction book? There are as many reasons to write a book as there are books. How to Write Realistic Dialogue. I've often found it's easy to tell a writer's skill level by taking a look at their dialogue. With just a few lines, you can easily tell if the dialogue is working (or not), which is important because character speech can easily make or break an otherwise great story.
The good news is well-written dialogue can really make your manuscript shine, and if you remember certain guidelines while writing or editing, it can make all the difference. So when writing dialogue... Don't: Let your characters ramble. 10 Things Emerging Writers Need To Learn | TMR Blog. Grammar rules everyone should follow. More Resources. Free Guides for Authors | BookBaby. Free Sites to Promote Your eBook. How to Take Others' Ideas and Make Them Your Own.
Character building. Travel writing. Writing Exercies. Writing. 25 Things Every Writer Should Know. 25 Virtues Writers Should Possess. 25 Things You Should Know About Storytelling. Write Street: 10 Easy Steps to Becoming a Better Fiction Writer. Resolve to Be a More Productive Writer (Happy New Year) - StumbleUpon. 50 of the Best Websites for Writers. (More) tips for writing well (Austin Govella at Thinking and Making) - StumbleUpon. Writing Tips and Tricks by OokamiKasumi on deviantART.
Synonym Finder » Find synonyms, antonyms & definition for (almost) any word. How to Write a Book Now -- Tools for Emerging Authors. Ten rules for writing fiction. 15 Top Writing Guides for Novelists. 9 Storytelling Techniques and Storytelling Tips for Telling. 20 Basic Plots For Story Generators - Software Secret Weapons. How To Write A Novel Using The Snowflake Method. Archetype: The Fiction Writer's Guide to Psychology. Research on the Internet. Ipl2: Information You Can Trust. A+ Research & Writing. Welcome to INFOMINE: Scholarly Internet Resource Collections. Writing Free/Software.
WRITING. Writing. Books, Ebooks and Self publishing. My Writers Circle - Index. Success4TheWritingStudent. Short Stories: 10 Tips for Creative Writers (Kennedy and Jerz) (Dennis G. Jerz, Seton Hill University) What is The Story? « The Story.
Storytelling Techniques for IT and Research Departments. Fundamentals of Fiction: Avoid Those Beginners' Blunders. The 7 worst ways to start your novel - Pro Writing Tips. Writing. Writing Dialogue -- Tips on Writing Dialogue. Hook Readers With Tension. How to Make Readers Feel Emotion. Writing. Writing Helps. Apps for Creative Writing. Seven Tips From Ernest Hemingway on How to Write Fiction. Writing Tips by Henry Miller, Elmore Leonard, Margaret Atwood, Neil Gaiman & George Orwell. How to Write a Novel Using the Snowflake Method.
---