Writing
Proof your file for proper spelling, grammar, and syntax. Once your book has been converted to ePub format, it's too late to fix a typo! BookBaby does not proofread your book. Use a consistent method of paragraph and line formatting throughout your document. You may use tabs or your program's paragraph or alignment formatting functions, but do not use a mixture of both. Do not use the space bar to format paragraphs or individual lines.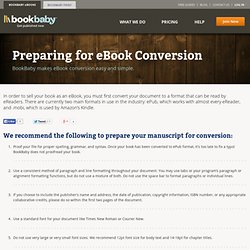 Preparing Your Book for eBook Conversion | BookBaby
6 Ways to Knock Your Next Guest Post Out of the Park
The Write Life : Helping writers create, connect and earn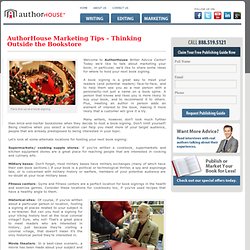 AuthorHouse | Thinking Outside the Bookstore
Fans line up at a book signing Welcome to AuthorHouse Writer Advice Center! Today we'd like to talk about marketing your book; in particular, we'd like to share some ideas for where to hold your next book signing. A book signing is a great way to meet your readers (and potential readers) face-to-face, and to help them see you as a real person with a personality–not just a name on a book spine. A person that knows and likes you is more likely to buy your book, and to recommend it to others. Plus, meeting an author in person adds an element of interest to the book, making it more likely that a customer will give it a try.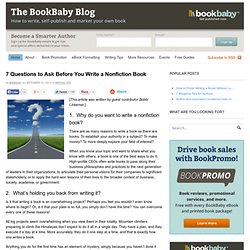 [This article was written by guest contributor Bobbi Linkemer.] 1. Why do you want to write a nonfiction book? There are as many reasons to write a book as there are books.
7 Questions to Ask Before You Write a Nonfiction Book
Writability: How to Write Realistic Dialogue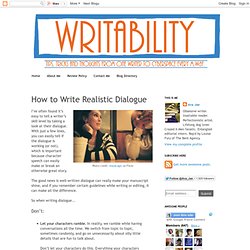 I've often found it's easy to tell a writer's skill level by taking a look at their dialogue. With just a few lines, you can easily tell if the dialogue is working (or not), which is important because character speech can easily make or break an otherwise great story. The good news is well-written dialogue can really make your manuscript shine, and if you remember certain guidelines while writing or editing, it can make all the difference. So when writing dialogue... Don't: Let your characters ramble.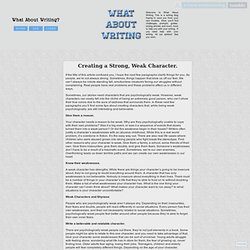 what about writing?, Creating a Strong, Weak Character.
If the title of this article confused you, I hope the next few paragraphs clarify things for you. As people, we're not always strong. Sometimes, things happen that blow us off our feet. We can't always be robots standing tall, emotionless creatures facing our struggles without complaining.
10 Things Emerging Writers Need To Learn | TMR Blog
Yesterday, the writer Cathy Day linked to an article on Forbes by Jason Nazar titled 20 Things 20 Year Olds Don't Get, giving grumpy advice to the new generation of workers. With the autumn semester set to start in about two weeks (I know, right? First: two weeks?! Second: nothing labeled "autumn" begins in August, yeah?)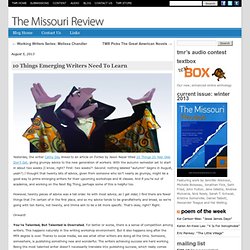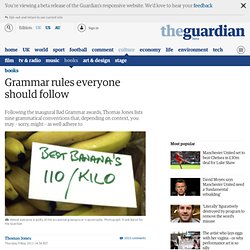 The Idler Academy's inaugural Bad Grammar award was bestowed last week on 100 academics who wrote an open letter to Michael Gove in March criticising the education secretary's revised national curriculum. The letter reads at times as if it was written by committee, but does it really display "the worst use of English over the last 12 months by people who should know better"? Hardly. Like many such gongs, up to and including the Nobel prize for literature, the Bad Grammar award looks suspiciously like the continuation of politics by other means.
Grammar rules everyone should follow | Books
More Resources
Free Guides for Authors | BookBaby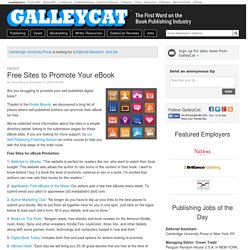 Are you struggling to promote your self-published digital book? Thanks to the Kindle Boards, we discovered a long list of places where self-published authors can promote their eBook for free. We've collected more information about the sites in a simple directory below, linking to the submission pages for these eBook sites. If you are looking for more support, try our Self-Publishing Finishing School–an online course to help you with the final steps of the indie route. Free Sites for eBook Promotion
Free Sites to Promote Your eBook
Avoiding plagiarism in the internet age Thomas Edison is arguably the most famous inventor in the history of the world. But did you know that only a small fraction of the gadgets and devices he holds patents for have actually been attributed to him? That is not to say that Edison wasn't a great inventor… he surely was. However, he ran several large workshops where he collaborated with other talented scientists, including Nickola Tesla. No one can say for certain how many of his 1,093 U.S. patens he earned on his own.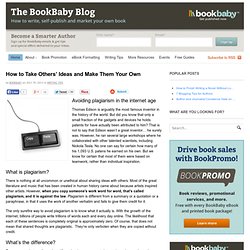 How to Take Others' Ideas and Make Them Your Own
25 Things Every Writer Should Know
An alternate title for this post might be, "Things I Think About Writing," which is to say, these are random snidbits (snippets + tidbits) of beliefs I hold about what it takes to be a writer. I hesitate to say that any of this is exactly Zen (oh how often we as a culture misuse the term "Zen" — like, "Whoa, that tapestry is so cool, it's really Zen"), but it certainly favors a sharper, shorter style than the blathering wordsplosions I tend to rely on in my day-to-day writing posts. Anyway. Peruse these. Absorb them into your body.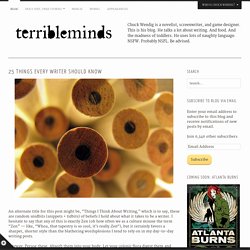 1. A Wild And Unfettered Imagination This one goes up front: the bubbling turbid stew that comprises your brain-mind combo must possess an endless array of unexpected ideas. Your head should be an antenna receiving frequencies from the furthest-flung reaches of Known Creative Space. You want to survive, you've got to have an imagination that won't lay down and die.
25 Virtues Writers Should Possess
1. Stories Have Power Outside the air we breathe and the blood in our bodies, the one thing that connects us modern humans today with the shamans and emperors and serfs and alien astronauts of our past is a heritage — a lineage — of stories. Stories move the world at the same time they explain our place in it. They help us understand ourselves and those near to us. Never treat a story as a shallow, wan little thing.
25 Things You Should Know About Storytelling
The urge to write fiction seems God-given for some, a learned skill for others. One thing is certain – it requires practice and a particular mindset. But, if you're a beginner, where do you start? The following 10 tips will help kick-start your writing habit, whether you're a complete novice, or perhaps a pro who has lost their way! 1. Step Away From the Car, Sir
Write Street: 10 Easy Steps to Becoming a Better Fiction Writer
Resolve to Be a More Productive Writer (Happy New Year) - StumbleUpon
50 of the Best Websites for Writers
There are tons of reference sites on the web that can help you find a job or write a poem, essay or story. Here is a list of the best 50 websites for writers. Reference Websites
Published Wed, Jul 8, 2009 by Austin Govella. Updated Wed, Jul 8, 2009. As an editor, I've noticed several recurring bad habits you heathens would do well to disabuse yourselves of immediately. Almost without exception, these bad habits instantiate themselves as a series of stock phrases and constructions that reflect a lack of focus, a lack of fully developed argument, or the kind of intellectual laziness that sets in as you slog through your first draft. These things happen, That's ok.
(More) tips for writing well (Austin Govella at Thinking and Making) - StumbleUpon
Writing Tips and Tricks by OokamiKasumi on deviantART
Synonym Finder » Find synonyms, antonyms & definition for (almost) any word
How to Write a Book Now -- Tools for Emerging Authors
Ten rules for writing fiction | Books
15 Top Writing Guides for Novelists
9 Storytelling Techniques and Storytelling Tips for Telling
20 Basic Plots For Story Generators - Software Secret Weapons
#20 Ideas, beating writer's block and the science behind your muse | Write for Your Life
How To Write A Novel Using The Snowflake Method
Archetype: The Fiction Writer's Guide to Psychology
Research on the Internet
ipl2: Information You Can Trust
A+ Research & Writing
Welcome to INFOMINE: Scholarly Internet Resource Collections
Books, Ebooks and Self publishing
My Writers Circle - Index
Success4TheWritingStudent
Short Stories: 10 Tips for Creative Writers (Kennedy and Jerz) (Dennis G. Jerz, Seton Hill University)
What is The Story? « The Story
Storytelling Techniques for IT and Research Departments
Fundamentals of Fiction: Avoid Those Beginners' Blunders
The 7 worst ways to start your novel - Pro Writing Tips
Writing Dialogue -- Tips on Writing Dialogue
Hook Readers With Tension
How to Make Readers Feel Emotion
Seven Tips From Ernest Hemingway on How to Write Fiction
Writing Tips by Henry Miller, Elmore Leonard, Margaret Atwood, Neil Gaiman & George Orwell
How to Write a Novel Using the Snowflake Method