Cuisine
Poutine Recipe :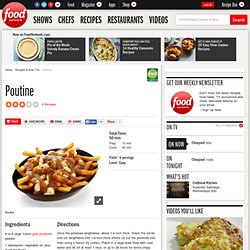 Ingredients 6 to 8 large Yukon gold potatoes, peeled 1 tablespoon vegetable oil, plus more for frying 1 shallot, minced 1 small clove garlic, minced 2 cups chicken stock 2 cups beef stock 2 tablespoons ketchup 1 tablespoon apple cider vinegar 1 tablespoon whole green peppercorns 1/2 teaspoon Worcestershire sauce 2 tablespoons unsalted butter 2 tablespoons all-purpose flour Kosher salt and freshly ground pepper 2 cups cheddar cheese curds
5-Minute Vegan Fudge. | My Little Celebration
Fried bananas - recipe
American Rice, Inc.
It's time for another round of The Food Lab.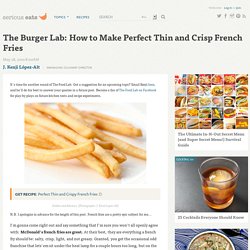 How to Make Perfect Thin and Crisp French Fries
Step aside, Kellogg.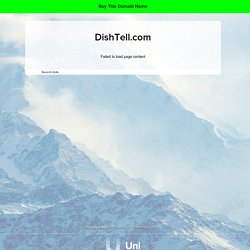 While it might be too late for you to make Kahlua and gift it next week on Christmas — it takes three weeks for the coffee beans to infuse the vodka and rum mixture — I highly recommend you make this and give it to someone as a hostess gift in early January.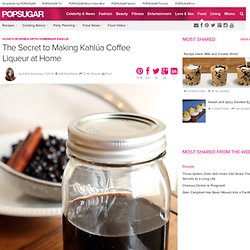 12 Days of Edible Gifts: Homemade Kahlua
25 Ways to Use Sriracha
Best Heart-Healthy Recipes
You'll always remember what shoe is inside the box if you store your shoes... from The Nest Blog - Home Décor, Cooking, Money, Health & Sex News & Advice » house & home
Ten Trendy Healthy Foods to Try!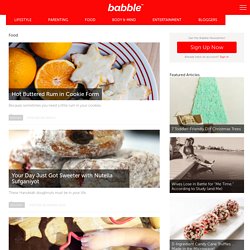 Nutritional Yeast Fried Squash Blossoms When it comes to healthy eating it's a good idea to keep your kitchen stocked with useful ingredients that will help you bring new life to your favorite recipes. All while keeping your family healthy!
My Dear Friends Gwynnie P. & Ina Garten Eat Class, Sophistication & Homemade Ricotta for Brunch
Academy Award Winning film heroin, wife, mother, radiation survivor, Miso enthusiast, bag of osteopenia-riddled bones - Gwyneth Paltrow is a great many things.