Cuisine
Poutine Recipe : Directions Slice the potatoes lengthwise, about 1/4 inch thick.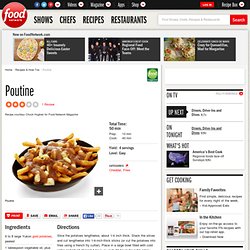 Stack the slices and cut lengthwise into 1/4-inch-thick sticks (or cut the potatoes into fries using a french fry cutter). Place in a large bowl filled with cold water and let sit at least 1 hour, or up to 24 hours for extra-crispy fries. Drain well and pat dry or spin dry in a salad spinner. Chocolate Italian Love Cake Recipe — A Few Short Cuts. 682Share 2Share I love old cookbooks.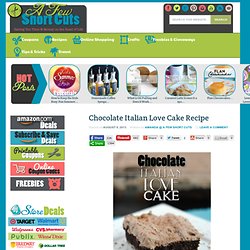 Mobile Site Preview. 5-Minute Vegan Fudge. If there was a city wall surrounding my three favorite flavors – banana, chocolate and peanut butter – protecting them from evil flavor intruders, coconut would be the fourth straggler trying to fight its way inside the perimeter via moat, horse and cannon.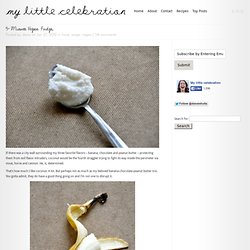 He, is, determined. That's how much I like coconut. A lot. But perhaps not as much as my beloved banana-chocolate-peanut butter trio. You gotta admit, they do have a good thing going on and I'm not one to disrupt it. Fried bananas - recipe. Over 100 Quick and Easy Recipes. We Have Preparation and Cooking Times of 30 Minutes or Less The majority of recipes we offer can be both prepared and cooked in 30 minutes or less, from start to finish.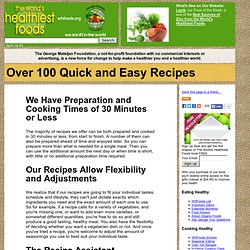 A number of them can also be prepared ahead of time and enjoyed later. So you can prepare more than what is needed for a single meal. CopyKat Recipes. American Rice, Inc.
How to Make Perfect Thin and Crisp French Fries. It's time for another round of The Food Lab.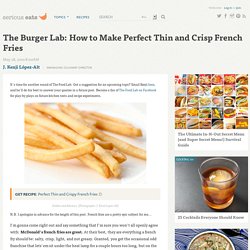 Got a suggestion for an upcoming topic? Email Kenji here, and he'll do his best to answer your queries in a future post. Become a fan of The Food Lab on Facebook for play-by-plays on future kitchen tests and recipe experiments. Golden and delicious. Best Steak Marinade in Existence Recipe. 12 Days of Edible Gifts: Homemade Kahlua. Did you know you can make your own version of Kahlúa at home?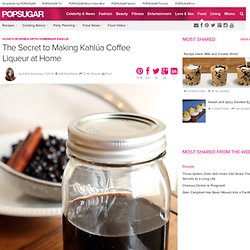 It takes three weeks for the coffee beans to infuse the vodka and rum mixture, so you'll want to prepare this ahead of time if you plan to use or give it as a gift. What most don't realize is that the best bartenders are busy mixing up everything from homemade Baileys to fresh grenadine. The techniques they use to make these superior mixers are easily adaptable for the home.
Beverages
Vegetables. Pasta. Noble Pig. Dessert. 25 Ways to Use Sriracha. Best Heart-Healthy Recipes. Ten Trendy Healthy Foods to Try! Nutritional Yeast Fried Squash Blossoms When it comes to healthy eating it's a good idea to keep your kitchen stocked with useful ingredients that will help you bring new life to your favorite recipes.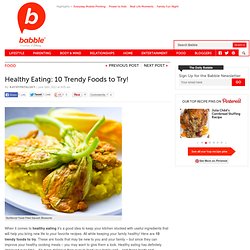 All while keeping your family healthy! Here are 10 trendy foods to try. These are foods that may be new to you and your family – but since they can improve your healthy cooking meals – you may want to give them a look. Healthy eating has definitely improved over time – it's more delicious than ever to feed your family well – and these foods and ingredients prove that. My Dear Friends Gwynnie P. & Ina Garten Eat Class, Sophistication & Homemade Ricotta for Brunch. Academy Award Winning film heroin, wife, mother, radiation survivor, Miso enthusiast, bag of osteopenia-riddled bones - Gwyneth Paltrow is a great many things.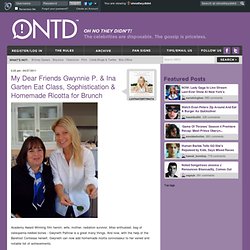 And now, with the help of the Barefoot Contessa herself, Gwyneth can now add homemade ricotta connoisseur to her varied and notable list of achievements. Gwynnie, as she is known to our close personal group of friends which includes legendary model/heiress Amanda Hearst, Nobel Laureate Herta Müller, Russian opera songstress Anna Netrebko and Jersey Shore star Snooki, took time out from her oh-so-busy schedule to whip up a light and delicious mid-morning brunch with Food Network vixen, Ina Garten.
---